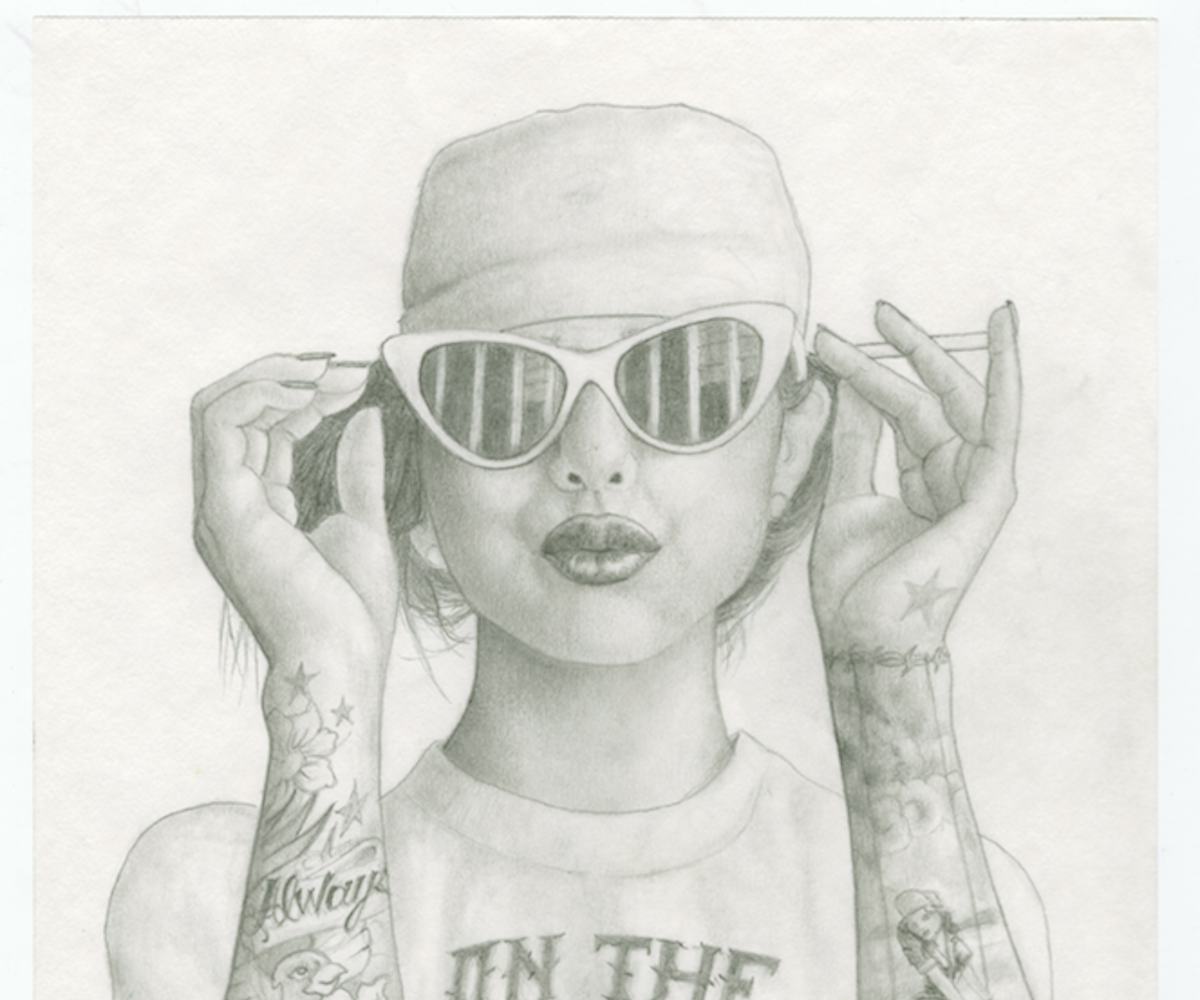 "Always Without a Net," Larry S.
A Powerful New Art Show Is An Important Window Into The World Of LGBTQ Prisoners
"Are these really the people you're scared of?"
America's prison population currently stands at over 2,200,000 people, which is just under 1 percent of all U.S. residents. Add in the almost 5 million adults who are either on probation or parole, and the millions of family members and close friends who are also affected by the prison system, and you'll find that the actual number of Americans who are touched by the prison system is even more disconcertingly high. 
But if you are among those who have not been personally affected by the prison system, it's all too easy to forget about its insidious existence, and to further other the millions of people whose lives are forever defined by their time behind bars. The massive marginalization of prisoners is no accident, of course; it's an inherent part of the institution itself. Prisons are purposely located on the fringes of society, usually in isolated, rural areas for a reason; they are filled with people who come from disadvantaged backgrounds, had limited employment prospects, and little to no educational experience. It is all too easy for many people to write off the prison population as being irreparably different from the rest of this country's population, and to stigmatize those people who are part of the system even after they've left its confines.
This stigma lasts a lifetime and is difficult to broach because of how separate the parallel worlds of prison society and the rest of society are. But "On the Inside," an art exhibit on New York City's Lower East Side, seeks to bridge those worlds by displaying works of art by LGBTQ prisoners and allowing gallerygoers to send messages to the artists who are still behind bars. The exhibit was the idea of Tatiana Von Furstenberg (yes, she's the daughter of designer Diane) who worked with LGBTQ prisoner advocacy group Black and Pink to bring dozens of pieces of original art from LGBTQ prisoners from around the country to New York City, where it has been mounted on walls which also feature quotes from the artists about what it's like to be in prison.
Von Furstenberg told me that she was inspired to do the show when she "was looking for a pen pal" (a service Black and Pink also provides), and noticed that "the newsletters were sprinkled with art." But even though that was the inciting incident, Von Furstenberg's passion for the project goes so much deeper. She explains:
What I'm really hoping to say is that there's all this beauty and talent and humanity and emotion here, and we can't just label people with harsh words and just walk away, because we're all the same. The whole project is very emotional for me. In terms of the actual prison system, I think that even though we're thought to think that people behind bars are scary and it's for our own good, that's actually not true. One in 90 Americans is in prison right now, and around the world it's something like one in 900. We're not, like, giving birth to more criminals. There's something else at play here, and it's monetary gain. These are lives, and we've cast them in this worthless role. Meanwhile, the prisoners are generating money for other people. They're just pawns, and they're still human beings. I also want everyone to see [the work and ask themselves]: Are these really the people you're scared of? [The artists are] so poetic and talented and refined. And we're all the same. You don't have to look up at artists and you don't have to look down at people. We're all the same. We're all just human beings; there's beauty inside everybody.
Indeed it's hard not to be profoundly moved by the art on display, which ranges in subject from portraits of Rihanna and Marilyn Monroe and Barack Obama to sexually explicit renderings of men and women—cis and trans, both—to politically potent messages to more. And the art is paired beautifully with the written messages displayed alongside it; it's essential to remember that prisoners are not some faceless mass, they're individuals who need to feel connected to the outside world which they will, hopefully, one day rejoin. And the fact that gallerygoers can send text messages to artists (these messages will be relayed to the prisoners in written form, since they can't receive texts on phones) makes the possibility of making a true connection all the more likely.
Reed Miller of Black and Pink told me what he thinks is so important about this show:
Once the artists see the images of everyone looking at their work and start receiving messages, they're going to be blown away. For a lot of our members, the only mail they receive throughout the year is from our newsletter. And that has to do with the same dynamics with LGBTQ folks often being shut off by prisons, and it's exacerbated in prison. So being able to express yourself through art and have that work be observed and reflected upon, I think the response is probably going to be beyond what we could imagine. I think people would be amazed to see in the year 2016 the way we're treating people in the name of corrections, in the name of rehabilitation. It's truly inhumane. And just like slavery was an institution that couldn't be reformed to be better and needed to be abolished, we don't think prisons can be reformed to a place where they'd be beneficial to society. We think we need to overhaul the whole system and create spaces for people, if they have caused harm, to come back into equity with society for some transformative measures. We just know that the whole, as we call it, injustice system is set up disproportionately against people of color, of course, and also LGBTQ people, and, especially, LGBTQ people of color. And we can see that in the way transgender women of color are targeted for policing and profiling. And people in New York are getting locked up for sex work or for performing in survival economies like the drug trade, but recognizing that the whole system of discrimination that's preventing people from successfully engaging in things like employment opportunities puts people at a disadvantage which cycles them through a system which traumatizes them even more.
If you're interested in helping to break the cycle of institutionalizing our society's most marginalized members, a visit to "On the Inside" and a few appreciative text messages sent to these artists seems like a good place to start.
"On the Inside" is running until December 18 at the Abrons Art Center in New York