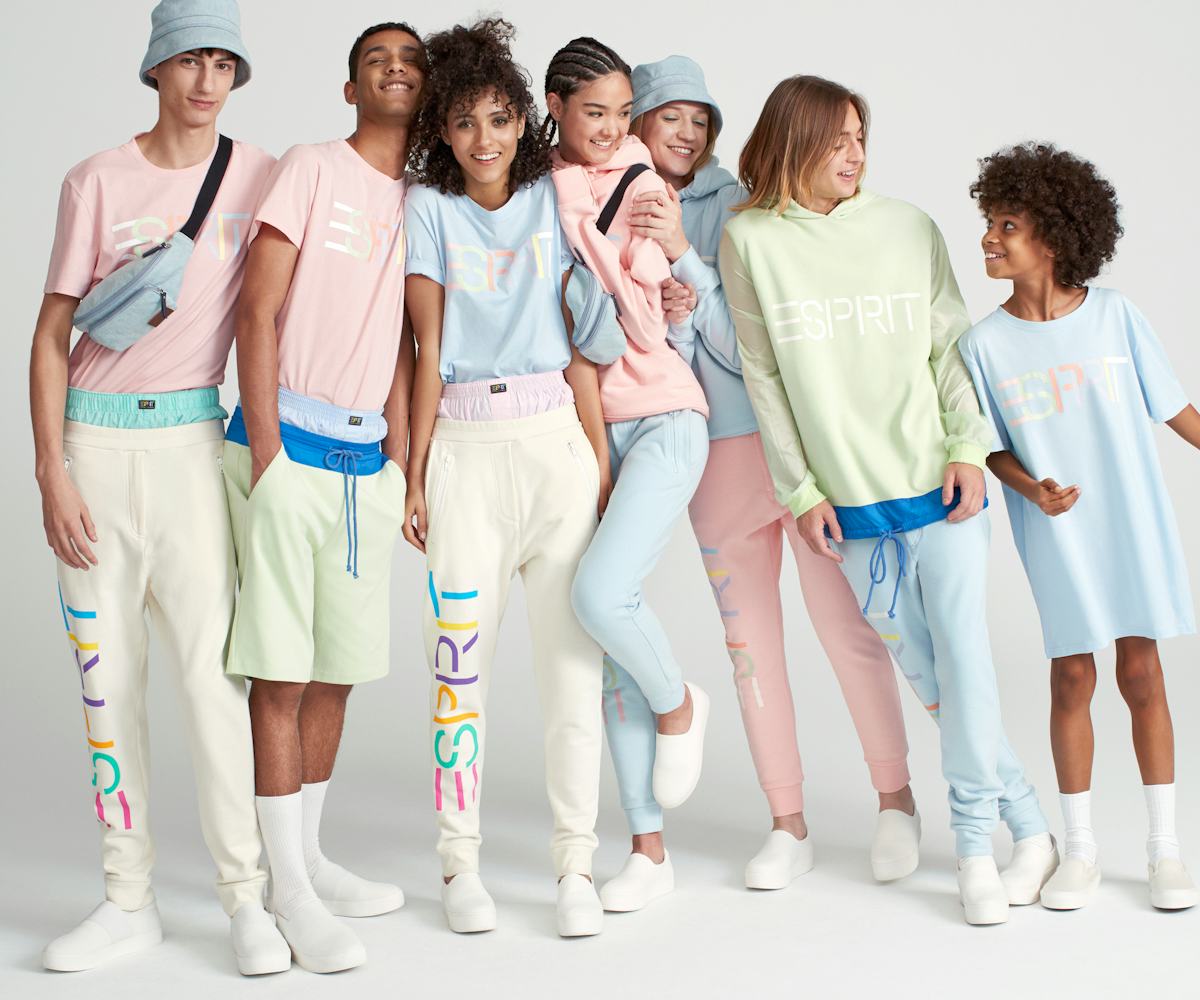 Photo courtesy of Opening Ceremony
The New Esprit By Opening Ceremony Collection Is A Total Throwback
It's also the only thing you'll want to wear this spring
Esprit by Opening Ceremony is back, and our hearts could not be more filled with joy. The ultimate throwback collab returned to stores this morning, this time reimagined with spring in mind.
While last season paired bold primary colors with heavy plaid and simple animal-like prints, things are totally different this time around. From sherbet-like pastels in solids and stripes to rainbow paisley prints and grungy florals, the new collection pays homage to Esprit's '80s and '90s heyday.
I stopped by the pop-up at Opening Ceremony's downtown Manhattan location to chat with Carol Lim, co-founder and co-designer, along with Humberto Leon, of Opening Ceremony, about the second installment of the collab. Essentially, the pairing of the two brands is a total no-brainer. "I think we've just always loved the brand," she says. "We grew up at the height of when the brand was really just growing and making its mark—we've always wanted to work with them. Part of our DNA at Opening Ceremony is dialogue and collaboration, so once we were connected with them, we wanted to share their story as the first company to really cast real people and have a voice outside of fashion."
While at a quick glance you may feel intimidated by all the color and print, but it's actually all designed to be extremely versatile. "You'll see a lot of twinsets throughout the collection, but each piece kind of stands out on its own" says Lim. You could pair a pastel blue crewneck sporting the iconic Esprit logo with its sweat pant counterpart, or choose to wear it over a patchwork denim and paisley-print hybrid skirt. A majority of the ready-to-wear can be unisex, whether it's labeled as such or not. "We love the idea of most of it being unisex," she says. "Whether it's yours or you pick it out of your boyfriend or brother's closet—this idea of sharing feels very inclusive and democratic." Accessories include bucket hats, fanny packs, and totes—simple in design yet full-on statement pieces thank to their vintage quirkiness.
The best part? The entire collection ranges between $30 and $250, making it totally accessible.
While it's really hard to pick a favorite, Lim highlighted two twinsets that are sure to be the standouts. One, a printed denim jacket with matching denim shorts (complete with frilly, ruffled details) and the Ditsy Floral printed cropped blouse and matching flared pants. "I mean, it's just so easy—you feel put together, but it's kind of like you're in pajamas," she says. Yes, please.
We're happy to see a second season hit stores, so we can't help but wonder if we can expect more from this brand relationship? According to Lim, yes. While a third collaboration for this fall is already confirmed, we can likely expect this to be an ongoing partnership. "We always think of all of our partnerships as long-term," she says. "I think it would be great to see what we can continue to develop with them."
Check out the campaign in full below, and shop your favorites now at Opening Ceremony.