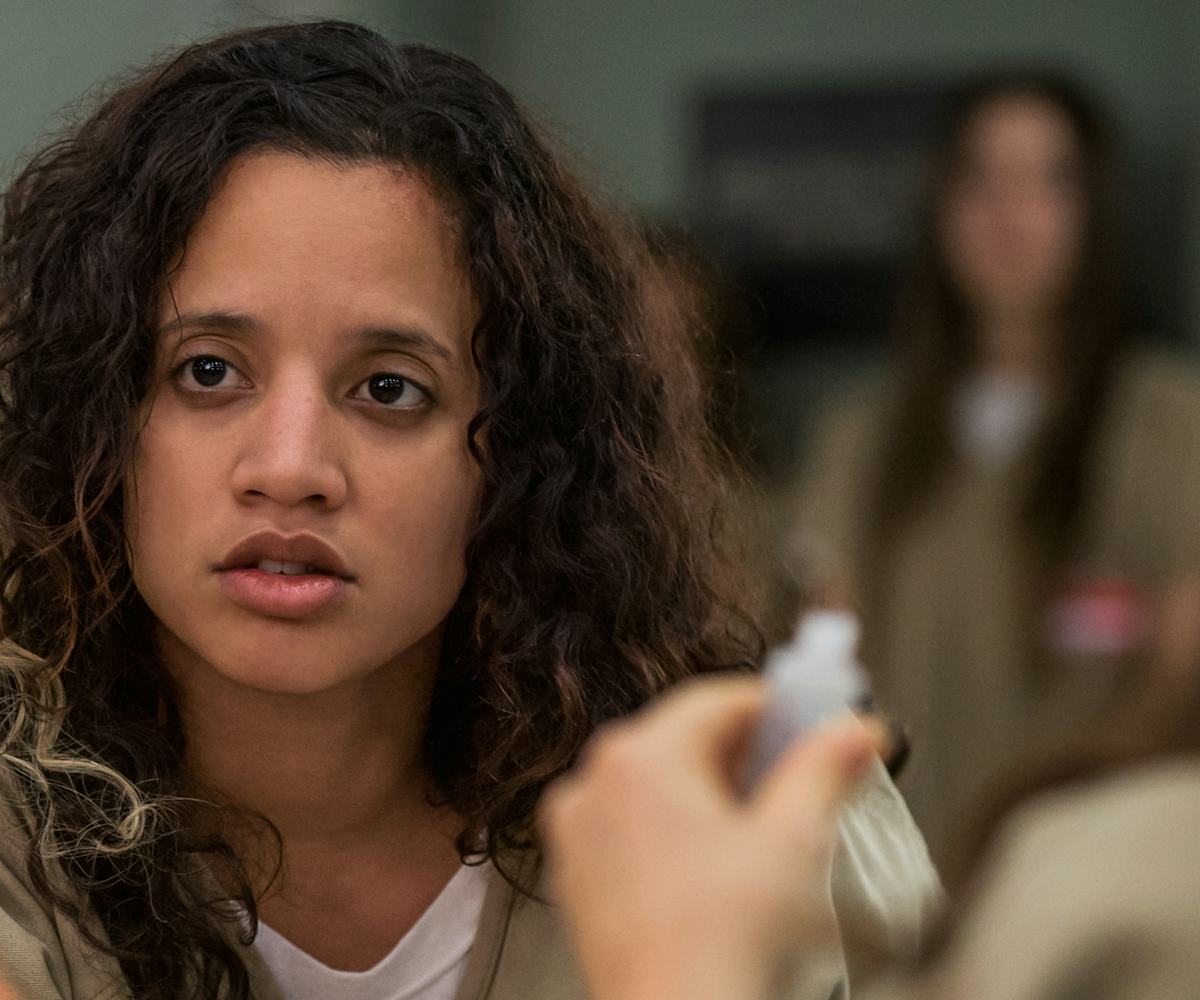 Photo By JoJo Whilden/Netflix.
Dascha Polanco On The Story Line She Wishes 'Orange Is The New Black' Pursued
And why the show is so important to marginalized groups
Dascha Polanco is only trying to be real. That's why she gives such refreshing, unfiltered responses to people about everything from her identity as an Afro-Latinx woman to the IRL activism she's begun engaging with thanks to her role as Dayanara Diaz on Netflix's hit show Orange Is the New Black. Thoroughly engaged and articulate to a fault, Polanco's had six seasons to grow alongside her character, and learn more about the issues Daya faces as a woman of color, a mother, and a prison inmate. There's often a special bond between an actor and her character, but this is especially the case with Polanco and the rest of the OItNB ensemble, who have set an example with its promotion of diverse and representative storytelling—and it's a responsibility Polanco doesn't take lightly.
So in honor of Orange is the New Black's sixth season and on the heels of Netflix's announcement that Season 7 is indeed in the works, we spoke with Polanco about the importance of her role in contemporary pop culture, what she hopes her vocal stance on prison reform will achieve, and how things have changed for her, not only on the show but also in the real world. Read our Q&A with her, below.
There was a lot of talk this season about how the show's writing would change, following the loss of a lot of writers between seasons. How did the show feel different to you?
I feel like there was definitely a shift in writing, and, to me, it was noticeable. I'm sure that the audience noticed as well. [However,] I think that it was refreshing, and with the help of the actors, we were able to keep this open dialogue and say, "Well, you know, my character would do this," and discuss their choices, which made it a brand-new show every time.
Knowing that the show also gave opportunity to different writers, so it could be diverse, was important also. It kept the authenticity of the show. 
In terms of engaging with current events, were you ever frustrated by potentially not being able to address some of the timely issues happening in the real world?
I think that that's not the goal of the show. I mean, we're not CNN. We're not MSNBC. We're basically telling you the stories of these women that are incarcerated, and we use moments to touch on certain topics that have happened or happening. As an actor though, my whole goal was not to address issues. That's what I use me, Dascha, for. 
I have to do justice to what the show is. [To focus on] what it meant for Piper Kerman's experience—respecting that and knowing her experience. And also to [honor creator Jenji Kohan] and the writers' ability to give opportunities to such a diverse cast so that we were able to tell these stories. I'm not frustrated, though, that we don't talk about, like, Trump's immigration laws. You know, it's great to touch on, but I'm more so concerned with what's best for the character. What are we doing for this story? Where has she come from? Where are we going? 
Obviously, there were points I wish that they talked about. Like [Daya's] baby. And I wish that we would've talked about what the fuck happened with Bennett, you know? Like, she never discusses that, never speaks about it. Those are the types of things that I want to see more of. Like, what really happens when you give birth in the system?
Definitely. And a ton of shows have been trying to include story lines about contemporary politics, but oftentimes, it feels kind of jammed in. What do you think about this wave of shows trying to adopt more politicized stances—even though they may not be super-productive? 
To be quite frank, it gets annoying. I love that we're touching these topics, but when you make it all about that, it's like... we're wasting so much effort on the problem, not the solution.
And it's like, if I want to see MSNBC or CNN, I go there, and I watch it. Sometimes I need an escape, and it's okay. [At least with Orange Is the New Black], the way they do it makes sense, because [these issues] indirectly affects the people in there. But when you have a show about two best friends in high school and all they're talking about the whole day is politics, it's like... I mean, when you're in high school, you don't even give a fuck about politics. It's like, "Yeah, I got my period, I like this boy." 
I think that everything needs to be as authentic as it can be. As long as it makes sense [to incorporate politics], it's great, but when you're trying to be something that you're really not, I think you're losing the whole sense of it.
And there are so many different ways to do this. Like, make shows about immigration, and make shows be as diverse as possible. Don't have a token Latina girl in everything who has to be the voice for this or for that… I think, if you want to do a show and you want to be with the times, then make it about the people. Not just about the problems.
Has the show impacted your real-world activism at all? 
Definitely. I mean, I was ignorant to what really goes on in these institutions. We all know someone that's incarcerated, but to know in detail, to go in there... I'm working with conflict and detention centers and learning what are the politics, what are the laws, what are the financials behind it... There's so much to fix. There's so much that I don't understand. There's so much that I've learned from documentaries, like [Jay Z's] documentary on Kalief Browder.
These are the things we have to see our society work on. Not furthering the negative, but improving behavior and assisting. A lot of these things come from mental health issues and not being able to deal with [certain] situations. Or, feeling less than and inferior to others. 
I want to be part of the change, and freedom is so valuable to me. Now, I know more, and it's such a fragile thing that it could easily be taken away from you without you knowing.
What was really interesting to a lot of viewers was to see this narrative—that was originally about a wealthy white woman's experience—become an amazing ensemble piece that focuses on women of color. What was it like growing alongside your character within this larger narrative shift?
It's definitely unexpected. Growing up, I never said, "I'm Latina." I used to say I'm Dominican, I'm Spanish. I consider myself Afro-Caribbean, so when I was given the opportunity [of this role as a Latina], I didn't feel like I deserved it. I felt like, "Oh my god, I need to like be on my best behavior. Oh my god, I need to not be out there too much." I was like, "I can't feel like I'm embracing this [role as a Latina], because you just feel like you're there thanks to the luck of the draw." But it shouldn't be that. 
[However, knowing] that I was part of something that eventually gave so many more opportunities to diversity [television] was what really allowed me to own my role. It's one of the first shows on Netflix that has reached Season 7, and it is one of the most-seen shows in the world, and it set a standard for many new shows. This is what we were wanting. To see difference, to see uniqueness. And that to me opens this huge gate—not only Netflix, but for other networks to know that diversity is important, and we need to keep on providing these stories. 
Orange is the New Black Season 6 is streaming on Netflix now.