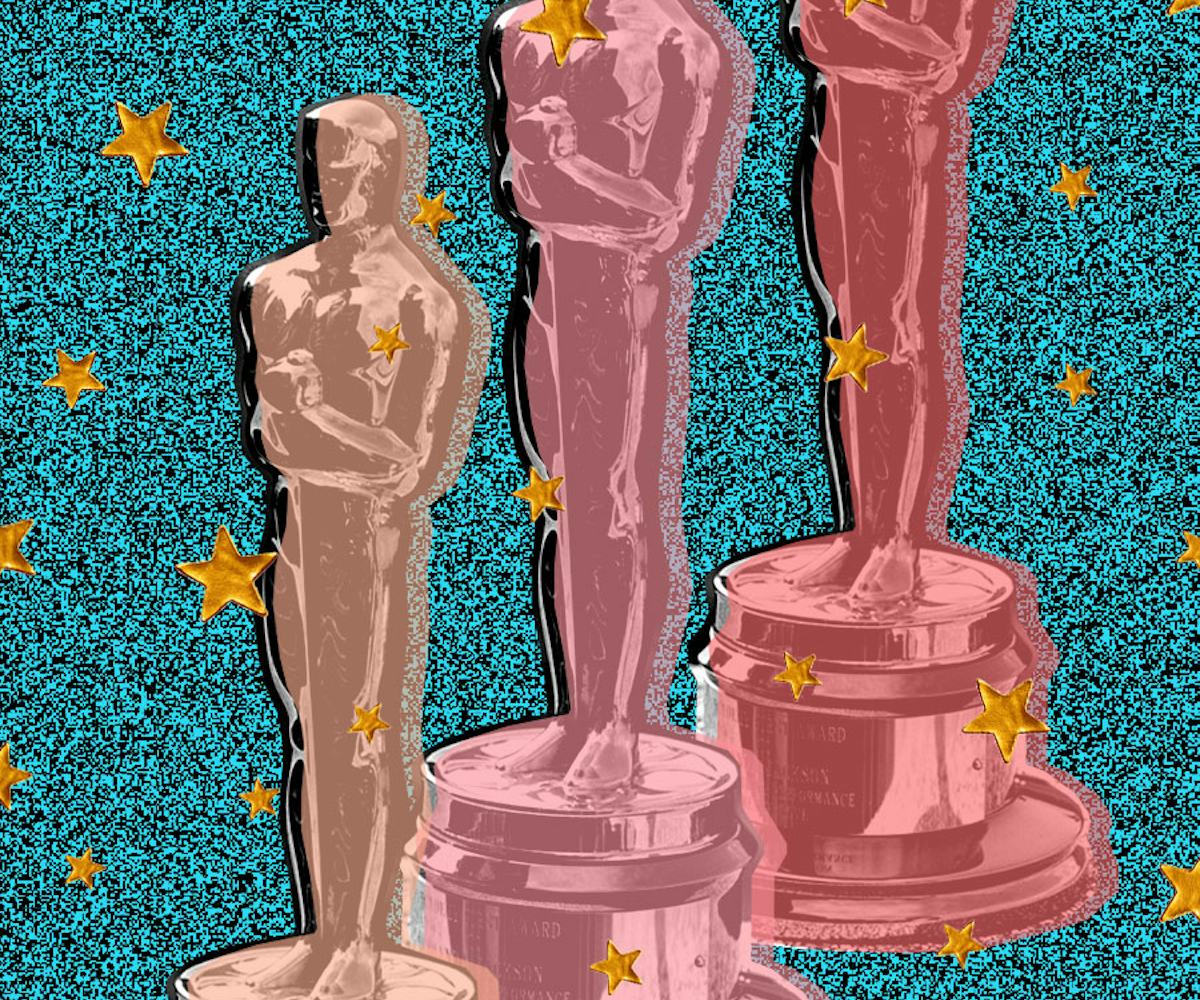 Illustration by Liz Riccardi/original photo via Getty Images.
These Are Your 2016 Oscar Nominees
The 88th annual Oscar nominations were announced Thursday morning, and once again the Academy has revealed its true colors (hint: it's white). While the expected contenders got theirs—The Revenant leads all films with 12 nods followed by Mad Max: Fury Road with 10—people of color were glaringly shut out from all the major categories. Despite two empty slots in the Best Picture category—Creed,Straight Outta Compton and Beasts of No Nation were all ignored.
In the Best Actor race, surely Michael B. Jordan's electrifying breakout performance in Creed deserved consideration over Bryan Cranston's rather unremarkable turn in Trumbo, while Idris Elba's terrifying turn as a warlord in Beasts of No Nation felt like a lock for a supporting nod just last week. And although we're thrilled that Lenny Abrahamson earned a surprise directing nod for Room,Creed helmerRyan Coogler almost single-handedly revitalized the Rocky franchise with a deeply felt character study that also made a lot of dough at the box office, perfectly fitting into the Academy's template.
Other notable snubs include the shocking omission of Carol in the Best Picture race, and Golden Globe winner Ridley Scott—who was once considered a front-runner—in the Best Director category. 
Meanwhile, 25-year-old Jennifer Lawrence earned her fourth nomination, becoming the youngest actress to hit that mark. She'll square off for Best Actress against Brie Larson, Saoirse Ronan, Charlotte Rampling, and Cate Blanchett in what has to be considered the most intriguing race of the night. 
The Academy Awards will be hosted by Chris Rock—who should have a field day with the night's lack of diversity—and will air Feb. 28th, live on ABC. See the full list of nominees below. 
Best Picture
The Big Short Bridge of SpiesBrooklynMad Max: Fury RoadThe MartianThe Revenant Room Spotlight
Best Director
Alejandro González Iñárritu, The Revenant
Tom McCarthy, Spotlight
Adam McKay, The Big Short
George Miller, Mad Max: Fury Road
Lenny Abrahamson, Room
Best Actor
Leonardo DiCaprio, The Revenant
Eddie Redmayne, The Danish Girl
Matt Damon, The Martian
Michael Fassbender, Steve Jobs
Bryan Cranston, Trumbo
Best Actress
Cate Blanchett, Carol
Brie Larson, Room
Jennifer Lawrence, Joy
Charlotte Rampling, 45 Years
Saoirse Ronan, Brooklyn
Best Supporting Actor
Christian Bale, The Big Short
Mark Rylance, Bridge of Spies
Tom Hardy, The Revenant
Mark Ruffalo, Spotlight
Sylvester Stallone, Creed
Best Supporting Actress
Jennifer Jason Leigh, The Hateful EightKate Winslet, Steve JobsRooney Mara, CarolAlicia Vikander, The Danish Girl Rachel McAdams, Spotlight
Best Original Screenplay
Tom McCarthy and Josh Singer, SpotlightMatt Charman, Joel Coen, and Ethan Coen, Bridge of Spies
Jonathan Herman, Andrea Berloff, S. Leigh Savidge, and Alan Wenkus, Straight Outta ComptonPete Docter, Meg LeFauve, and Josh Cooley, Inside OutAlex Garland, Ex Machina
Best Adapted Screenplay
Drew Goddard, The Martian
Nick Hornby, Brooklyn
Adam McKay and Charles Randolph, The Big Short
Phyllis Nagy, Carol
Emma Donahue, Room
Best Cinematography
Emmanuel Lubezki, The RevenantEdward Lachman, CarolRoger Deakins, SicarioJohn Seale, Mad Max: Fury Road
Robert Richardson, The Hateful Eight
Best Film Editing
The Big ShortMad Max: Fury RoadThe RevenantSpotlightStar Wars: The Force Awakens
Best Animated Feature Film
AnomalisaBoy and the WorldInside OutShaun the Sheep MovieWhen Marnie Was There
Best Cinematography                      
CarolThe Hateful EightMad Max: Fury RoadThe RevenantSicario
Best Costume Design
CarolCinderellaThe Danish GirlMad Max: Fury RoadThe Revenant
Best Documentary – Feature
AmyCartel LandThe Look of SilenceWhat Happened, Miss Simone?Winter on Fire: Ukraine's Fight for Freedom
Best Documentary – Short Subject
Body Team 12Chau, Beyond the LinesClaude Lanzmann: Spectres of the ShoahA Girl in the River: The Price of ForgivenessLast Day of Freedom
Best Makeup and Hairstyling
Mad Max: Fury RoadThe 100-Year-Old Man Who Climbed Out the Window and DisappearedThe Revenant
Best Original Song
"Earned It," Fifty Shades of Grey"Manta Ray," Racing Extinction"Simple Song No. 3," Youth"'Til It Happens to You," The Haunting Ground"Writings on the Wall," Spectre
Best Animated Short Film
Bear StoryPrologueSanjay's Super TeamWe Can't Live Without CosmosWorld of Tomorrow
Best Live Action Short Film
Ave MariaDay OneEverything Will Be Okay (Alles Wird Gut)ShokStutterer
Best Sound Editing
Mad Max: Fury RoadThe MartianThe RevenantSicarioStar Wars: The Force Awakens
Best Sound Mixing
Bridge of SpiesMad Max: Fury RoadThe MartianThe RevenantStar Wars: The Force Awakens