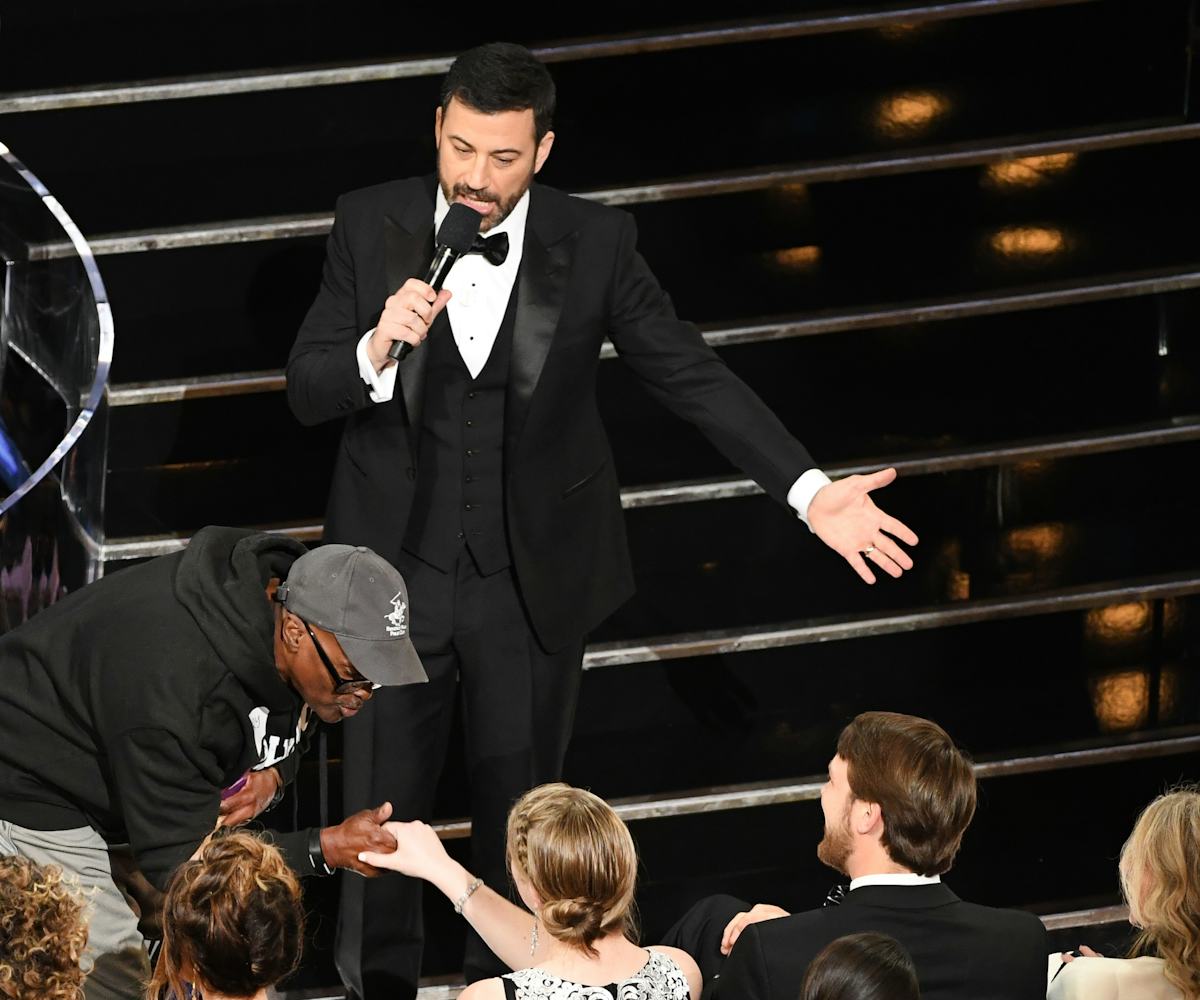 Photo by Kevin Winter/Getty Images
What Was That Tourist Joke At The Oscars All About?
Part of Jimmy Kimmel's humor is his ability to put the every day Jack and Jill into dry humored situations. Bits like Lie Witness News and sending Drake out into L.A. in disguise to ask people what they think about Drake are recipes for viral success and genuinely a good time. Just like the James Corden-hosted Golden Globes weren't going to wrap without a nod to "Carpool Karaoke," the Oscars' credits weren't going to roll without one of Kimmel's situational humor bits. Now that it's come, its wake has left more questions than laughs.
Kimmel announced that an unsuspecting Hollywood tour bus would be making a stop outside L.A.'s Dolby Theatre. The tourists would be under the impression they were going to see an exhibit of Oscar gowns. Little did they know, they'd be escorted straight inside the theater where the Oscars were being broadcast live to the world. Cool! That'll be fun to see these unsuspecting tourists encounter very famous, very talented people being recognized for their talent on Hollywood's biggest night, we thought. It's, like, the ultimate Hollywood tourist reward for paying to ride one of those double-decker buses. How surreal.
And for a minute, it was! Suspension of disbelief is a key aspect of movie viewing. You watch these unsuspecting tourists, who surely must know tonight is Oscars night, enter the theater and realize they're smack-dab in the middle of the whole thing. They walk along the front row, kissing Nicole Kidman and Meryl Streep's hands, locking eyes with the real Ryan Gosling, touching Mahershala Ali's new award, and miming a wedding ceremony with Denzel Washington. It's endearing until you notice they're all wielding their smartphones (which all happen to be made by the same company) and experiencing this very surreal moment through their smartphone screens. The jaded individual would argue this is a portrait of modern-day culture: We don't experience things in the moment, we experience them through a screen. 
What's more, where Kimmel's Jimmy Kimmel Live! segments feel decent and principled, this bit carried with it an air of exploitation; never was there a more stark contrast between celebrity and us regulars—tourists, in this situation, a label that's become more negative than positive in the age of authenticity and originality. Here, tourists, look at all these famous people in famous clothing, doing famous things, the segment seemed to say. Is that supposed to be humorous? Never mind Kimmel's multiple digs at not being able to pronounce Ali's name. Didn't Hollywood realize their collective offense over not being able to pronounce David Oyelowo's name in 2015? 
But the optimism Justin Timberlake kicked the ceremony off with pervades. (You can't stop the feeling after all!) If you look past the possibility of this being sneaky sponsored content and see it for a genuinely special moment in the lives on-screen, then that's pretty cool. Who wouldn't want to be a fly on the wall in the Dolby Theatre anyway?