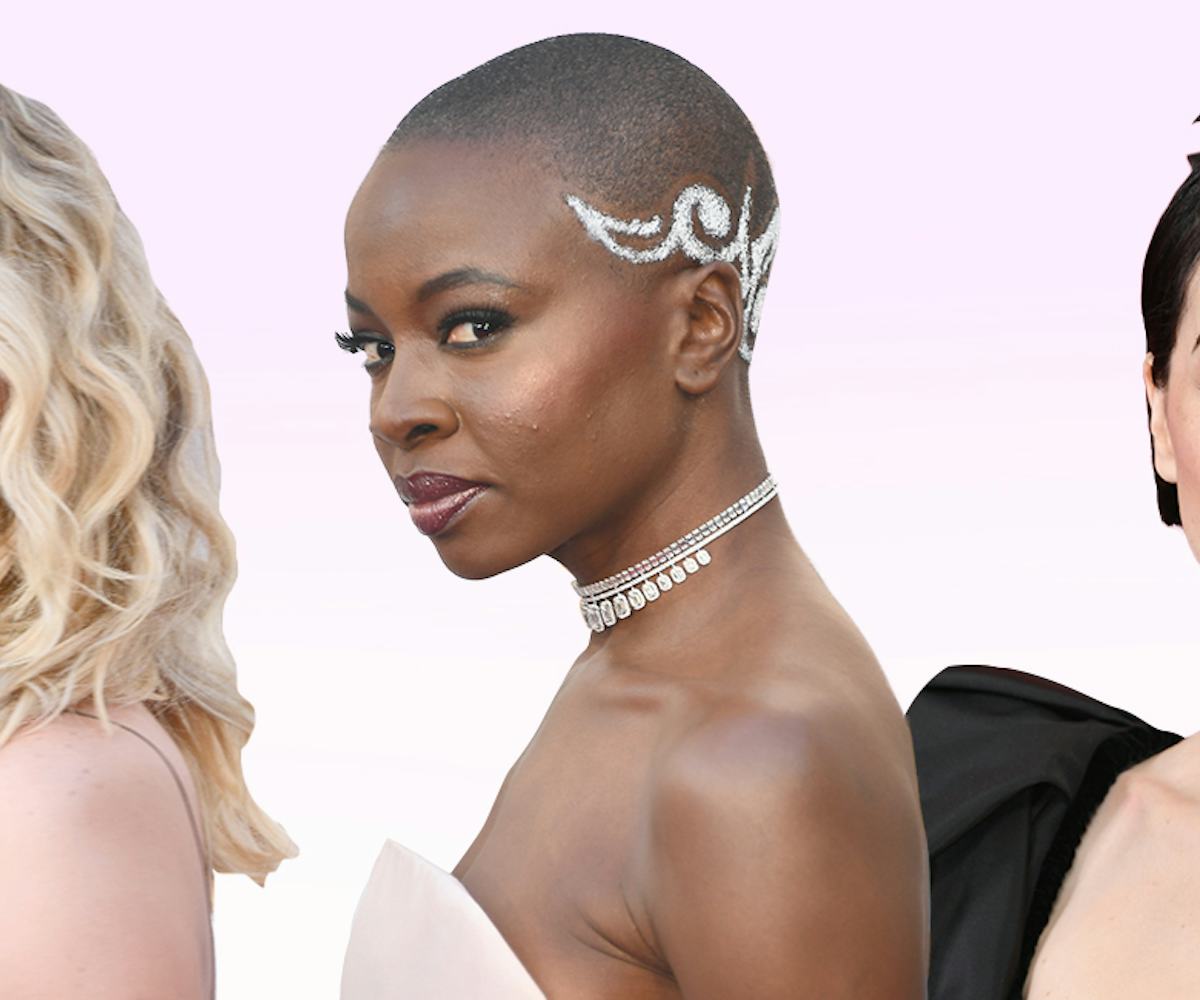 Photos by Frazer Harrison and Neilson Barnard/Getty Images
Our Favorite Beauty Looks From The 2018 Oscars
The Academy Awards red carpet is typically never the most thrilling, especially beauty-wise. Risk-taking is something usually saved for other awards shows, a perfect example being January's Grammys. However, this year proved otherwise.
On tonight's carpet, the focus was on the hair. While we saw a fair share of Old Hollywood-esque waves, we also saw a ton of interesting hairpieces, embellishments, and more. Andra Day and Haley Bennett both worked flowers into their looks, and we saw everything from a gold wire-entwined updo on Lupita Nyong'o to a head-turning hairpiece on Annie Clark. Of course, Danai Gurira won the beauty game by buzzing a design right into her scalp. There were plenty of color pops on the eyes and lips, too.
Check out the best in red carpet beauty from tonight's Oscars, below.
Lupita Nyong'o was a vision in gold on tonight's carpet, from her dress up to her gold intertwined 'do. And can we talk about that gorgeous pop of blue?
Jennifer Lawrence's waves were a masterpiece. As was her smoky winged eye and that amazing shade of lipstick.
Zendaya sported the most flawless ballet bun.
Betty Gabriel stole our hearts with loosely pulled-back cascading princess waves.
In the true spirit of spring, Andra Day turned her voluminous ponytail into a floral display.
Haley Bennett did the same, intertwining tiny flowers into her tousled bob.
Forget hair embellishments, Danai Gurira buzzed and painted a design directly onto her scalp.
We're loving Sofia Carson's sleek low pony and are experiencing some serious brow envy right now.
Former NYLON cover star Annie Clark, aka St. Vincent, rocked a bold red lip, sleek hair, and some sort of ruffle-y hair clip magic.
Janet Mock is a goddess, and that's all there is to say.
Zoey Deutch brought the red eyeshadow trend to the red carpet with this smoked-out look.
Saoirse Ronan opted for the no-makeup makeup look, complete with a simple bob, and looked simply flawless.