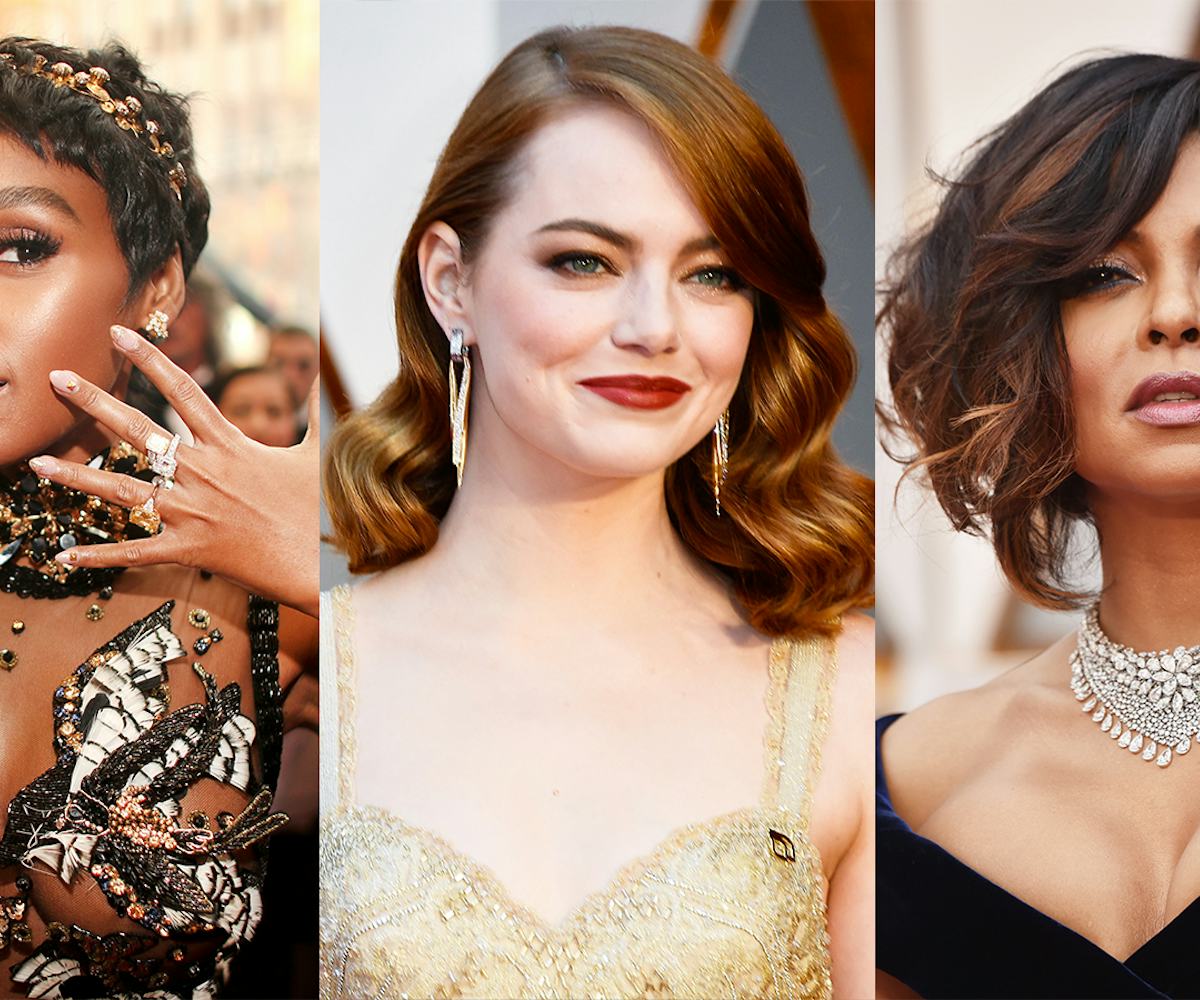 11 Of Our Favorite Beauty Moments From Tonight's Oscars
We tuned in to the 89th annual Academy Awards expecting to be bored with the beauty looks. This isn't a show exactly known for being the most exciting, both on the red carpet and off. It's the highest accolade actors and actresses can receive—for many, basically why most of them get into the business—so the focus is, understandably, on highlighting their talent. Well, this year's hair and makeup deserves an honorable mention, at the least.
Olivia Culpo's lavender smokey eye is a standout. Janelle Monae's pixie cut, which she crowned with a gorgeous gold headband is another favorite. Naomie Harris continued the red eyeshadow trend and Ruth Negga also tapped in with a very now monochromatic moment.
We highlight those, and others, ahead. Stay classy, Oscars.
Monochrome was the name of Ruth Negga's beauty game for the night.
We never considered trying out a lavender smoky eye until Olivia Culpo showed up on the red carpet.
Hairstylist Tymothe Wallace was inspired by Diahann Carroll when creating Taraji P. Henson's glam bob.
A gold hairband made for a fashionable goddess. Also, is that a pixie cut we spot?! If so, more please.
Blink and you might miss the subtle white eyeliner lining Scarlett Johansson's tear duct.
Emma Stone is known to keep it safe for the red carpet, but when her hair and makeup both look this good every time, who are we to complain?
Priyanka's deep parted hair has us pulled deep in.
Naomie Harris has us entranced by more than her stunning Moonlight performance. Her red eyeshadow has our heart, also.
Chrissy Teigen shows us why nude lipstick will be everywhere this spring.
"Business in the front, party in the back" —Hailee Steinfeld's updo.
In one of the most unexpected moves of the night, Halle Berry wowed with voluminous curly hair.