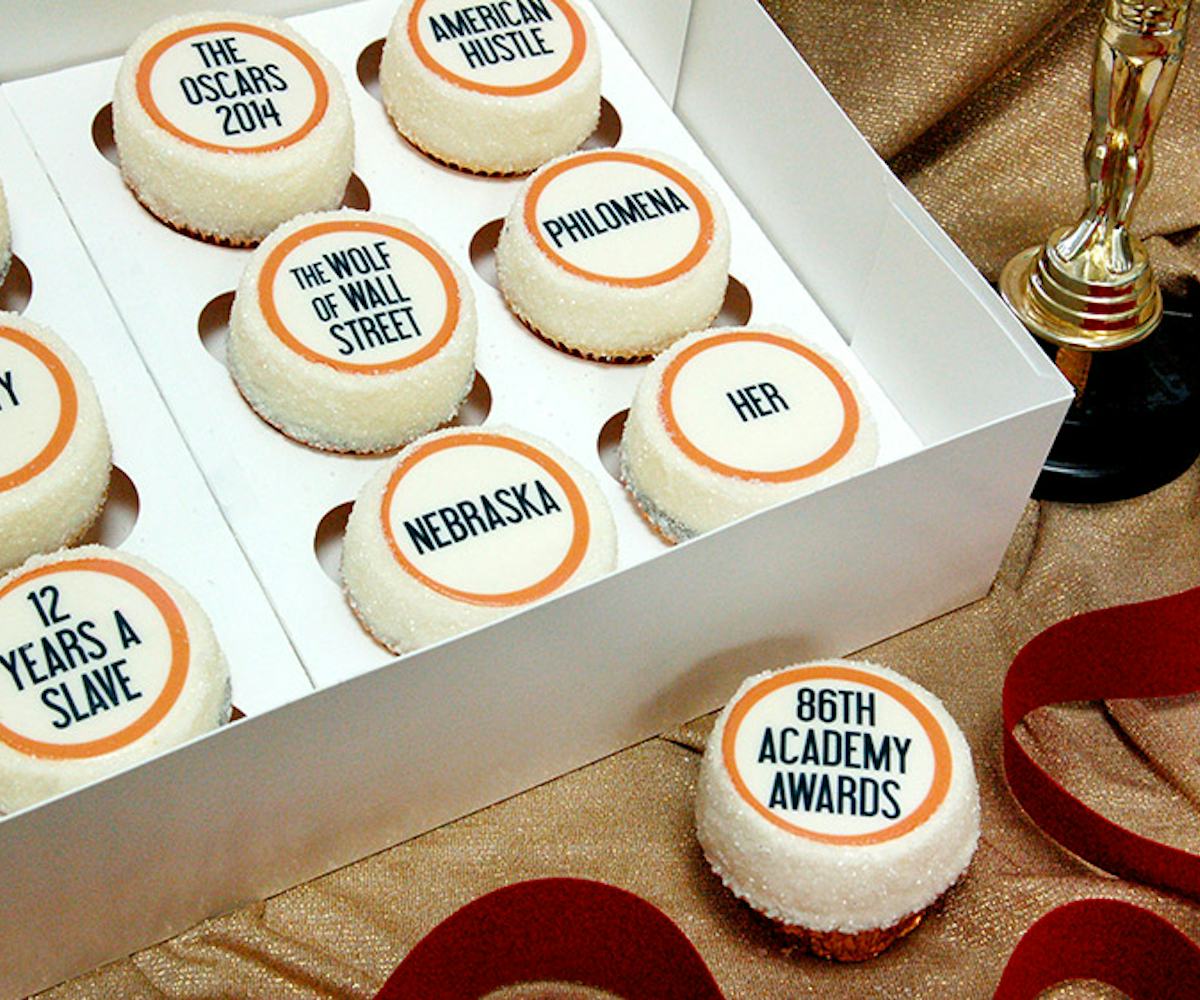 photo via magnolia cupcakes
the nylon weekend guide
what to do in your city this weekend, whether you're into the oscars or not.
Whether you're completely obsessed with the Oscars and have been planning your party since the end of last year's show, or you're not even going to watch, there's some awesome stuff happening in your city this weekend that you just can't miss. We've got all of it covered in the form of the
. The awesome/amazing/fill-in-the-blank email goes out to 10 cities every day, letting you know about the coolest stuff you definitely shouldn't miss. It's kinda like opening up an envelope filled with confetti and party horns. We've got a sneak peek below, but do you want to find out about more awesome shows, pop-up shops, film screenings, art exhibitions, and other rad happenings in your inbox all week long?
There's only one way to get in on it, and that's by signing up for the NYLON Daily in your city
.
Austin
The only thing better than hitting up your fave bar is hitting it up while they'ree throwing their first birthday party. Stop by Craft Pride tonight, where they're celebrating an entire year of serving up Texas brews. What's on tap for the party? Think everything from Austin Beerworks' Sputnik to Saint Arnold Brewing Company's Pumpkinator. Plus, the party playlist comes with jams only by '80s hair bands, which is both hilarious and amazing. P.S. Get there early to snag a limited-edition T-shirt!
P.S. you should definitely sign up for the NYLON Daily Austin newsletter since rad blogger Joanna Wilkinson of Keep Austin Stylish is taking over the Austin Daily next week! Sign up here!
Boston
The best way to prep for
The Grand Budapest Hotel's
release next week and to get pumped for the Oscars? A Wes Anderson movie marathon (duh!). And since Brattle Theatre totally knows what's up in this world, they will be screening (almost) all of the rad director's classic flicks, starting tonight with
The Royal Tenenbaums
and
The Life Aquatic with Steve Zissou
. Not sure about you, but yes, we will be dressing like Margot Tenenbaum for each day of this epic mini fest.
Wanna know what's going down in Boston every day of the week? Sign up for the NYLON Daily here!
Chicago
If there's one thing you've got to have at your Academy Awards party this Sunday (besides a red carpet) it's Oscars-themed cupcakes (obvi). And thanks to Magnolia Bakery, who are serving up two kinds of cupcakes inspired by the awards, you can stalk your fave celebs on the red carpet instead of spending the day making dessert for your BFFs. So, what makes the bakery's cupcakes Oscars-themed anyway? Edible movie titles and gold dust (sweet).
Find out what's going down in Chicago after the Oscars - Sign up for the NYLON Daily here!
Las Vegas
Whether you're throwing an Oscars party on Sunday and having all your besties dress like award-winners, or you just want to feel like a celeb for a day, Original Diva salon has you covered. The new beauty spot at the Miracle Mile Shops at Planet Hollywood knows how to hook you up with all your fave makeup and hairstyles--and not just for one day of the year.
Get all the details on what's going down in Las Vegas every day of the week! Sign up for the NYLON Daily!
Los Angeles
The only thing better than spending an entire day shopping at Barney's is when Barney's has totally new stuff to shop--and we're not talking about clothes. Seriously, insanely delish NYC sweet spot Dominique Ansel Bakery is coming to The Grove department store this weekend and bringing along with them their famous Cronut--AKA what happens with donuts and croissants decide they want to collab on a heavenly snack. That's right, you'll get to scoop up the latest fashion trends while devouring the awesome pastry--that is, if you get there early enough (you might want to set your alarm now).
Find out about awesome stuff happening in LA every day of the week -- Sign up for the NYLON Daily here!
Miami
Just in case you're one of those people who
just
watches the red carpet part of the Academy Awards (no judgement), there's an awesome party happening tonight that will get you totally prepped for the fashion frenzy. Stop by the Dream South Beach Hotel for their new monthly shopping party that comes with everything ever. We're talking about pop-up shops, live art, personal styling by The Haute Frugalista, champagne, and a beauty bar. And seeing as this party is co-hosted by delish restaurant Naked Taco, you know you it's going to be one fiesta bueno.
We're always finding out about parties like this going down in Miami. Be in the know by signing up for the NYLON Daily here!
Nashville
Love The Belcourt so much that you wish it would be around forever?! Same, that's why you should definitely hit up their Oscars viewing party this Sunday, where the cost of your ticket supports your fave independent movie spot. Besides doing your good deed for the day you'll also get to enjoy the evening's cocktail buffet and score a gift bag (just like you're one of Hollywood's biggest stars). And even though you might not get to take home a little golden man, this party is still a total win-win.
Looking for awesome stuff do to in Nashville next week? Sign up for the NYLON Daily and look for it in your inbox on Monday!
New York City
If you're anything like us, then your Oscars countdown starts as early as your own birthday's. But just in case you don't feel like cleaning up a huge party this Sunday and then having to go to work the next day, have your party at Videology. The awesome movie theater is hosting an Oscars screening, complete with a red carpet and awards-themed cocktails. The best part? You can pretend you're part of the Academy while casting your own vote for best-everything.
Find out what's going down in NYC every day of the week -- Sign up for the NYLON Daily here!
Orange County
One of the best parts about signing up for the NYLON Daily newsletter is getting the chance to score tickets to see your fave bands! This time, we've got a pair of tickets up for grabs to check out Canadian indie rockers Walk Off The Earth. The band is coming to town this Tuesday night to play a set at the House of Blues, and if you're one of those people who waits until the last minute for everything, it might be OK, because you might just win them.
How to enter? Sign up for the NYLON Daily Orange County Newsletter right now and find all of the details in today's edition!
San Francisco
What more do you need for an Oscars viewing party than hot'n'buttery popcorn and a red carpet? Two giant projection screens. Get it all at Novela this Sunday, including an Academy Awards-themed cocktail menu. And just in case you have your own opinion about whether J.Law or Lupita Nyong'o should win best supporting actress (tough call) the bar is providing all the party people with their very own ballot.
See what's going down in SF every day of the week. Just sign up for the NYLON Daily here!
Are you a Gmail user? Our newsletter might be hidden out of sight in your promos tab! If you want to make it even easier to see the coolest events in your city, here's what you can do: Click on the "Promo" tab and find a NYLON Daily Newsletter. Drag it into your "Primary" tab. Gmail will notify you of the change and ask you if you'd like to do this for all future emails from NYLON Daily. Just say yes! <3