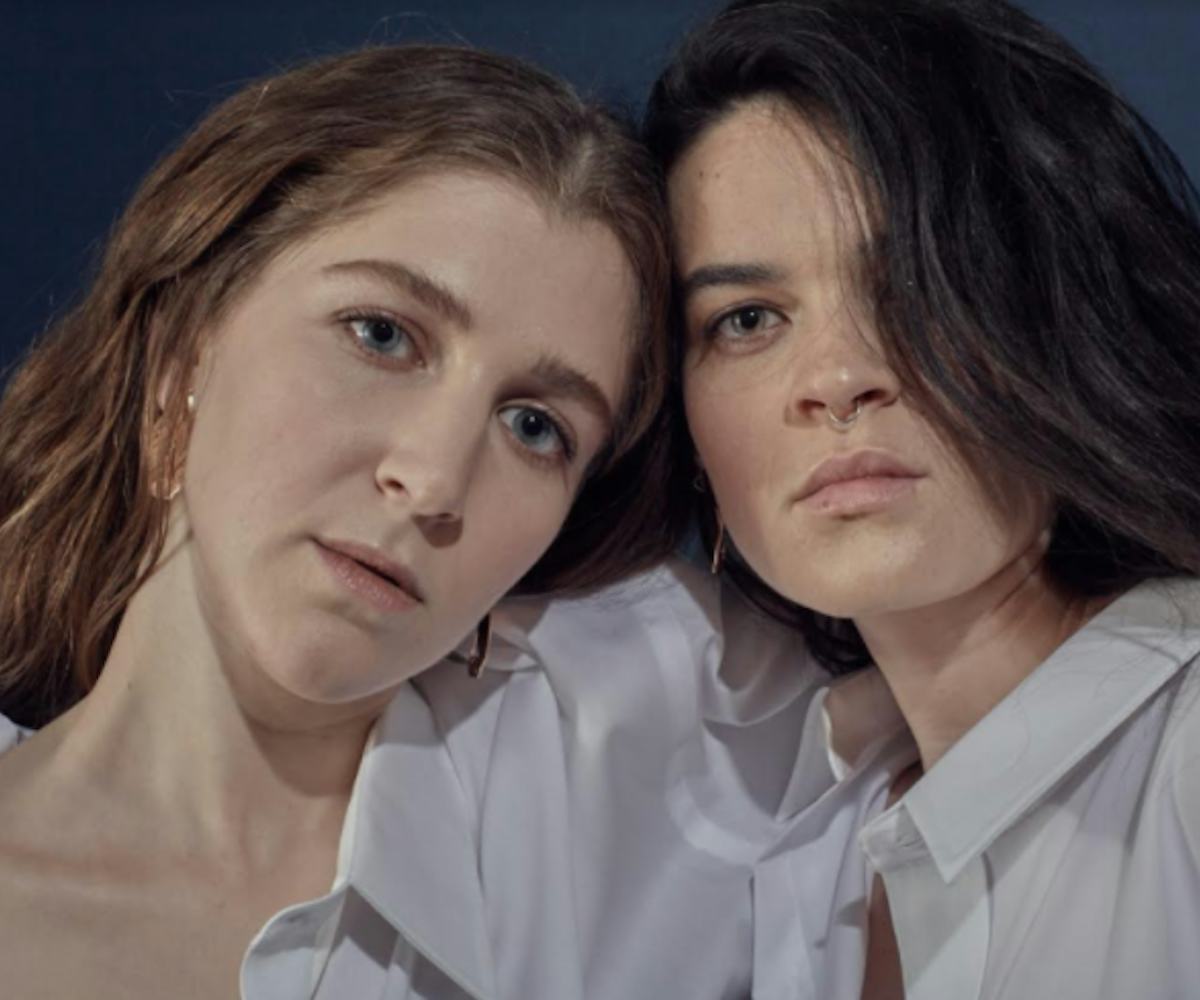 Photo courtesy of Overcoats
Overcoats Walk Us Through Their Debut Album, One Track At A Time
Overcoats are officially ready to present their combined coming-of-age story in the form of their debut album, YOUNG. Using folk as their foundation and combining it with electronic dance beats, Hana Elion and JJ Mitchell have been able to create a sound and style that is all their own. We have been patiently waiting for their full album to drop since their debut EP came out back in 2015. Prior to the release, Overcoats even treated us to a private performance right here in the NYLON studio!
The duo has this unique way of telling intimate stories that don't come off as TMI, instead, filling us with all of the feels as we listen to their journey in solidarity. One of the encompassing themes of the album is the relationships that Elion and Mitchell have with their parents, especially their mothers and how they have come to relate to them over time.
Overcoats recently took the time to break down the album track by track. Crank up the volume and put this "folktronica" on blast while you read more about the inspiration behind these tunes, below.
"Smaller Than My Mother" is about the way a relationship can make you shrink. We are in awe of our mothers, who managed to stay solid. 
"23" is about feeling trapped in a relationship before you've seen the world. It's about realizing the difficult truth that there is a life beyond the walls of your relationship, waiting to be lived.
"Hold Me Close" is about finding solace in the present, when the future and the past seem impossible to understand. It's about loneliness and disillusionment that we can feel in relationships, and how we must persevere anyway in hopes of finding the beauty in love. 
"The Fog" is about reclamation, independence, and tells the story of working with male music producers. It's about self-reliance and the bitterness we swallow.
"Leave the Light On" is about the uncertainty of life's path and the self-care it requires to keep going. It's about celebrating youth and being scared for the future, together.
"Walk On" is a song about missing someone long after you don't have them in your life anymore, and the anger and guilt that comes with that feeling. It's about memory, and the desire to forget. 
"Little Memory" is also a song about looking back on a time where things used to be different. It's about coming to the end of a relationship, holding onto how things used to be, and wanting to feel that past one last time.
"Siren" is a song about empowerment, empathy, and community. It's about women coming together and holding each other up. It's also about letting the crazy out; in each of us there is a siren, and it's about letting her sing.  
"Nighttime Hunger" is about anxiety and the power of fear. It's a song about how our deepest fears come alive at night and subside by day. We sing the song as an anthem, shouting our fears loud enough that we're no longer scared. 
"Kai's Song" is about growth, change, and self-love. It's a song about looking at yourself in the mirror and not recognizing the person staring back at you, and learning how to love the person you see, no matter what.
"Mother" is a song about growing up. It as about acceptance and love, of finding the maturity and distance from your childish ways to finally witness the bigger picture of life, love, and being your mother's daughter.