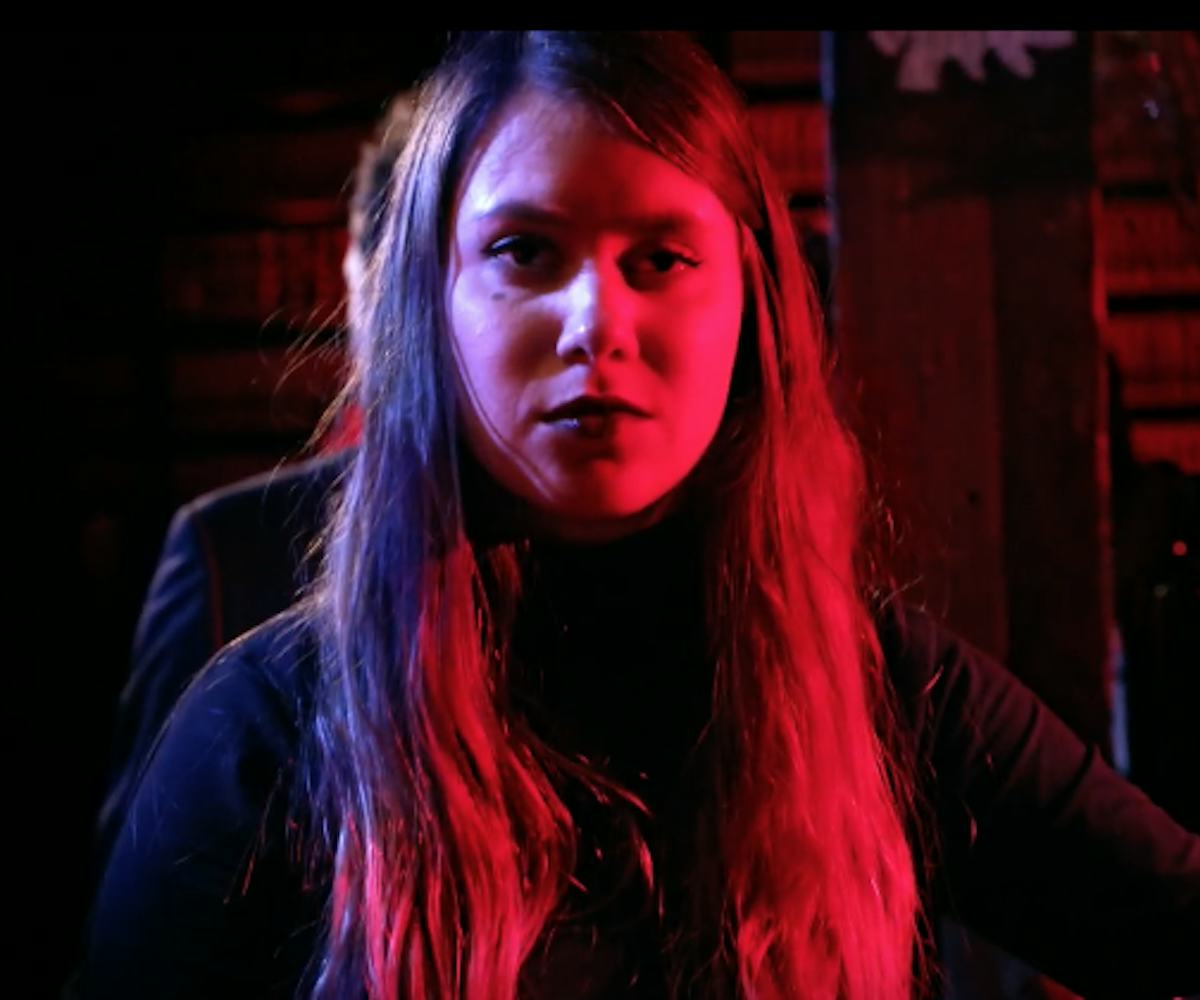 screenshot via youtube
Pageants' Debut Video Is A Red-Lit Romance With The Drama Of 'Twin Peaks'
See "Musings of the Tide" here
After an eventful adolescence touring the country with her critically acclaimed indie pop band Avi Buffalo, Rebecca Coleman decided it was time to do her own thing. So she settled in her home city of Long Beach, California, and set to work on a new project, Pageants.
Seven years of writing and recording with Devin O'Brien (who also plays guitar for Cherry Glazerr) and Dylan Wood (who drums for Best Coast) and numerous label negotiations later, and Pageants is finally releasing their debut album, Forever, on February 23 (via Eye Dull Records).
Forever is 10 songs of indie-pop perfection, merging melancholic and lovesick lyrics with dark humor and dreamy melodies. Rebecca's rich voice soars and plummets over gauzy guitars and syrupy synths. The record documents her struggle to adjust to "real life" after the whirlwind of Avi Buffalo and finding her feet both as an adult and as her own artist. It also reflects on the long-standing romance between her and Devin, which began after they met in high school.
Pageants' debut video for "Musings of the Tide," which premieres today here, captures the ups and downs of relationships; Rebecca concedes that it's "a bit biographical," but that it was mainly inspired by cinematic bad girls. "I love the concept of a good girl gone bad, à la Sandra Dee from Grease or Allison from Cry-Baby," she says.
The video, which was directed by Ryan Ford, shows Rebecca sitting at a bar where a trio of doo-wop singers are performing, watching Devin dance with two women while she tries to fend off advances from a creepy man. There are flashbacks to a fight on the side of a dark road, and Rebecca grows increasingly agitated. She shoves away her harasser and smashes a bottle over his head, then grabs another bottle and does the same to the women, before fleeing with an unidentified man on a motorbike.
Its romance and red-lit drama conjure a dream-like, ominous vibe reminiscent of Twin Peaks. Rebecca says the show was a huge inspiration when she was coming up with ideas for the video, and also drew upon "Mean Streets, The Wild One, Martha and the Vandellas, and old photos of Marilyn Monroe in a cozy sweater on the beach."
Rebecca's friend Olivia Coleman helped the band pick out the singers' costumes in Los Angeles' Fashion District and came to set to "make sure everyone looked fly." Shooting took place in and around Los Angeles and Long Beach, with the motorbike-riding scenes spanning from northeast Los Angeles suburb Mt. Washington to the Gerald Desmond Bridge in Long Beach. Rebecca says, "The bike life is addicting. Going around on one for a good amount of time made me want one super-bad."
Locals may also recognize Silver Lake's Hyperion Tavern as the scene of Rebecca's vengeful bottling. She says, "It was fun to have an excuse to get our friends together for a fake—but very real—dance party." But her favorite place they shot at was White Point Beach in San Pedro, for the romantic flashback. "I'm still impressed by Devin's great rock-skipping abilities exhibited here," she says.
Clearly, walking away from her successful teenage band and taking time to craft her own artistic vision was the right risk for Rebecca to take. She's currently searching for a new drummer, as Dylan recently left to pursue his own projects, but hopes to take the band on the road soon.
Pageants are proof that persistence in pursuing your dreams pays off, and a reminder that love is worth literally fighting for.