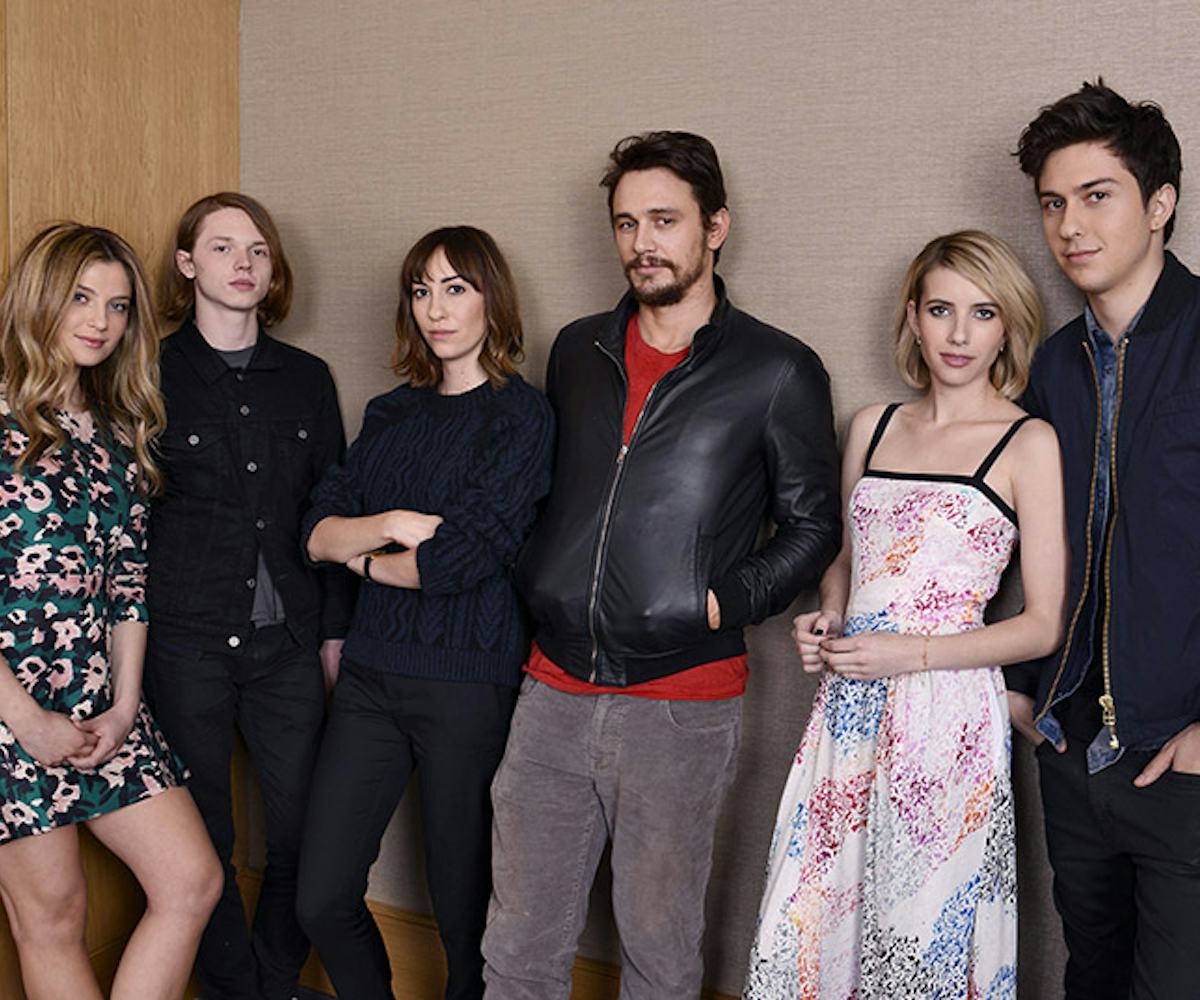 photo by getty images
california dreamin'
everything you need to know about gia coppola's new movie palo alto.
As you probably can tell, we're full-on obsessed with Gia Coppola's first feature-length film
Palo Alto
. It's a shock our walls aren't plastered with promo posters (yet), but we are playing the
killer score by Dev Hynes on repeat.
Adapted for screen from James Franco's short story collection of the same name, this film is bound to show the raw high school experience gracefully and with a little of that signature Coppola
je ne sais quoi
. 
While we anxiously await the May 9th release date, we caught up with director Gia Coppola and stars Emma Roberts and Nat Wolff  to chat about their experiences making the film at the Apple Store last week. We learned a lot--and it would be rude not to share--so here are 10 things you need to know about
Palo Alto. 
BEING A DIRECTOR WASN'T GIA'S FIRST CALLING
"I studied photography in college, and when I graduated I was figuring out what I wanted to do," Coppola said. "I went to bartending class and I worked in a restaurant. I was also making little, short films for my friends' fashion companies on the side--it felt like an extension at the time."
ADAPTING THE BOOK INTO A MOVIE WAS A COLLABORATIVE EFFORT
"I was working with short stories, so I had to fill in the blanks and be imaginative at times," said Coppola. "The way James [Franco] guided me through this was to pick the stories I liked the most, and make a screenplay for each one of those stories. So once I did that, he said, 'Take one of those stories and make a little test film with your friends, don't worry about what it looks like, just hear the dialogue off the page, and see what's working and what's not.' In that process, I discovered that the best way to tell the story was to make it an ensemble piece and combine the characters." 
PALO ALTO HAS BEEN A LONG TIME COMING
"It has been five years since we've been trying to get it going. There were a lot of obstacles in the way," admits Coppola. "I don't think people wanted to really invest in someone that hadn't really made anything and was young. James really stuck by my side, believed in me, and we waited until we could figure it out." 
EMMA ROBERTS HAS BEEN A JAMES FRANCO FAN SINCE DAY ONE
"I had actually read the book [
Palo Alto
] literally the day it came out. I went to the bookstore, they were putting it on the table, and I was so curious about it," the actress gushed. 
"I absolutely fell in love with it."
GIA USED TO BABYSIT HER LEADING MAN
"I've known Jack Kilmer since he was four years old. A part of my elementary school program was that you had to mentor a student in a younger grade when you were in sixth grade, so I mentored Jack--I remember him as like a little tyrant. That was sort of like me babysitting him; I'm seven years older than him." -- Gia Coppola
THE MALE CO-STARS SHARED A HOUSE WHILE FILMING
"Nat [Wolff] and Jack [Kilmer] had a great, real friendship, and they lived at my mom's house while we were shooting. We were just like a family." --GC
INSTAGRAM INSPIRED THE SETS
"I looked at Instagram and what was going on in teenagers' bedrooms for visual references. It was important to say a lot in the character with just what was around them in their rooms and in their clothes, and to not have to verbally describe what these characters are like." 
SOME OF THE SETS WERE THE CASTS' ACTUAL HOMES
"Jack's character's bedroom is in his real bedroom. My bedroom has stayed the same since I was a teenager, so we used that for Emma's character." -- GC
NAT WOLFF AND EMMA ROBERTS HAVE BEEN FRIENDS SINCE APPEARING ON NICKELODEON IN THE NAKED BROTHERS AND UNFABULOUS, RESPECTIVELY
"I knew Emma when I was 12 and she was 14. There's a funny picture of us when I was smaller than her." -- Nat Wolff
GIA GREW UP WITH A VIRGIN SUICIDES POSTER ON HER WALL
"I remember loving
Virgin Suicides
as a teenager, and that was just a big poster in my room. I loved
The Last Picture Show, AmericaN Graffiti...
there are so many great [teen movies]...
Fast Times at Ridgemont High, Sixteen Candles."
-- GC