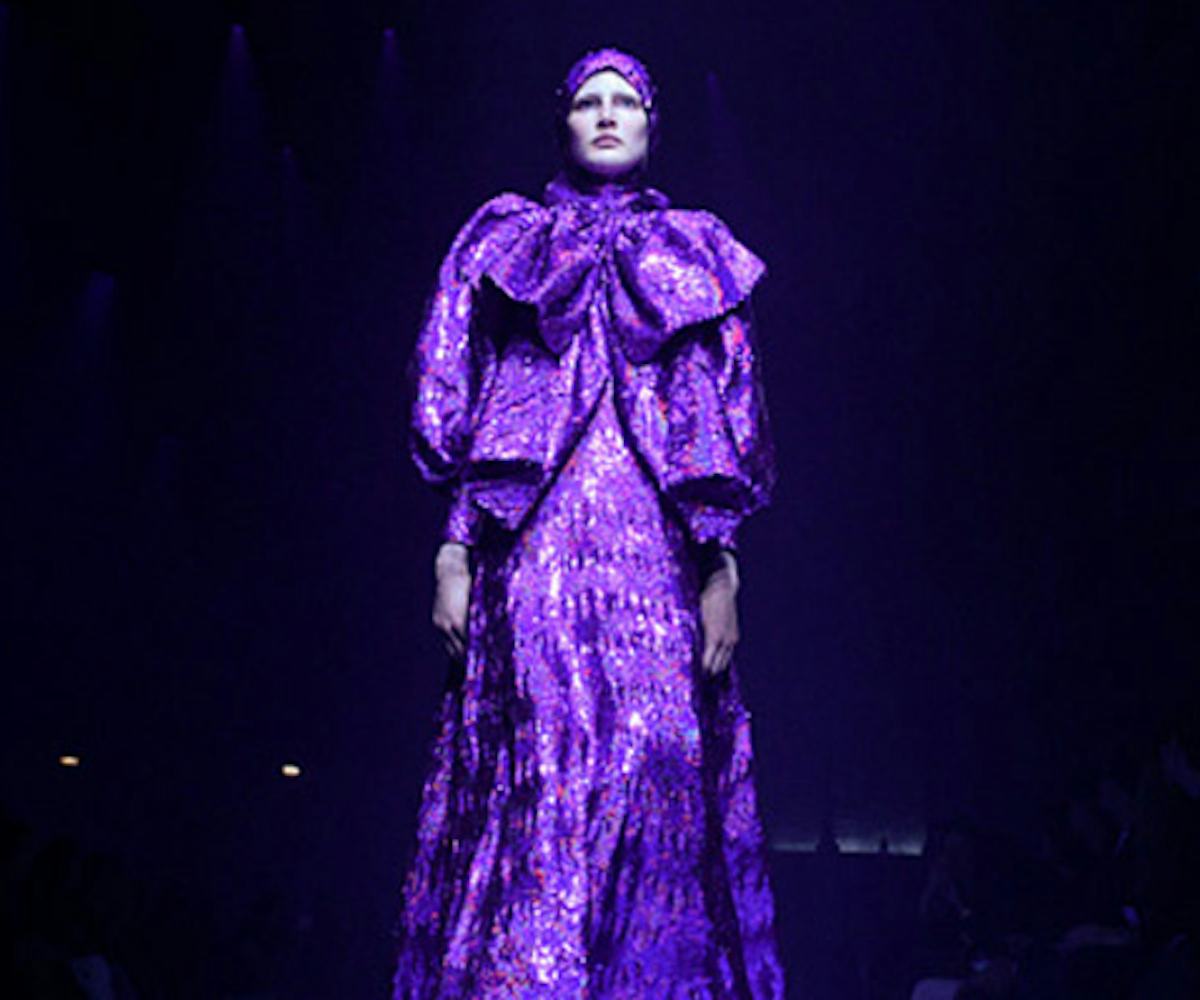 Photo by Pietro D'aprano/Getty Images
Pantone's 2018 Color Of The Year Has Been Revealed
It's that time of year again! Pantone chooses the color that will set the tone for the upcoming year. Considering this year's been a waking nightmare, 2018's color needed to be good, and it didn't disappoint. The 2018 Color of the Year is Ultra Violet.
This electric purple is a color we've seen on the runways of Gucci, Marni, and Balenciaga. The so-called "color authorities" choose the upcoming year's shade by sending 10 people to traverse the globe for weeks at a time, according to The New York Times, searching for color signals in their surroundings, including food, cars, cosmetics, clothes, and housewares. Afterward, they reconvened and discussed their findings. This year, they all agreed on Ultra Violet. It's also the name of an organization that works to combat sexism and violence against women, which seems very appropriate right now. 
Ultra Violet also "communicates originality, ingenuity and visionary thinking," Leatrice Eiseman, executive director of the Pantone Color Institute, explained to the Times. Famed architect Frank Lloyd Wright used to wear a purple cape to get into a creative mindset, Eiseman said. Also, Prince was defined by the color purple. He even got his own Pantone color after his death. "It's also the most complex of all colors," Eiseman continued, "because it takes two shades that are seemingly diametrically opposed—blue and red—and brings them together to create something new."
While a bright and vibrant purple might be the last color to come to your mind when you think of the state of the world right now (shit brown probably would've been a more accurate representation of what we've all been going through), Pantone thinks this kind of optimism is necessary right now. "It's truly a reflection of what's needed in our world today," said Laurie Pressman, vice president of the Pantone Color Institute. Eiseman added, "We wanted to pick something that brings hope and an uplifting message."
Here's hoping 2018 is as bright as the color that represents it.