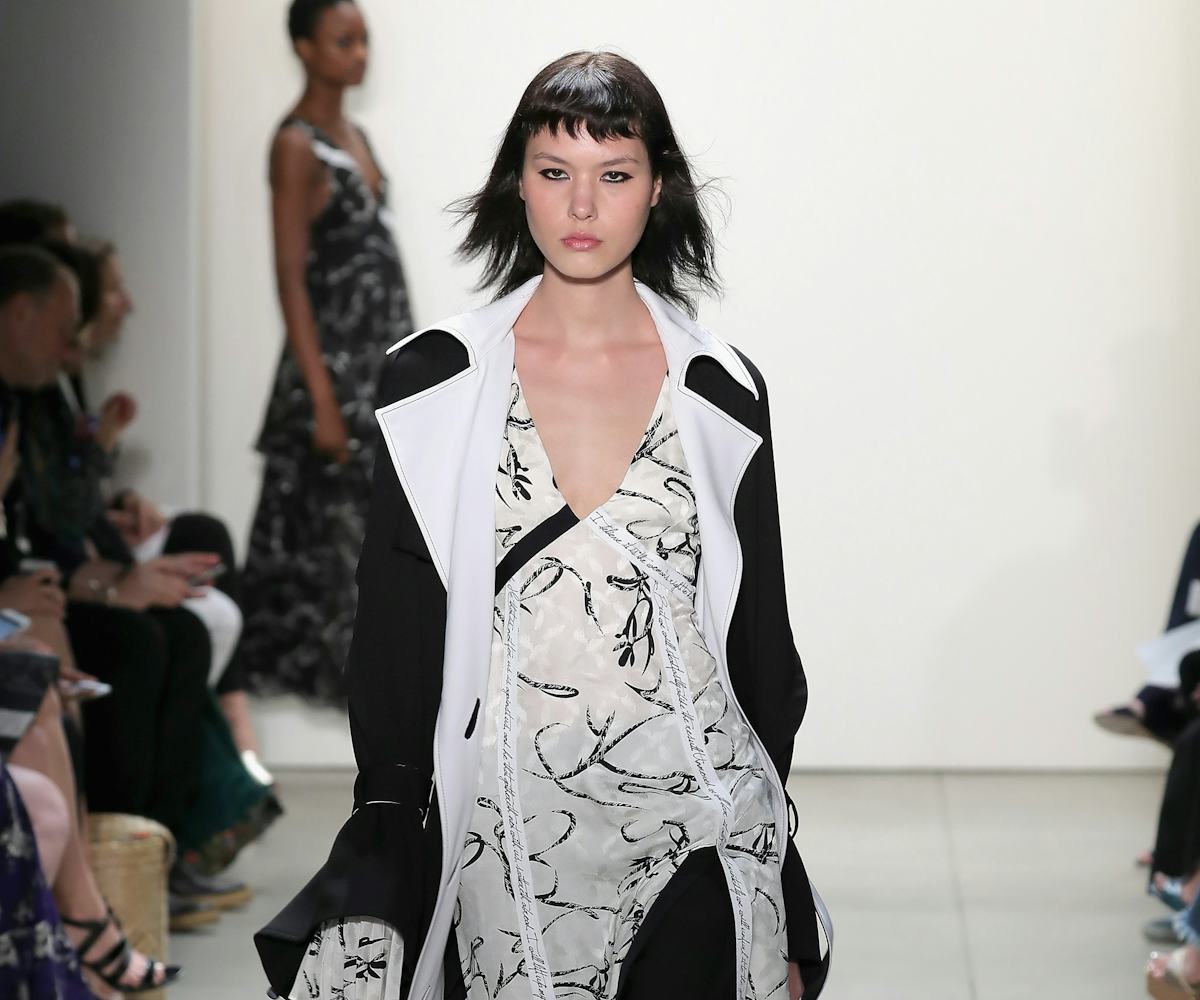 Photo by Neilson Barnard/Getty Images
This Spring, We'll Wear Pants Under Everything
Your new go-to look is here
If you've been participating in any New York Fashion Week activities, you've more than likely been subjected to the heat wave, excessive sweating, and the general feeling of overall grossness. The sweltering heat and rising temperatures—despite fall being here basically tomorrow—did not make dressing up for street style photographers (which involves layering things) an easy feat.
While slowly fading away in a pool of my own sweat at each show and presentation, I did notice one trend, in particular, popping up all over the place: pants as an undergarment. I'm talking trousers, jeans, and all that's in between layered under sheer skirts, thrown underneath basic T-shirt dresses, and even peeking out of full-length gowns. 
The sight of this made me sweat even more. So many layers. So much trapped humidity. I cringed at the idea. However, I reminded myself of the fact that this heat wave is almost over for good (until next year) and decided that I will definitely be on board with this trend come the cool, early spring days. 
Click through the gallery below to see our favorite pants-under-anything-and-everything action from NYFW so far.
Sheer skirt? No problem. A Détacher paired simple pastel skinny trousers under a see-through skirt to avoid any wardrobe malfunctions.
Banana Republic went for the ultimate contrast, pairing sleek white trousers under a black pleated dress.
Band of Outsiders made a daytime sundress a little more formal with black tuxedo pants.
Legs too cold for a fancy gown? Follow ADEAM's footsteps and throw on a pair of wide-leg trousers underneath.
If a slit is a little too daring for you, throw on a pair of interesting cropped trousers underneath, like at Prabal Gurung.
Diane Von Furstenberg let the pants take the spotlight for this look.