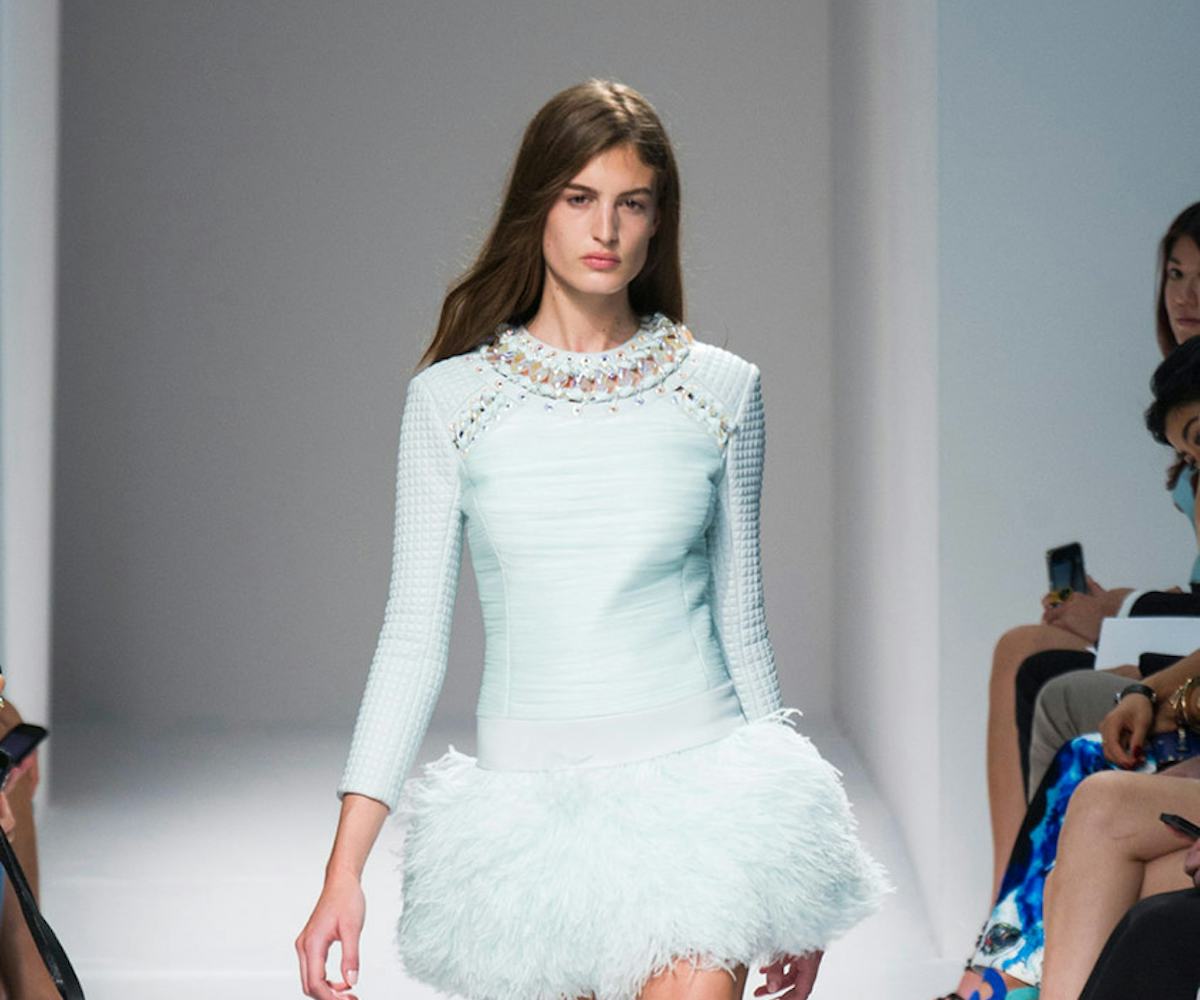 #trend: light as a feather
flights of fancy at paris fashion week.
Paris Fashion Week only just begun on Tuesday, but a trend has already emerged, and it is truly unexpected. We're talking about ostrich feathers.
From the skirts at Balmain to the shoes at Rochas to the snoods at Gareth Pugh, plumage has been floating its way over the Parisian runways. Usually we associate feathers with a Showgirls vibe, but leave it to the French to make something considered tacky in America seem really classy. The pouf miniskirts created by Olivier Rousteing at Balmain were easily the most wearable iteration of the trend, paired with rugby-style shirts with chain collars and some lethal black stilettos boots. Gareth Pugh's massive feather headdresses skewed more on the editorial side of the spectrum, but that doesn't mean we wouldn't love wearing one during the winter as a replacement to our J. Crew beanie. Surprisingly the least wearable, but cutest take on the plumage trend was at Rochas, where the fronts of flats and heels were covered in feathers that dragged beneath the models' feet. Move over Celine fur Birkenstocks, there's a new luxurious-but-impractical shoe in town!
See all the flights of fancy we adore in our gallery while you figure out a way to incorporate a boa into tomorrow's outfit. In this scenario it's worth asking yourself, "What would Fran Drescher do?"
Gareth Pugh spring '14
Gareth Pugh spring '14
Gareth Pugh spring '14
Gareth Pugh spring '14
Rochas spring '14
Rochas spring '14
Rochas spring '14
Rochas spring '14
Rochas spring '14
Rochas spring '14
Rochas spring '14
Balmain spring '14
Balmain spring '14