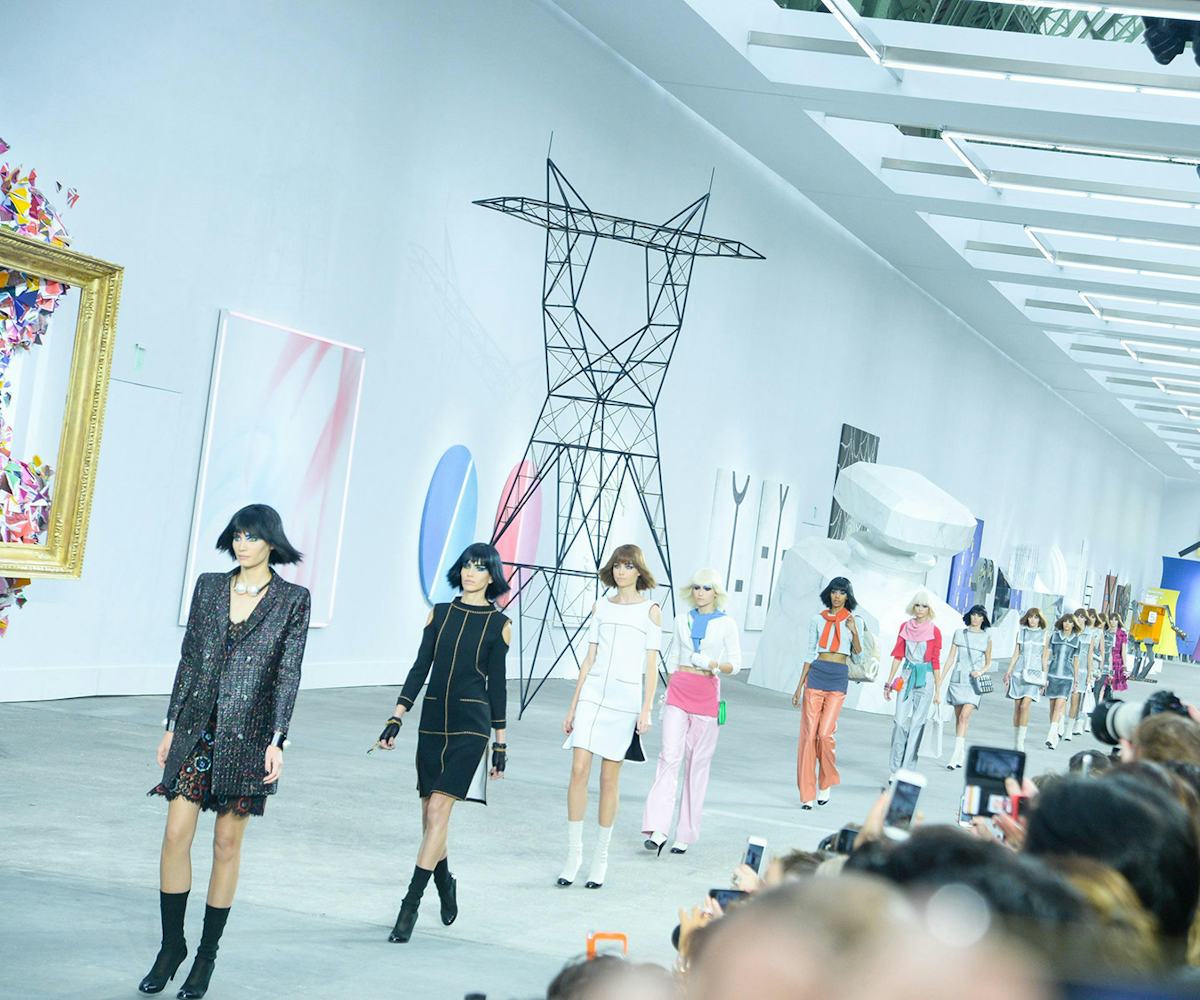 photo by jow childhorn/bfanyc.com
paris please
we'll take that paris fashion week inspiration to go.
Au revoir, Paris!
Paris Fashion Week came to a close yesterday with some truly epic collections, namely Marc Jacobs' swan song at Louis Vuitton, an all-black extravaganza combining lace embroideries, washed denim, and Edie Campbell strutting around the runway nude save for some artfully placed Stephen Sprouse graffiti and handcuffs. (It was a capital L "Look.")
Aside from Jacobs' gothic carnival, Paris had a lot to offer by way of inspiration. We're thinking of Chanel's rainbow artists, Saint Laurent's rock icons, Kenzo's swim fans, and Viktor & Rolf's topsy-turvy school girls. Instead of waiting until April to get in on these trends, however, we're getting into a spring state of mind now with the best movies, songs, beauty products, and fashion items inspired by the Paris shows. So grab your bestie and blast Pink Floyd, turn on Finding Nemo, glitter your nails, and get ready to do some serious online shopping.
C'est la vie!
"A goth girl goes to Carnivale" should be the name of Marc Jacobs' final Louis Vuitton collection. Aside from all the moody black, have you guys seen the jeans!? -- STEFF YOTKA
Wear: Marc by Marc Jacobs Leather, PVC, and Lace Purse - $300
Listen To: "Back to Black" by Amy Winehouse
Watch: Beetlejuice
Beautify With: Marc Jacobs Beauty Brow Taming Grooming Gel - $24
This Chanel look is what I imagine a curator at the Guggenheim wears while vacationing in South Beach, Florida. It's also my dream outfit. -- SY
Wear: Chanel Evening Bag
Listen To: "She's A Rainbow" by The Rolling Stones
Watch: Edward Scissorhands
Beautify With: Chanel Nail Polish in Black Satin - $27
Whether you're spirit rock goddess is Patti Smith, Debbie Harry, Joan Jett, or Chrissie Hynde, you'll find a little inspiration in Hedi Slimane's spring '14 collection. Prepare to rock out. -- REBECCA WILLA DAVIS
Wear: Alice + Olivia Drixa Studded Ankle -Wrap Pump - $495
Listen To: "X Offender" by Blondie
Watch: The Runaways
Beautify With: Benefit Bad Gal Waterproof Eye Pencil - $20
Ladylike crop tops, slouchy trousers, and varsity jackets-cum-dresses zipped to the top... girly but not
too 
girly, Stella McCartney this season is basically my dream closet. -- LIZA DARWIN
Wear: Quay Eyewear "Alexa" Sunglasses - $45
Listen To: "Girls" by The 1975 
Watch: Last Night 
Beautify With: Urban Decay 24/7 Eye Pencil in Whiskey - $19
With T-shirts that read "No fish, no nothing" and a waterfall-influenced set, the label's activist spring '14 message came across loud and clear. -- LD
Wear: The Grand Social Fish Jumper - $149
Listen To: "Rescue" by Yuna
Watch: Finding Nemo
Beautify With: Catwalk Sessions Wet Hair Look - $16.95
The Lanvin show always makes me smile because you can just tell that Alber Elbaz loves designing clothes for women. This season's disco infermo was pure joy. -- SY
Wear: Topshop Metallic Leather T-Shirt
Listen To: "Fame" by David Bowie
Watch: The Last Days of Disco
Beautify With: Essie Luxeffects Nail Polish in Set in Stone - $8
Hey! Teacher! Leave them kids alone...and let them dress like prep-school punks if they wanna. -- RWD
Wear: Forever 21 Bolt Studded Georgette Shirt - $27.80
Listen To: "Another Brick in the Wall" by Pink Floyd
Watch: Election
Beautify With: Lacoste Eau de Lacoste White LImited Edition Eau de Toilette - $65