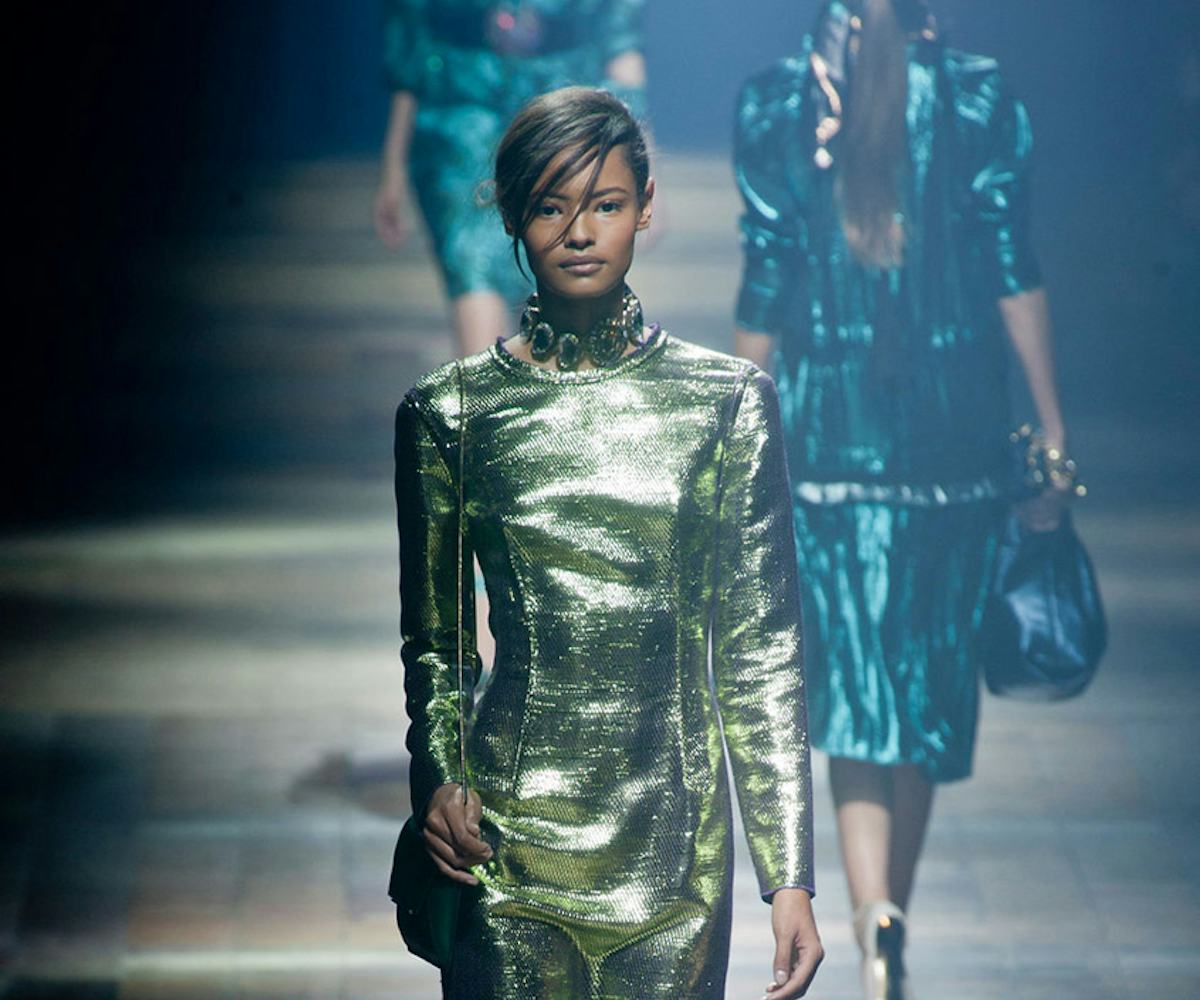 #trend: city of light
paris takes on metallics in the chicest way possible.
Metallics may have first made their mark during New York Fashion Week, where Marc by Marc Jacobs, Proenza Schouler, and more added a little shine to their collections in the forms of crop tops, jumpsuits, and party dresses, but they have truly taken over Paris Fashion Week, where nearly every major show to happen so far has had an overwhelming number of glitzy ensembles.
Let's start with Lanvin, where 43 of 48 of the looks on the runway were made of lamé fabrics--that's almost 90-percent glitz! It wasn't your standard sparkle-fest either; Alber Elbaz' shiny creations were more Studio 54, or rather Monaco by sunset, than, say, a Chelsea nightclub at 3AM. Over at Dries van Noten, giant ruffles were gilded and sporty dresses came in a golden brocade, all to compliment the massive golden wall the models emerged from. Balmain and Balenciaga dipped their toes in the trend too, with crystal embellishments on party dresses at the former, and metallic trimmed bubble skirts at the latter. 
This finally confirms what we learned from Smash Mouth in 1999; "All that glitters is gold. Only shooting stars break the mold."
Lanvin spring '14
Lanvin spring '14
Lanvin spring '14
Lanvin spring '14
Lanvin spring '14
Lanvin spring '14
Lanvin spring '14
Lanvin spring '14
Lanvin spring '14
Lanvin spring '14
Lanvin spring '14
Lanvin spring '14
Balenciaga spring '14
Balenciaga spring '14
Dries van Noten spring '14
Dries van Noten spring '14
Dries van Noten spring '14
Dries van Noten spring '14
Dries van Noten spring '14
Dries van Noten spring '14
Dries van Noten spring '14
Balmain spring '14
Balmain spring '14
Rochas spring '14
Rochas spring '14
Rochas spring '14