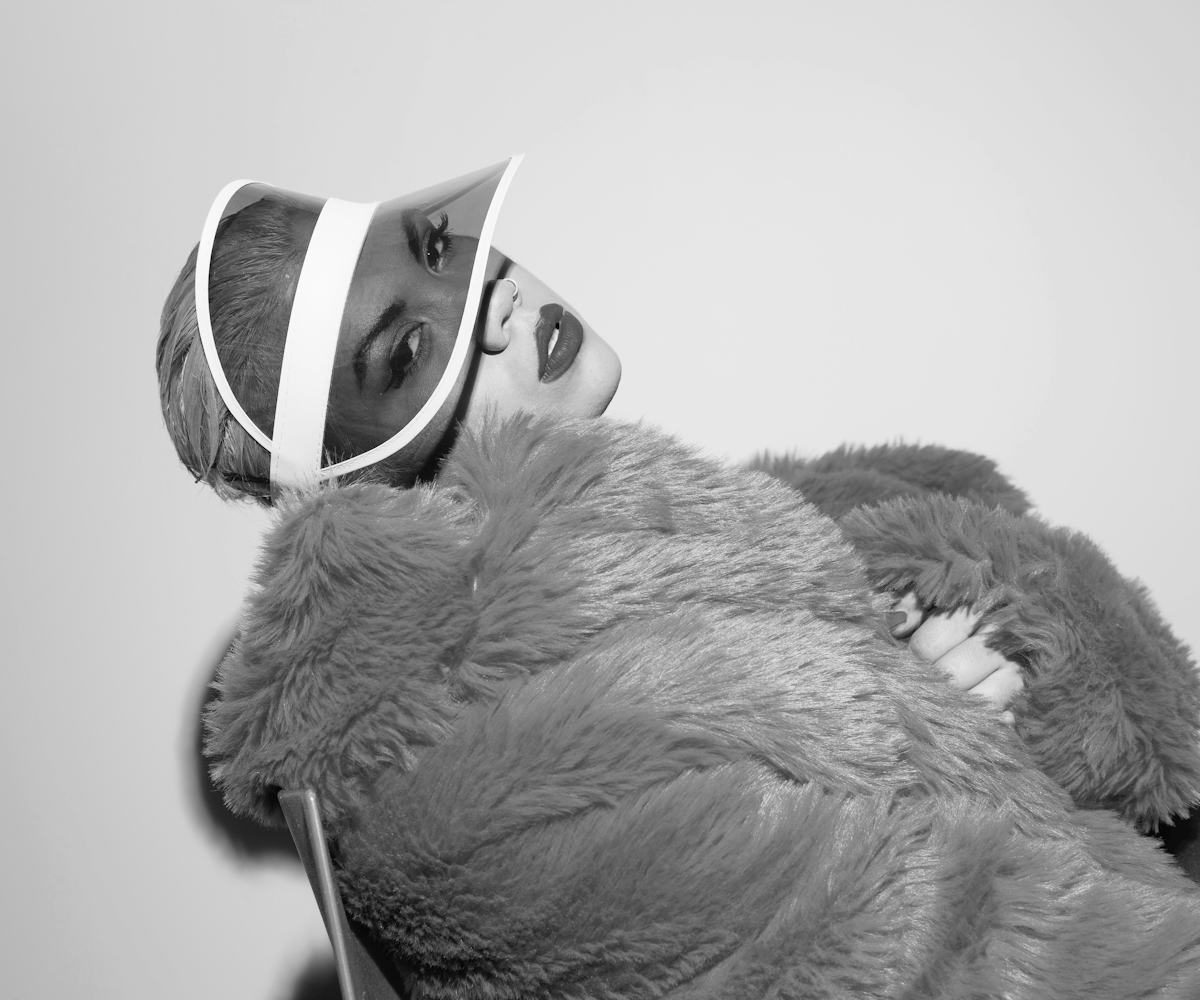 Photo by
PARRI$ Talks About Her New EP, Justin Bieber, And What Rihanna Is Really Like
Introducing New Zealand's latest artist to watch
Parris Goebel is a part of the multihyphenate generation. Under the moniker PARRI$, the dancer, choreographer, and singer-songwriter is a creative visionary on many levels. And yet, while PARRI$ has been dancing for as long as she can remember walking, she didn't take her first hip-hop class until she was around 10 years old, when she immediately fell in love with the style—so much so, that when she couldn't find enough classes to take, PARRI$ taught herself all the moves, which she'd learned by obsessively watching Missy Elliot, Usher, Janet Jackson, and Michael Jackson on MTV.
With roots tied to her homeland of New Zealand, PARRI$ is part of the country's close-knit creative community that includes artists like Lorde and Kimbra, but you probably best recognize the work she did with another famous musician from a different country in the Commonwealth: Justin Bieber. Whether or not you consider yourself to be a Belieber, PARRI$'s name should ring a bell because it was she who choreographed the music video for "Sorry." Since the visual went viral, PARRI$ has had even bigger opportunities come her way like working directly with Rihanna. And on November 4, PARRI$ is set to drop her debut EP, Run & Tell Your Friends. 
When PARRI$ isn't preoccupied in the studio, you can find her swept up in a shopping spree. If she's out in Los Angeles, she'll be at Wild Style. One of her favorite designers is Louis Vuitton, which is obvious when she arrives to our office decked out in LV denim with matching accessories. "It's only when I book something big, I'll treat myself to Louis, but on the regular, you cannot," she says with a smile. PARRI$ loves finding vintage gems at thrift stores, her eyes gravitating toward labels like Moschino and Joy Rich.
Now that she looks the part and is all settled into the fame lane, she's ready to shine as a solo artist. Read our interview with PARRI$ below to get to know this superstar before she blows all the way up.
I've never been to New Zealand; what's it like there?
We don't live in a cave. We have all the technology and stuff like that, but there's a lot of land. From where I'm from, it's kind of the main part of New Zealand. If you go for a drive, you would just see mountains and grass, and it's really pretty. But it's really, really small so there's not really an industry or there's not really a pathway to become a successful entertainer, very few people make it out of New Zealand and into the entertainment business.
How did you make the transition from dancing and being a choreographer to a recording artist?
Well, all this really started at the beginning of last year. I like to be creative, I love to feel pushed and feel different and feel like I'm trying something new. In dance, I feel like I reached a place where I was comfortable. For me, I don't like to feel comfortable. I don't like to feel like I'm doing consistently good. I want to feel challenged. I like feeling the growth. So I felt like I was in a place in my career in dance where it was just kind of easy. Like what I was doing for the artist, it was fun, it was good, but it was just like I felt like I was in my comfort zone.
I listened to a lot of music. I was listening to a lot of female artists. At this time, I was on a holiday, and I was like, "Oh my gosh, why don't I just make music and just give it a go?" I had no intention of releasing anything or even creating an EP. I did not have any intention of that. I just started doing it for fun in my friend's studio. For a few months, I just became so passionate about it. I loved the feeling of learning about something new and being able to express myself in a whole different way—using my voice, using beats. I used to write poetry growing up, so I really enjoyed writing as well. After half a year of making it, I was like, "This could be something, why not?" In life, as women, we're too scared to do everything because people get intimidated. But, I felt like, no, I can do this. This would be so dope if I could make my own music, choreograph, film... so I took it really seriously. Since then, I just went for it and it took me like a whole year to really get the EP together, but I'm gonna drop it soon. I'm excited.
Can you tell me about the EP? 
It's really exciting because it crosses over so many genres. So, for me, it only makes sense to make music that I would dance to myself. I dance to dancehall, house, trap, hip-hop, R&B, everything. So I naturally started making music of every genre. Songs on the EP are all across the border, all different genres, even like electronic, R&B. It's very raw, it's fresh. I wanted to make sure that it's something that people have never heard before and it didn't sound like anyone else. It's me. It's something new, and it's my take on music. People are like, "Are you rapping?" But it's not like rap-rap, a lot of it's like rap-pop spoken word. Even the R&B isn't pure R&B—it's got like a float to it, an ambience, a bit of a vibe to it. So everything's a twist of what people are used to.
How did you come up with the title, Run & Tell Your Friends?
It sums it up. I feel like, where I'm at in my career, people are talking about me, whether that's a good thing or a bad thing, I think it's where I'm at right now. So I wanted to touch on that. It can mean so many different things, but the obvious thing is talking about the innocence of whether you like it or not, you're still going to talk about it. And I think, creatively, people pay attention to what I'm doing so this is a whole other aspect that people can really dig their fingers into and be like, "Okay, well where is she at with this? Do I like it do I not like it? What's my favorite song?" I want people to talk about it. I want the youth to know that it's on behalf of them and that I represent the youth. I represent people that are young and creative and different, and instead of hiding and shying away from it, doing something with it and celebrating it.
Why did you want to have a dollar sign in your name?
So people will know that I'm pricey. No, I'm just kidding, that's a joke. I don't know. It's just more bougie. It's just a twist on that. I guess when you're growing up, you see your name so clean, so I wanted people to know that me making music is another side to me. So I just wanted to change it to a dollar sign because I think, to me, it's like not a joke, but it kind of is. It's like not to take things so seriously, me making music is not that deep, it's something I want to do for fun, I want to express myself. So I think when people know that or hear about it, I want them to know it's fun for me.
You choreographed and directed Justin Bieber's video for "Sorry." Could you tell me more about that experience and how it all came together?
Originally, the project was pitched to me as the 12 video clips from Justin. Scooter Braun, Justin's manager, was like, "You've got three weeks, like 22 days to do this, are you interested? We'll give you whatever creative freedom you want, just go for it, like, kill it. Get the best dancers you know, come up with the craziest concepts and go for it." So I said yes, of course. How could I say no? I knew it was almost impossible. Twenty-two days to film 12 video clips in different areas of the world, it's just nuts. But I'm not the type of person to back down, so I went for it.
Funnily enough, I had two days to put it together—treatment, choreography, find the location—and they told me it was just going to be a lyric video, just a warm-up for the song. So I was like, "Cool, I don't have to put too much effort in that, it's just a lyric video." I just got a white room, called up my girls, and we made something really, really quick. In two hours, we made something up, literally, and then when we went to film it, we didn't have really any clothes, and so I brought my whole wardrobe and just dressed up with girls. That's why it's all colorful and stuff, it's just my wardrobe. And we just went for it. I edited it and I sent it off, and when they put the lyrics on, they were like, "No, no, no. It's too much. Get the lyrics off and let's just make it the video clip." They loved it, and I was just like, "What the heck?" Because in my head, I can do way better than that. It's just a white room and us, but that's what people loved—the simplicity, the energy, the color. And it ended up being a viral hit.
I also heard that you did a bit of Rihanna's VMA performance, which part was you?
I did the section with all the girls in the all-black and "Pour It Up" and "Bitch Better Have My Money."
What was it like working with Rihanna?!
Incredible. She's so incredible. I have so much respect for her as an artist, as a person. It doesn't get any better than her. She makes you feel valued and listens to what you have to say. She's so humble. I really watch her, how she treats people, and she treats people so lovely. You know obviously, you don't expect that from someone of that status who has got the world in the palm of their hands. She treats everyone amazingly, which is actually, to me, so much more important than the outside—it's the inside. It was cool because we got her to dance, we really pushed it and worked her hard, and I think she killed it. She nailed it. It was just an awesome experience. I already worked with her on her tour so to come back and do something again was really special.
How was being at the VMAs?
I loved it. It was very different. It's definitely a whole other experience. I felt so much energy and people are yelling. To be honest, I was just so excited to actually be there because that was a dream come true for me and to have my whole country watching me back home. I felt like I was there on behalf of my whole country, so that was cool.
How do you deal with the pressure of having to interact with people on social media?
I like to think of it more as fun. I think the minute you start thinking about it too deep, "Oh my god what should I post, what shouldn't I post," you overanalyze everything, and that's when it's not fun. So I just think of social media as fun, and if I have something to say, I'll say it. Most of the time, I don't have something to say. I love my life, I love what I'm doing, and if people like it, then that's awesome, and if they don't, I really don't care.