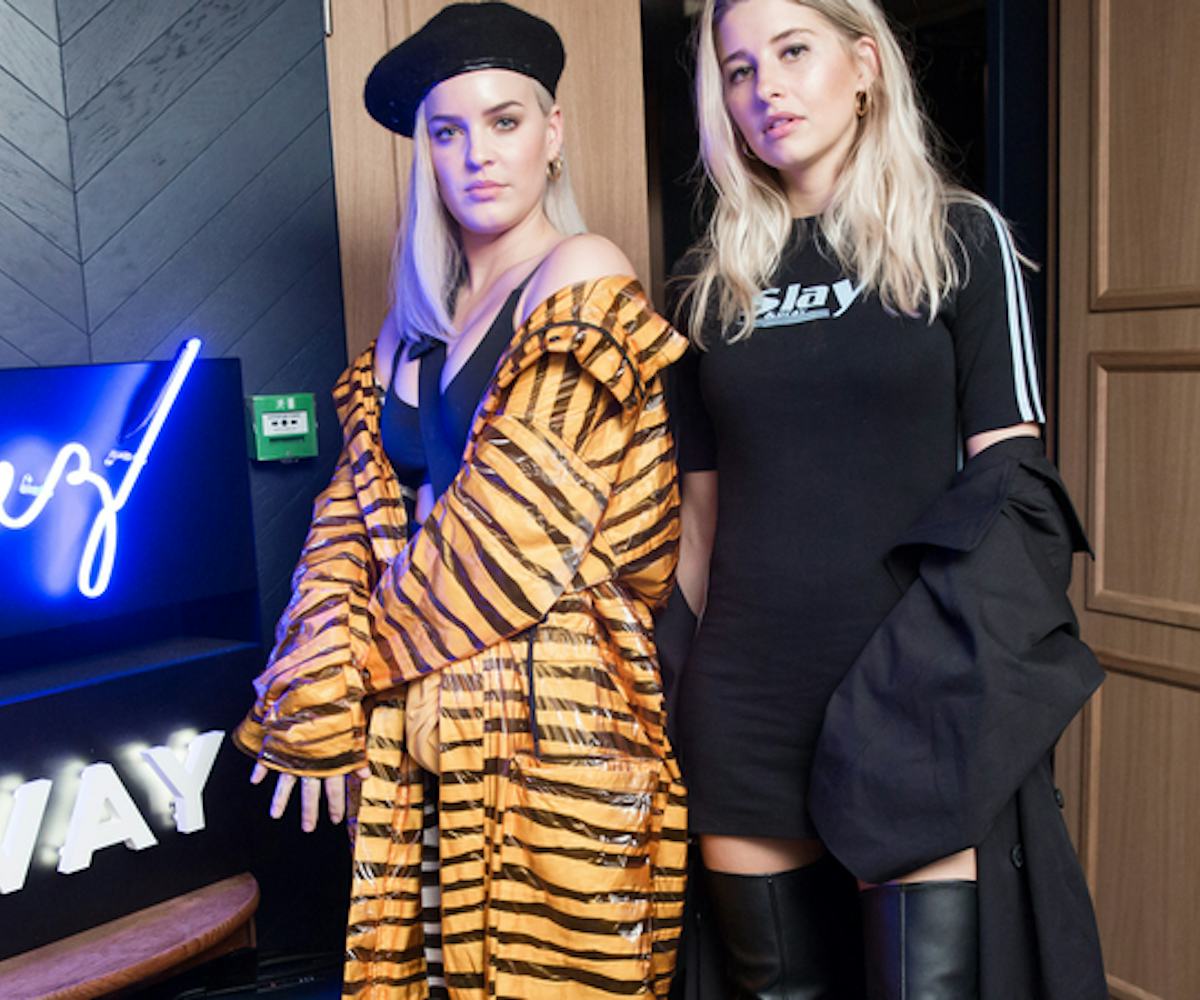 Photo by BFA
What A Perfect Paris Fashion Week Dinner Should Look (And Feel) Like
When in Paris, eat Ladurée. And that's exactly what we did this week and then some. With our friends at THE OUTNET and Away, we wined and dined at Amastan Paris with host J. Errico and a bevy of fashion heavyweights. Chez Away was in good spirits thanks to Grey Goose cocktails, which were even spiked with gold. THE OUTNET gifted each guest a leather clutch from Iris & Ink, its in-house label, filled with gift cards. Thanks to a lil' contest, one guest even went home with a new Margiela bag. As for the Ladurée? Well, head of pastry creation Claire Heitzler focused on autumnal flavors of their iconic macarons, which she calls "the supermodel of the food industry." Sure, the evening ended with Ladurée's newest creations, but Heitzler promises she and her team are "never finished creating new macarons." Très bien!
"How's your fashion week going?" mood.
The host of the night, J. Errico, and Teen Vogue's fashion director, Rajni Jacques.
Look at these mini Away suitcases! Look! At! Them!
Anne Marie & Phoebe Lettice
Who went home with this Margiela bag? Just you wait.
Yes, that is real gold in a real Grey Goose cocktail.
Claire Heitzler, the head of pastry creation at Ladurée, tells us the focus of the evening was on autumnal flavors, like quince, hazelnut, and coffee, served alongside classic Ladurée treats, like the Ispahan and Saint Honoré.
Celine Kaplan of Celine Kaplan PR and LVMH's Audrey Hameau.
Phoebe Lettice & Anne Marie entering our contest with THE OUTNET.
Miguel Enamorado, the fashion director at Interview.
Aimee Song
Stylist Shiona Turini
Shiona Turini, Aimee Song, and the VP of global communications of ODLR, Judgie.
These Ladurée desserts beat pumpkin spice scones any day.
Can't you just taste it?
You and Grey Goose treat us so well, Amastan Paris.
The perfect little Iris & Ink leather clutch from THE OUTNET.
Look! There are the Ladurée Ispahans.
Aimee Song and Rajni Jacques
Laura Kim, the creative director of ODLR & Monse.
A mood.
No, thank YOU!
Congrats to THE OUTNET contest winner, Nikki Ogunnaike! She's the senior fashion editor at Elle and the proud owner of a new Margiela bag.