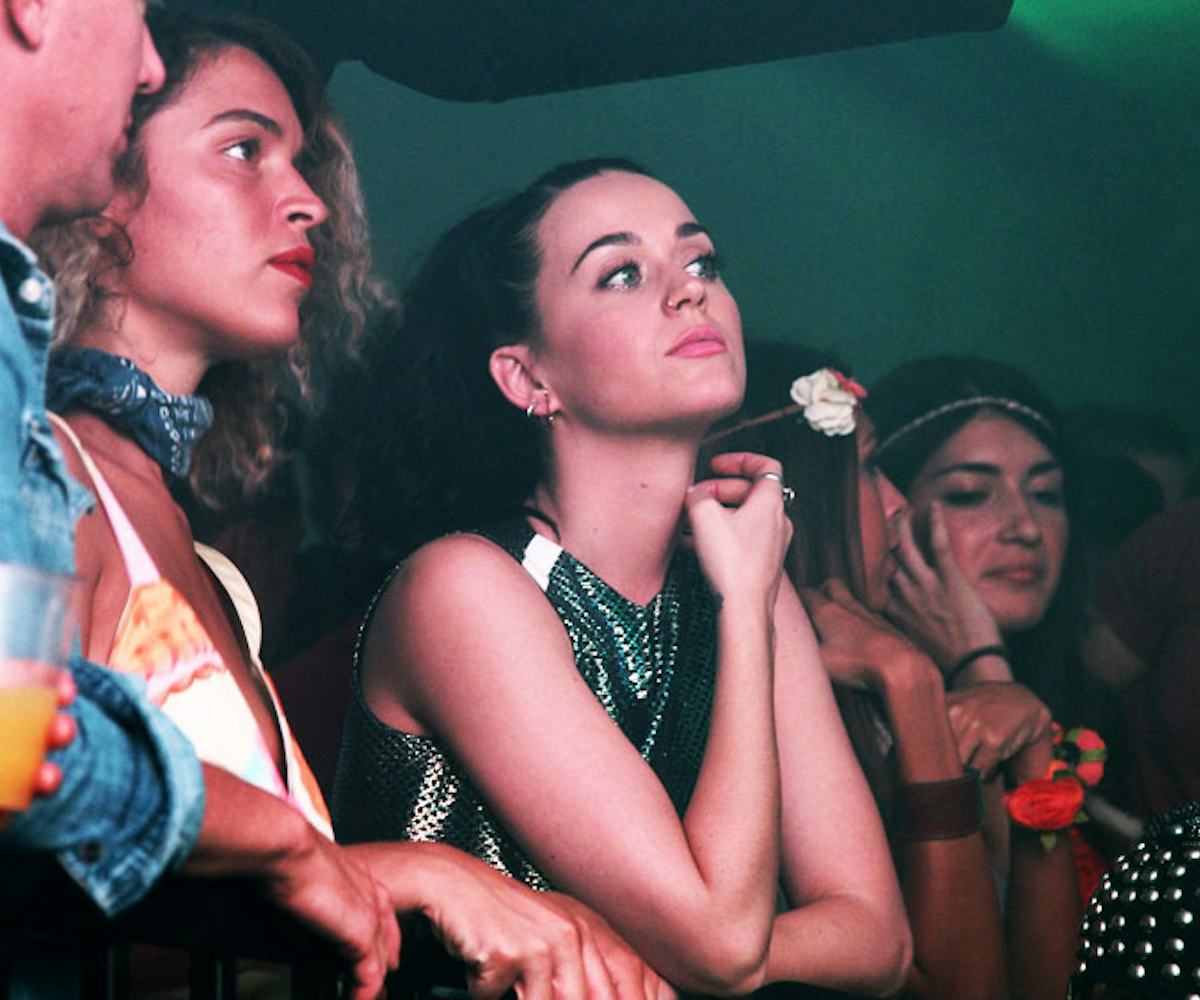 Photos by Chelsea Lauren and Rachel Murray for Getty Images
party monster: midnight garden party @ coachella
At Coachella, the party starts after the sun sets, and that was especially the case for our Midnight Garden Party, hosted by Sky Ferreira at a private estate in Bermuda Dunes. It's not easy going hard after a day in the desert sun, but thanks to beats by The Misshapes, Chelsea Leyland, DJ Rick Rude, and our girls Mia Moretti and Caitlin Moe of The Dolls, staying awake wasn't that hard of a task. Oh, and Katy Perry, Azealia Banks, Scott Eastwood, Justin Bieber, and other celebrities showed up. Super casual, you know?
Plus, we had Glam Squad makeup and hair artists on site to keep our festival braid and makeup looks on lock. (Shoutout to NYX Cosmetics and RUSK Haircare for providing the goods!) STK OUT by The ONE Group satisfied our cravings for lil BRGs, shrimp skewers, and ceviche, while platinum palomas made with Sanpellegrino Sparkling Fruit Beverages and DeLeón Tequila quenched our thirsts. Special thanks to Perrier for keepin' the garden party hydrated, too. When all was said and done, guests brought home giftbags filled with DimePiece LA's Baddie Winkle collaboration, NYX makeup, RUSK Haircare goodies, slim cans of Perrier, Creative Recreation gift cards, and some Lyft credits for their next ride.
Click through the gallery to relive all the midnight fun and see how many of today's biggest stars you can spot.
Hey look! It's Josh Henderson.
Alessandra Torresani wins the award for Best Flower Crown.
Brendan Fallis and Hannah Bronfman cheesin'.
Our girl Chelsea Leyland turning the party out.
DJ Rick Rude spun us right round.
Gift bag swag from DimePiece LA, Lyft, Perrier, Creative Recreation, RUSK, and NYX!
How adorable are these lil BRGs from STK OUT by The ONE Group?
The Dolls' Caitlin Moe on the strings, y'all.
We see you roaring, Jack Falahee. We see you.
NYLON's own senior editor Mickey Stanley rockin' Creative Recreation kicks.
Karrueche Tran and Christina Milian sittin' pretty.
Katy Perry chilling, laid back, and straight stuntin'.
Shoutout to Sky Ferreira's Coachella look.
Our girl Mia Moretti of The Dolls put in work!
Presenting model Lady Victoria Hervey.
Azealia Banks brought the "212" to The City of Angels.
RUSK Haircare kept our festival braids intact for the whole night.
Mean muggin' with Scott Eastwood.
So many beauty options from NYX!
Looking good, Taryn Manning and Allison Melnick!
A huge thanks to Glam Squad for giving us the best festival season beauty tips.
Thanks be to Perrier for keeping us hydrated!
The Dolls sounded great, but can we talk about how amazing these looks are?!
Pruning with The Misshapes.
Is it really a party if DeLeón Tequila cocktails aren't there? (Hint: no.)
Oh, and Justin Bieber showed up. Never say never, right? Right.