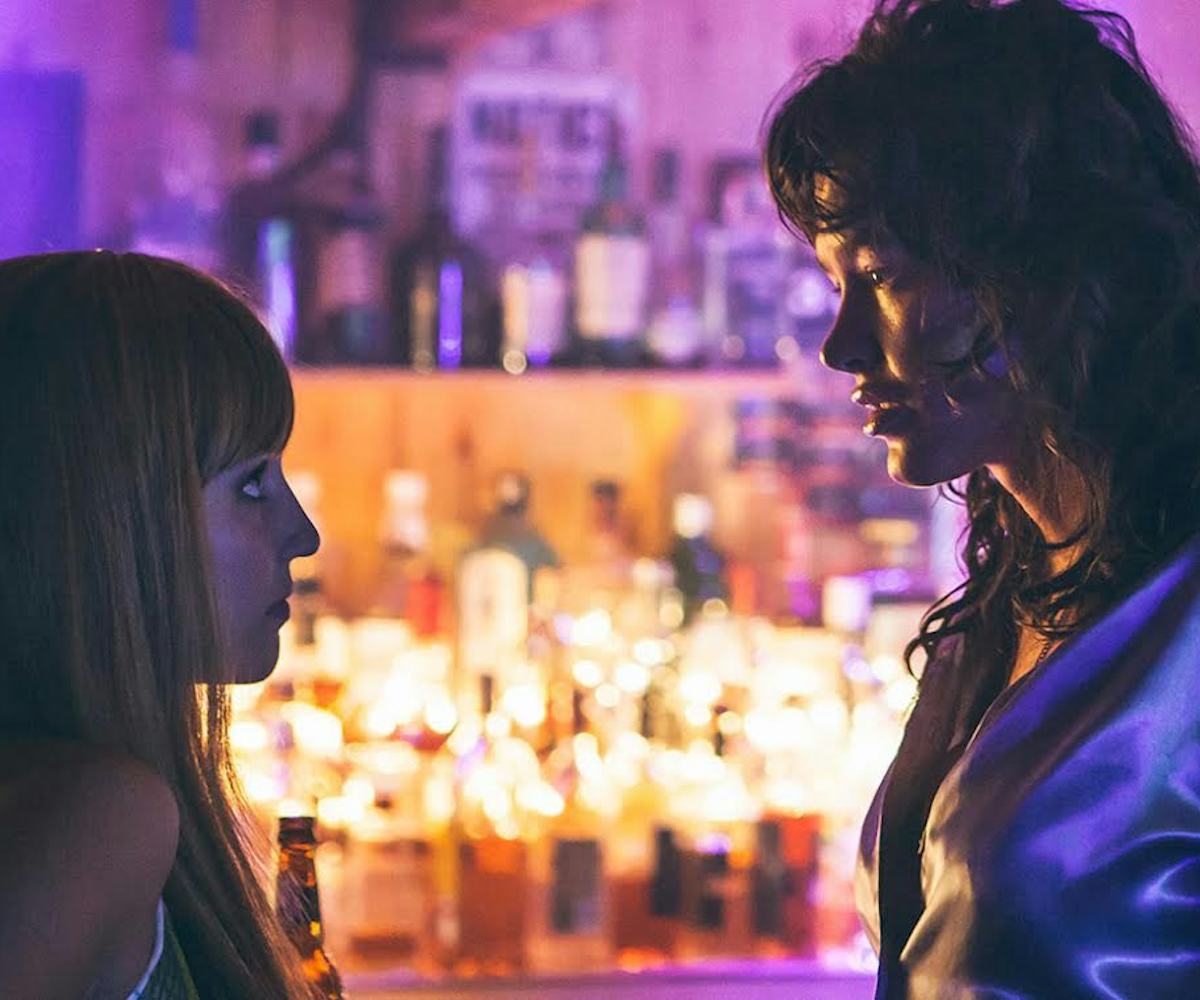 Photo courtesy of Tribeca Film Festival
paz de la huerta on the problem with hollywood
by michael-oliver harding
Who is Paz de la Huerta? The enigmatic beauty and notorious New York wild child has long been a paparazzi fixture thanks to a legendary New York magazine interview, a public penchant for provocation, and boozy Chateau Marmont footage that Lana Del Rey included in a chart-topping music video. Now all grown up at 30, the Spanish-American actress very much remains an unclassifiable entity.
Since breaking out in tempestuous, soul-baring parts for directors like Gaspar Noé (Enter the Void) and Martin Scorsese (HBO's Boardwalk Empire), she took a leave of absence from Hollywood after a freak accident on the set of Nurse 3D left her seriously injured. Once she made a full recovery, de la Huerta got back to work, and was making the promotional rounds last month at the Tribeca Film Festival, where she was discussing Bare, a neon-soaked lesbian romance about two soul-searching drifters (the other being Glee alum Dianna Agron) looking to escape their dead-end desert town. Following the Tribeca premiere, we sat down with a candid, chic, and very generous de la Huerta to chip away at her outdated rep for recklessness. 
As someone who came of age here, what's your take on how the festival has contributed to Tribeca?
I really feel like it brought a lot of life here. We were early settlers to the area; I lived in SoHo with my family and then it became too commercial, so we moved here. I think [the festival] has impacted the neighborhood in an incredibly positive way. 
You were famously scouted for The Cider House Rules while walking down the street. Had you always wanted to be an actress? 
Not at all. I really fell into the entertainment world. I was a 13-year-old punk-rock kid walking down Greenwich Street with a mohawk and a head-to-toe leopard. Billy Hopkins, this phenomenal casting director, asked me to come in and audition for the part. Even though I was this creature with a mohawk, he could still envision me as a girl in a 1940s period piece. I was just using everything that was going on in my life to perform; I just needed to express myself. I came from a very destructive household and it felt safe, all of a sudden, for somebody to put up these four walls and say, "Tell me how you feel." It was a bit like the film Streetwise. 
A great documentary, truly. But how so?
It's probably my favorite documentary ever, actually. My friend Lola in high school used to call me Tiny [Ed's Note: a child prostitute and one of the film's main characters], because I was a little bit of an orphan growing up in New York and, of course, you draw from your personal experiences. I feel like all of us, no matter who we are or what our background is, we're all seeking connection and love.
That's exactly what Pepper, your character in Bare, seems to be seeking, underneath that facade of free-spirited, badass seductress.
I feel like she's a very courageous person. Over the course of a very hard-knock life, she has really made the best of her situation. I mean, she's homeless. She's a drifter, she lives in her truck and on couches. There are only so many years you can go on living like that. And yet, she is still vulnerable enough to acknowledge the purity in Sarah (Dianna Agron) and is excited by it.  
From The Limits of Control to Nurse 3D, you've always championed these daring femme fatale roles. What was it like to work with someone like Dianna Agron, for whom Bare runs the risk of alienating a more wholesome fan base? 
Yeah, I thought it was nice last night at the Q&A when she said that I brought the light into the film, because I really did push the girl. I ain't gonna lie! We come from totally different worlds, and I'm very proud of [director] Natalia Leite and of the film she made. Dianna is a lovely girl and she's very talented, and what I feel works is that when I say I pushed the girl, well, Pepper pushed Sarah, too. Pepper is provocative and intimidating; she has a tough exterior and can't trust anyone in her world. In comes Sarah, this specimen of purity, whom she opens her heart to, and then the door slams. If there's a sequel, it'll be interesting to see the aftermath of that!
You've talked about how you feel greatly misunderstood in this country, whereas French and European press have more readily embraced your audacious career moves. Why do you think that is? 
We are living in an age that is so scary to me in America—but abroad, too. I mean, look at the choices a lot of people in the fashion and film worlds are making. I'm not saying that all children of celebrities are untalented, but that's what Hollywood is: rich offspring, Instagram stars, the Kardashians. It's a disease! And it needs to be dealt with, because there's something called art. I'm blessed to have worked with some incredible artists—Gaspar Noé, Jim Jarmusch, Martin Scorsese. I paint, I direct, I do a lot more than people know. I'm not interested in people who are robots or machines; I'm interested in the human condition.
The way you flesh out your performances seems very pure. You'll only sign on to a movie if your character's journey is one you personally want to take. Do you think that kind of total immersion is rare in Hollywood?
Actually, Vivienne Westwood recently said something really interesting to me, because I was so against calling myself an actress for a long time, after what I had been through in this industry. I was like, "I am not an actress, because first of all, I don't act it, I live it. I take the journey." But she was like, "Darling, don't say that! Just because 99% of the people don't know what it means to be a real actress doesn't mean you need to dumb yourself down to make them feel better." 
While we're on the topic of Vivienne, I wanted to ask about the very carefree and improvised feel of her new S/S 15 campaign, which you modeled for. In the past, you've said that you create stories when prepping for photo shoots, because you don't consider yourself a model. Was that the case with Vivienne?
Well this was such a special thing. Juergen Teller for me is not a fashion photographer; he is an artist. He had this brilliant idea of shooting at the school where he teaches at in Nuremberg, with all his students, and that gave such energy and life. I just fell into the mix. The way Vivienne and [creative director] Andreas Kronthaler work, they're so spontaneous. We did 50 looks in less than 24 hours, but there was such synchronicity—Juergen and I really understood each other. And then the psychedelic punk-rock band, the students who cooked for us… It was such an experience. But, I mean, am I a model? Yeah! I'm a model, because you know what? Fashion should be fun.