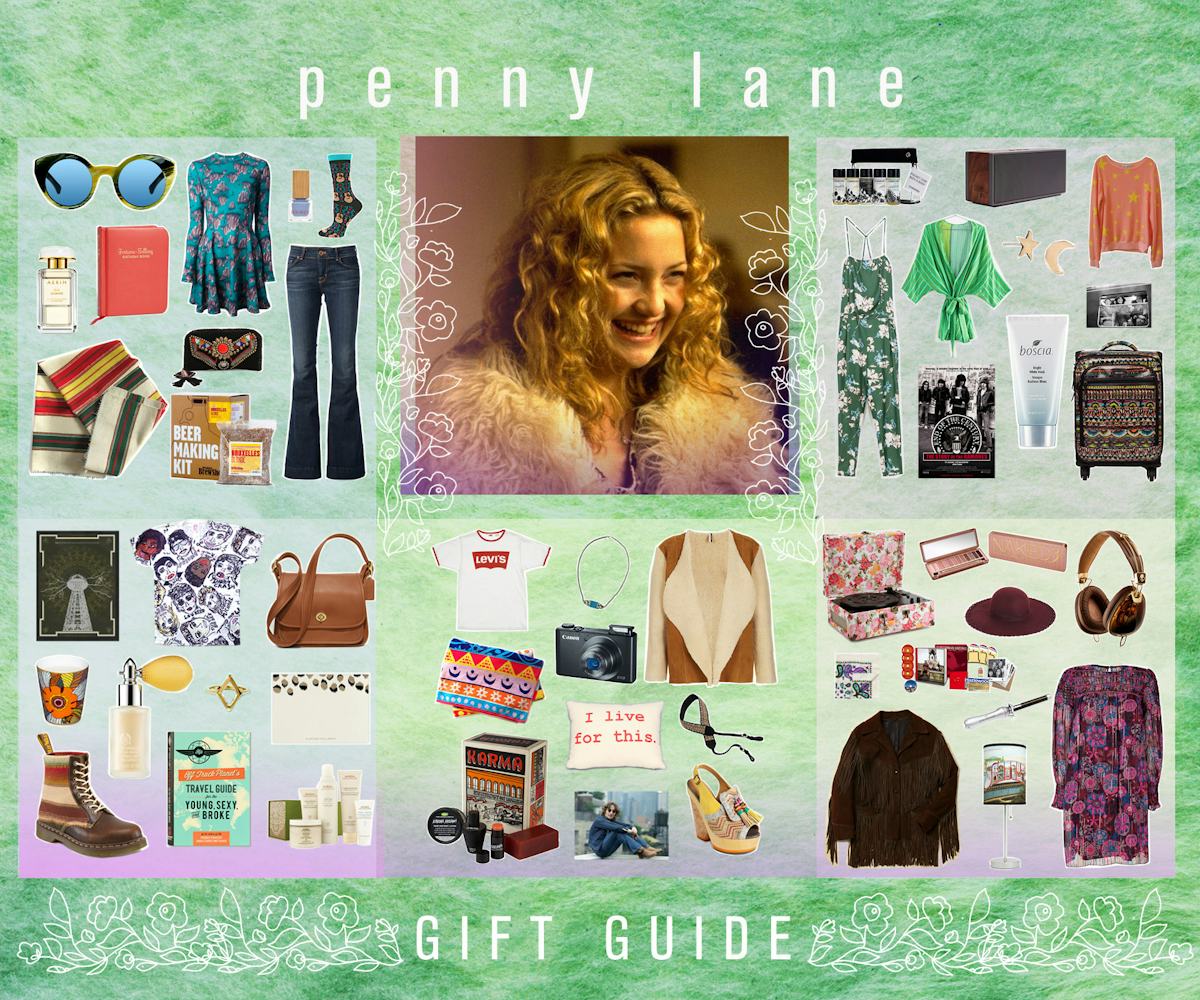 the penny lane gift guide
for the girl with the band—or just the free-spirit planning her next trip.
Ready or not, here it comes! Holiday season has arrived, and that means tons of shopping. But let's be real: your average gift guides are boring, so we're going to do things the NYLON way with lists inspired by our fictional dream BFFs. Every week we'll be picking the best gifts for our movie muses, so keep checking back to find that perfect item for your friend...or for yourself. 
Almost Famous isn't supposed to be about Penny Lane--it's supposed to be William Miller's movie (or perhaps rock star Russell Hammond's, too). And yet, ask us about the iconic Cameron Crowe film and it's the free-spirited Band Aid who comes to mind. Perhaps it's because deep down inside we're all a Penny--or at least have fantasies about being one; we're tough but sensitive, creative but grounded, busy dreaming up our next bout of escapism while still perfectly content to be right where we are (as she would say, we are home).
Whether you are a 21st century version of Penny Lane, wearing your finest '70s fur coat and oversize shades as you crisscross the country with your favorite band, or just bring a little bit of her spirit everywhere you go, we've rounded up the 50 best gifts for you this holiday season. Have a friend who is living that life? We suggest getting her a one-way ticket to Morocco, instead.
Need more gifts?
The Holly Golightly Gift Guide
The Margot Tenenbaum Gift Guide
Lookmatic Kitty Sunglasses--$95
Adidas Originals x Opening Ceremony Big Sur Dress--$474.50
Aerin Ikat Jasmine Fragrance--$110 
Fortune Telling Birthday Book--$9.95
Brooklyn Beer Shop Beer Making Kit--$40
Third Man Records Vault Platinum Subscription--$60
Hermes Fleurs d'Indienne Candle--$275
The Body Shop The Sparkler--$12
Paperless Post x Kelly Wearstler Personalized Notecards--$75 for 50
Pendleton x Dr. Martens Boots--$189
Travel Guide for the Young Sexy and Broke-- $17
Aveda Give Spa Nights Set--$69
Levi's Vintage Clothing Orange Tab Collection Top--$98
Mara Hoffman x Pendleton Beach Towel--$77
Ruxton by Alexandra Ferguson Pillow--$59
Brooklyn We Go Hard Camera Strap--$60
Lush Karma Perfume Gift Set--$75.95
Bob Gruen Portrait of John Lennon--$900
Blonde Ambition Nenita Sandal--$169.95
Urban Decay Naked3 Palette--$52
Skullcandy Aviator Headphones--$149.99
Free People Vintage Fringe Jacket --$428
Sarah Potempa Beachwaver Styling Iron--$199
Grain Audio Packable Speakers--$249
Winifred Grace Moon and Star Studs--$69