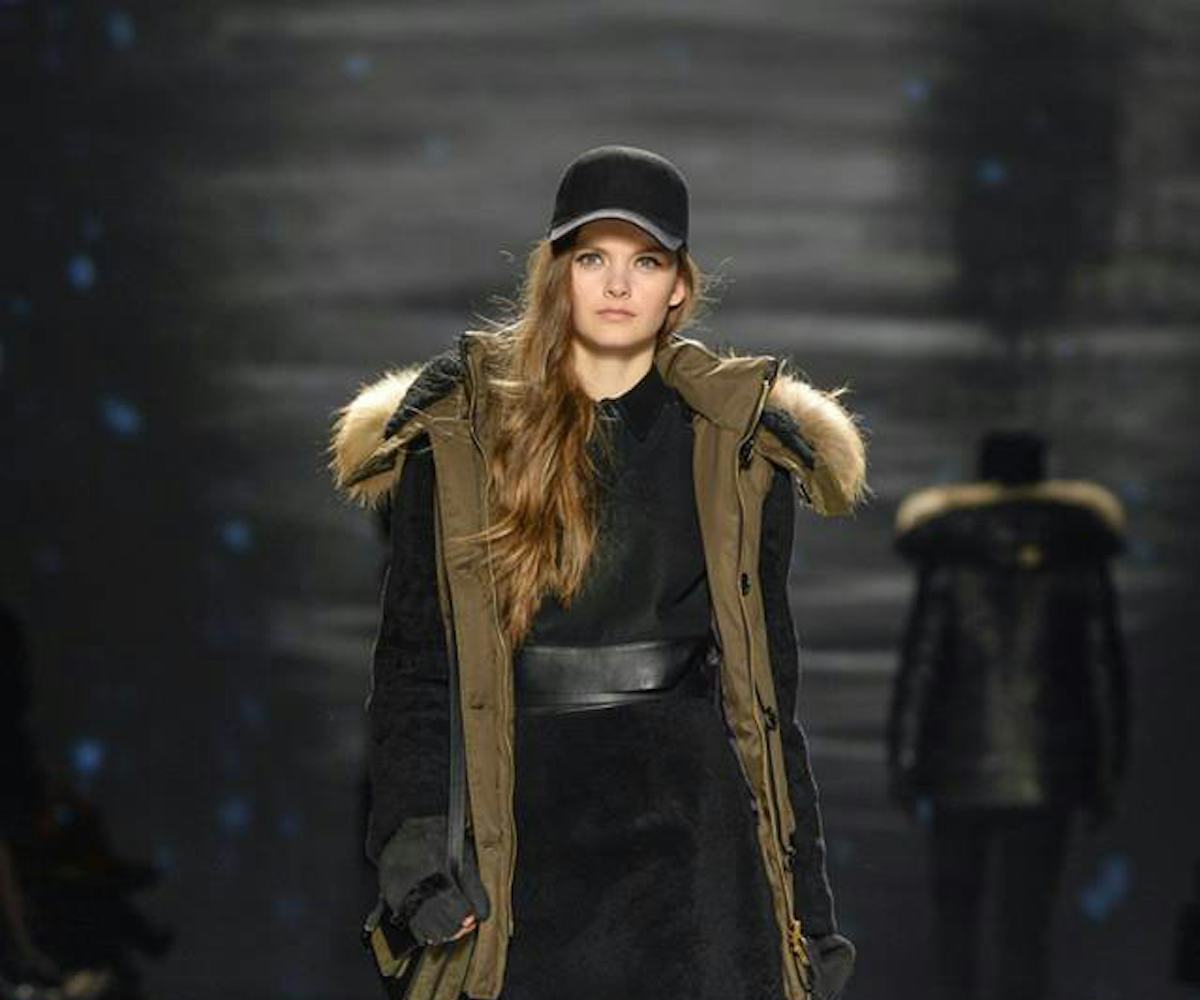 photo via Mackage
how to find the perfect winter jacket
from the coat connoisseurs at mackage.
In the aftermath of Black Friday and Cyber Monday, there are almost too many deals on awesome winter jackets. Searching for the perfect winter coat can actually be emotionally draining: Is it in my size? Will it be warm enough? Will I look like the Stay-Puft Marshmellow Woman? Will I be able to wear 700 sweaters underneath it? The winterwear game doesn't have to be a mystery, however. Nobody knows luxe outerwear quite like Mackage, a brand whose Toronto Fashion Week show is the most popular ticket of the season, and luckily we have their co-creative directors, Eran Elfassy and Elisa Dahan to help us have our warmest, chicest winter yet. Not only do they know winterwear well (they are Canadian, after all), but they also understand that it can be actually *gasp* stylish. 
What sorts of questions does a woman need to ask herself when she is looking for a material for a new winter coat? What are the key considerations for puffers, wools, and leathers?
Eran: When purchasing a new coat you need to be looking for what makes up the interior of a jacket. We use only the finest Nano down in our winter coats, which can survive the most brutal of winters. Another essential feature you must ask about is whether the jacket is water resistant and repellant since we need all of help and warmth we can get.
What is the ONE thing that helps someone decide whether or not a coat is right for them? 
Elisa: Is it comfortable? You will most likely be wearing this coat every day for at least 2 months straight, if not more! You need to feel at ease no matter what. Your jacket should make you feel so good that you won't want to take off the minute you get inside. You can keep warm and be sexy.
When you are trying on a coat, should you really put a sweater on underneath?
Elisa: Realistically, only try on coats in your typical outfit. If that includes a sweater, bring it along!
If someone wants to integrate some color into their winter wardrobe, what would you recommend? (Asking for a, um, color-phobic "friend.")
Elisa: This is a great time to accessorize with pieces that have a little "pop." Whether it be your hat, scarf or purse, that is where you should experiment with color. For those who are a bit bolder, Mackage always integrates a bright into our fall/winter collection if you want to take the plunge and try something new. (Editor's Note: Mackage's SS15 accessories are a wonderful option, here.)
Is there any policy for detailing, like toggles or belts? How do you make more intense detailing work for you?
Eran: It's all in the details here at Mackage and that principle has tremendously contributed to our design aesthetic. We offer a variety of coats that have toggles, belts, leather and zipper detailing depending on your taste. After designing for several years and with trial and error, we've really found the perfect balance when it comes to the hardware and accessories on our coats. That little extra bit of edge is what makes a Mackage a Mackage.