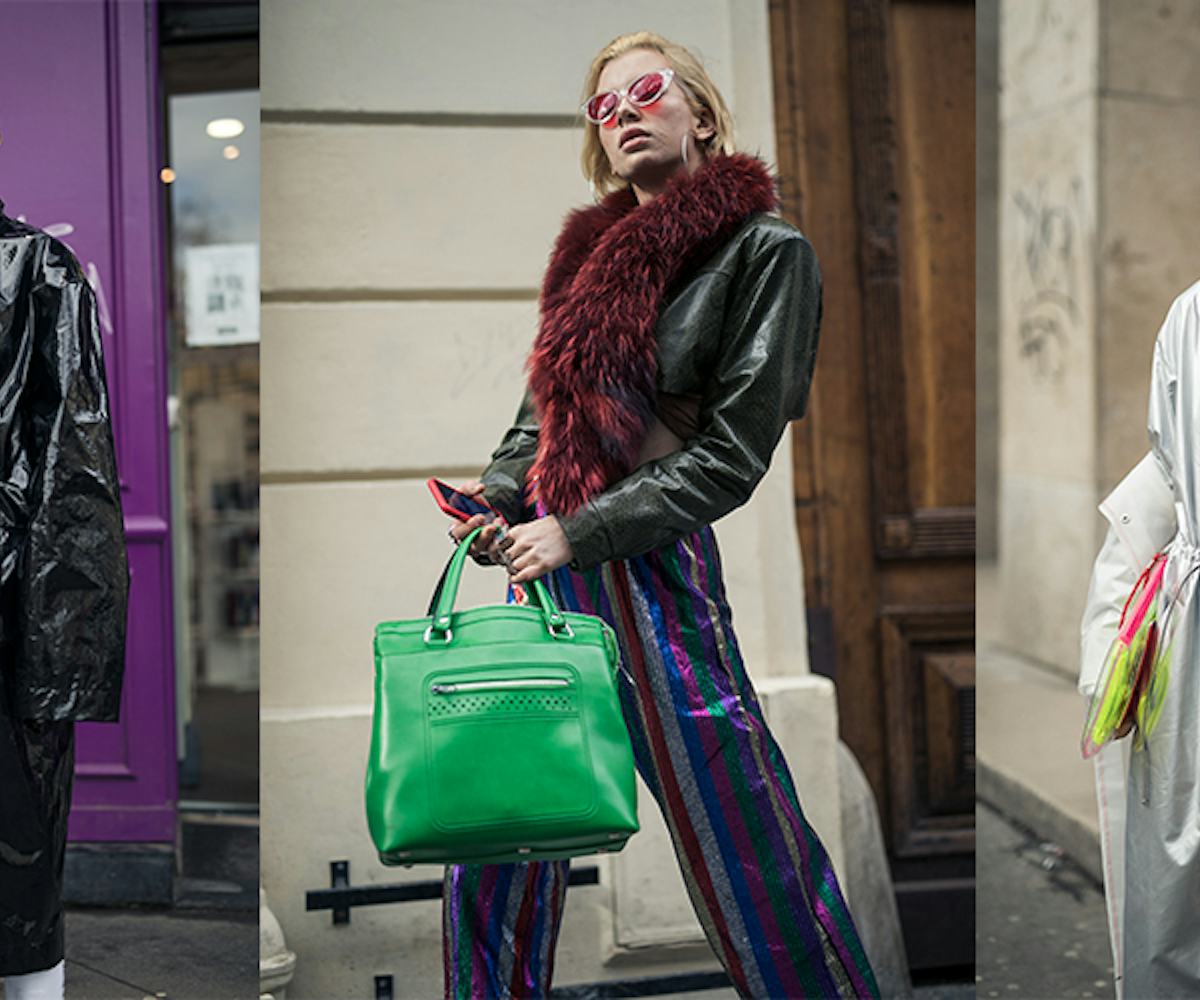 Photos by Matthew Sperzel
Paris Fashion Week Street Style Day 7: Shine On
Yesterday's looks got the glossy, sparkly treatment
You'd think that by now those attending Paris Fashion Week, the last of the Fashion Month, would have given up and thrown on sweatpants. However, even on day seven of the last, that wasn't the case.
There was no lack in luster on the streets of Paris yesterday. From shiny PVC and metallic leather jackets to sparkly sequin pants, show-goers did what they could to stand out and shine. Fashion's elite also made a case for more unconventional trends, such as seatbelt belts, heavy duty chains repurposed as necklaces, and puffer jacket handbags (gotta keep that smartphone warm, somehow!).
With only one day left to go, we can almost hear the sighs of the relief. Check out our favorite looks from day seven, below.
Ready to weather any storm.
This floral masterpiece has us wishing for spring.
Annnd the grandpa sneaker makes yet another appearance.
Studs 'n' roses on their way to Sacai.
The PVC trend, in the flesh.
The puffer... in bag form?!
Keepin' it shiny.
Taking a walk on the wild side.
Fasten your seat belts!
We support the multifunctional use of this heavy duty chain.
More chain detailing.
Shiny leather top, sparkly pants... what could be better?
A lesson in lock layering.
We feel you, girl.
So many trends in just one look!
Vacation blazer, but make it fashion.
This coat has us dreaming of an island getaway.
We're loving these pearl accents.
No pants? No problem.
We've seen a lot of mismatched prints this week, but we definitely haven't seen a cosmic-plaid combo like this before.
When your look is also an optical illusion.