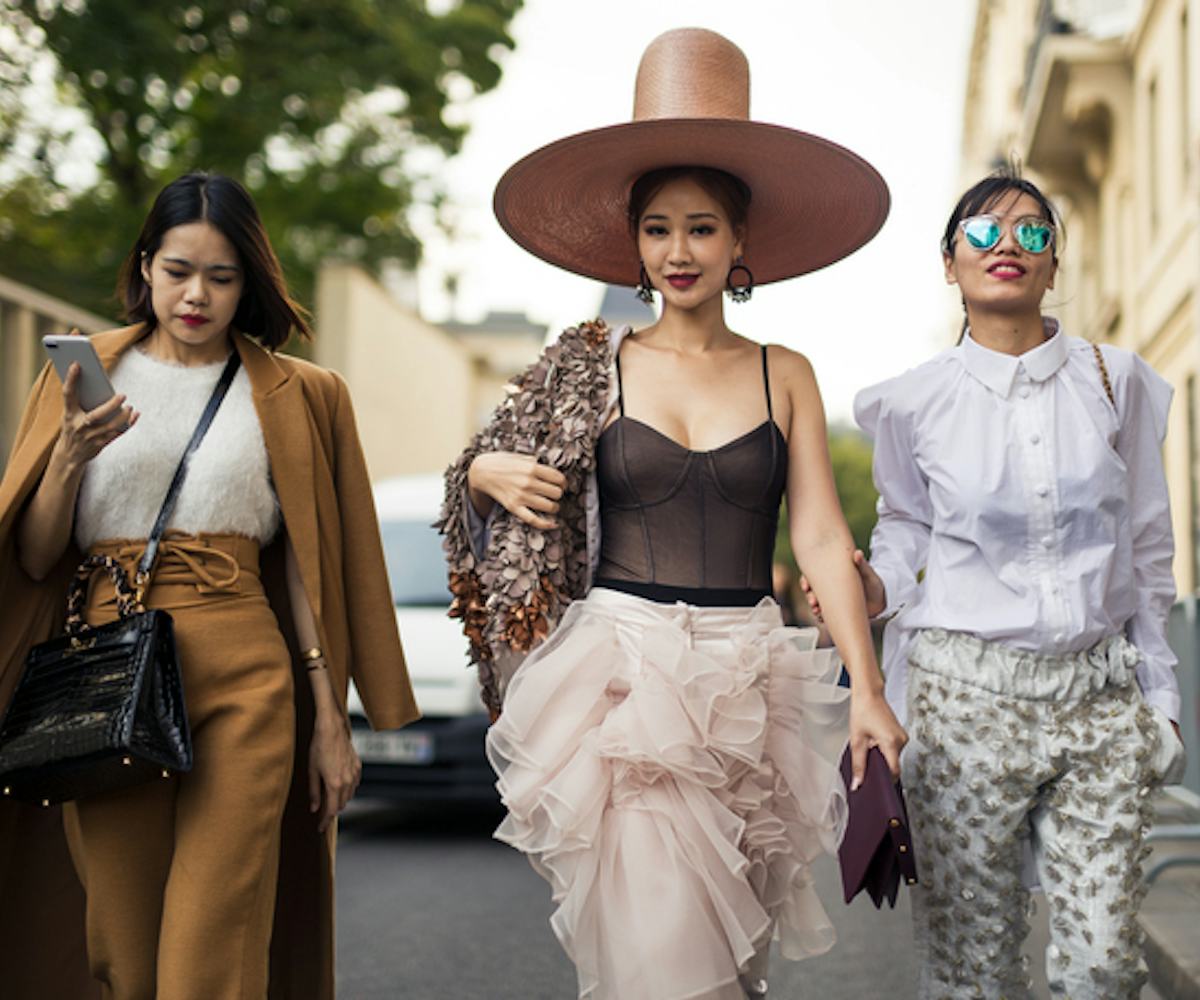 Photo by Matthew Sperzel
PFW Street Style Day 1: We're Off To A Strong Start
Our favorite looks from the streets of Paris
Aside from the Jacquemus show on Monday evening, yesterday marked the official first day of Paris Fashion Week. This means, of course, that fashion's elite came to play—and play hard.
Many of said showgoers are editors and influencers who've been traveling for the past few weeks, from New York to London and Milan, to finally to end Fashion Month in Paris. Still—as tired as we assume they might be—their street style game shows no signs of slowing down.
What was on the menu yesterday? Logomania, lots and lots of beautifully sheer, beaded, and embellished Dior, and a handful of rock 'n' roll references.
Below, our favorite looks from PFW, day one.
Alla Kostromichova totally slayed in this Moschino coat and bold pops of red.
Khuyen Do proves that pajama pantsuits are PFW essentials (literally, the lazy girl's dream).
Loulou De Saison shows us how to mix runway with street by pairing Balenciaga and Celine with Supreme and Vetements.
Our favorite song, and our new favorite jacket.
Deconstructed suits are the new suits.
While we don't condone smoking, we do condone this sweater.
Just a casual twinning moment.
Lorena Campello makes a strong statement with this Amaro sweater.
This necklace, though!
Bride, or bridezilla?
Victoria Magrath was a casual moon goddess in Dior.
Lana El Sahely chose this chic hooded Dior look to attend the show.
This showgoer wore her own boho designs.
We're excited to announce that goth is still definitely on trend.
There was a lot of good Dior outside of Dior.
We. Need. This. Choker.
Props to Dior for making completely sheer dresses totally acceptable for the streets.
Now, this is what we call destroyed denim.
There were a lot of good music references on the streets of Paris.
Look at this Girl Squad!
Kiwi Lee's Dior's minidress was the perfect combination of elegant and quirky.
Teddy Quinlivan served us some Parisian bohemian.
See you at the race track.
We're all for a good utilitarian jumpsuit.
The '80s are alive and well!