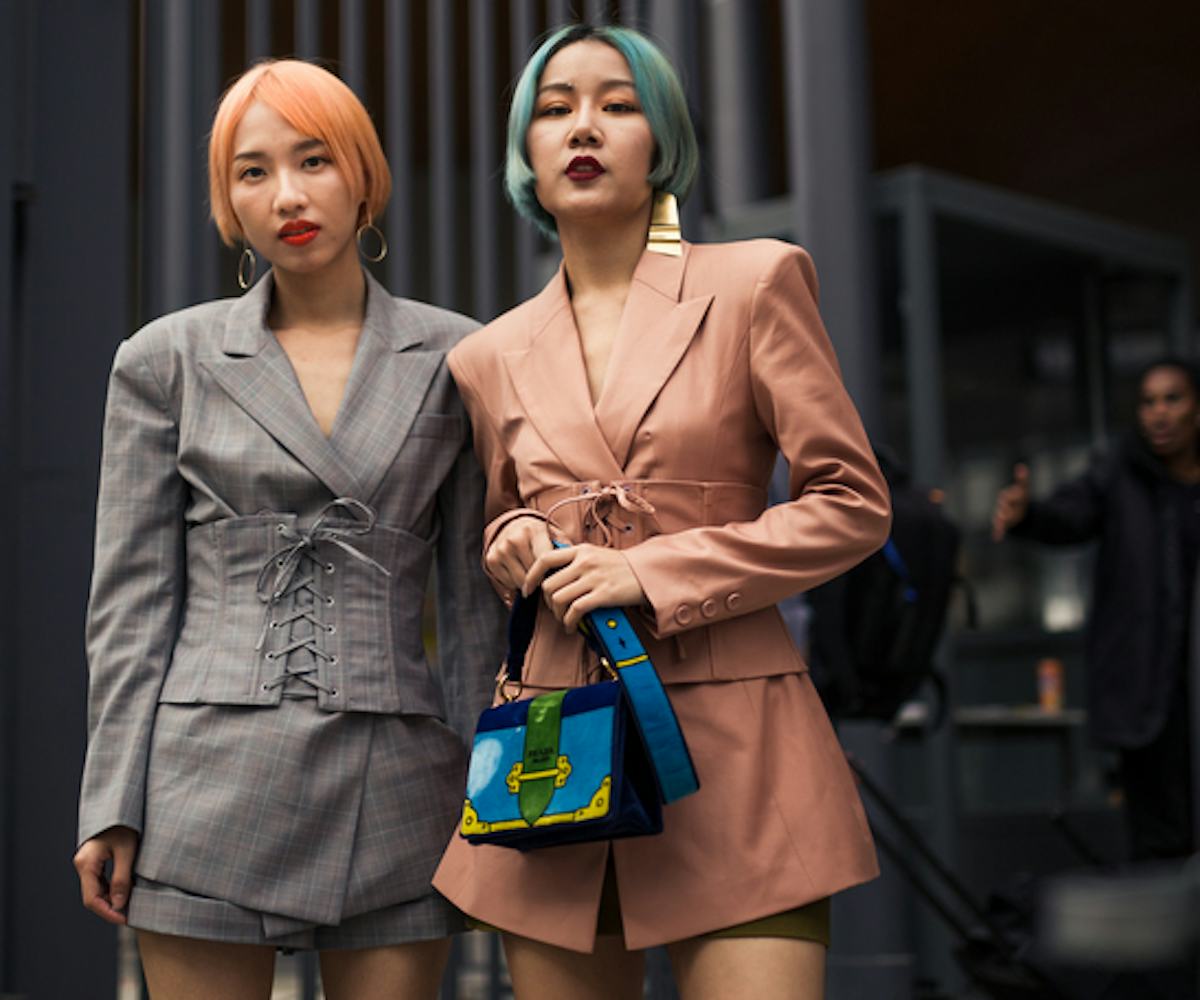 Photo by Matthew Sperzel
PFW Street Style Day 3: Make A Statement
Nothing boring to see here, folks
In typical Parisian fashion, Fashion Week showgoers did not fail to surprise us during day three. Rule-breaking, colorful, and even politically charged statements were seen all over the streets, capturing our attention more than the collections themselves.
Pantsuits were emblazoned with flames. Utilitarian jumpsuits were splattered with rainbow paint. Even those who took a laid-back approach to dressing still offered us a pop of color here, an unexpected twist there. Oh, and unconventional hair colors? They're here to stay.
Below, feast your eyes on the best dressed from PFW day three.
Pretty (cozy) in pink.
Luicija Domkute rocked this glorious Manish Arora jacket.
The prairie, but make it fashion.
Pierced berets? Don't mind if we do.
Lucy King bringing back the early '00s tracksuit.
Painter-chic.
Girl, your Dilara Findikoglu pantsuit is on fire.
Dear Mia MacFarlane, GIVE US YOUR HAIR!
Boxing, or Fashion Week? Or both?
When your bag is literally out of this world.
When you and your BFF come to slay.
We want to live in this color palette.
The perfect mix of feminine and tough.
We'll call this look "Blue Crush."
We don't know what we love more about Cheyenne Tulsa's look: that marbled blazer, that thumb-holed mesh top, or that magical holographic bag.
A little bit athleisure, a little bit glam.
Only at PFW can you get away with a Slipknot tee.
When it's all about the facial accessories.
Are shredded pants the new fringe?
#Same
So many prints! So many colors!
Very true statement.
Dear Trump...
High fashion horror movie alert.
If only we had that ability.
It's confirmed, masks are the next It accessory.