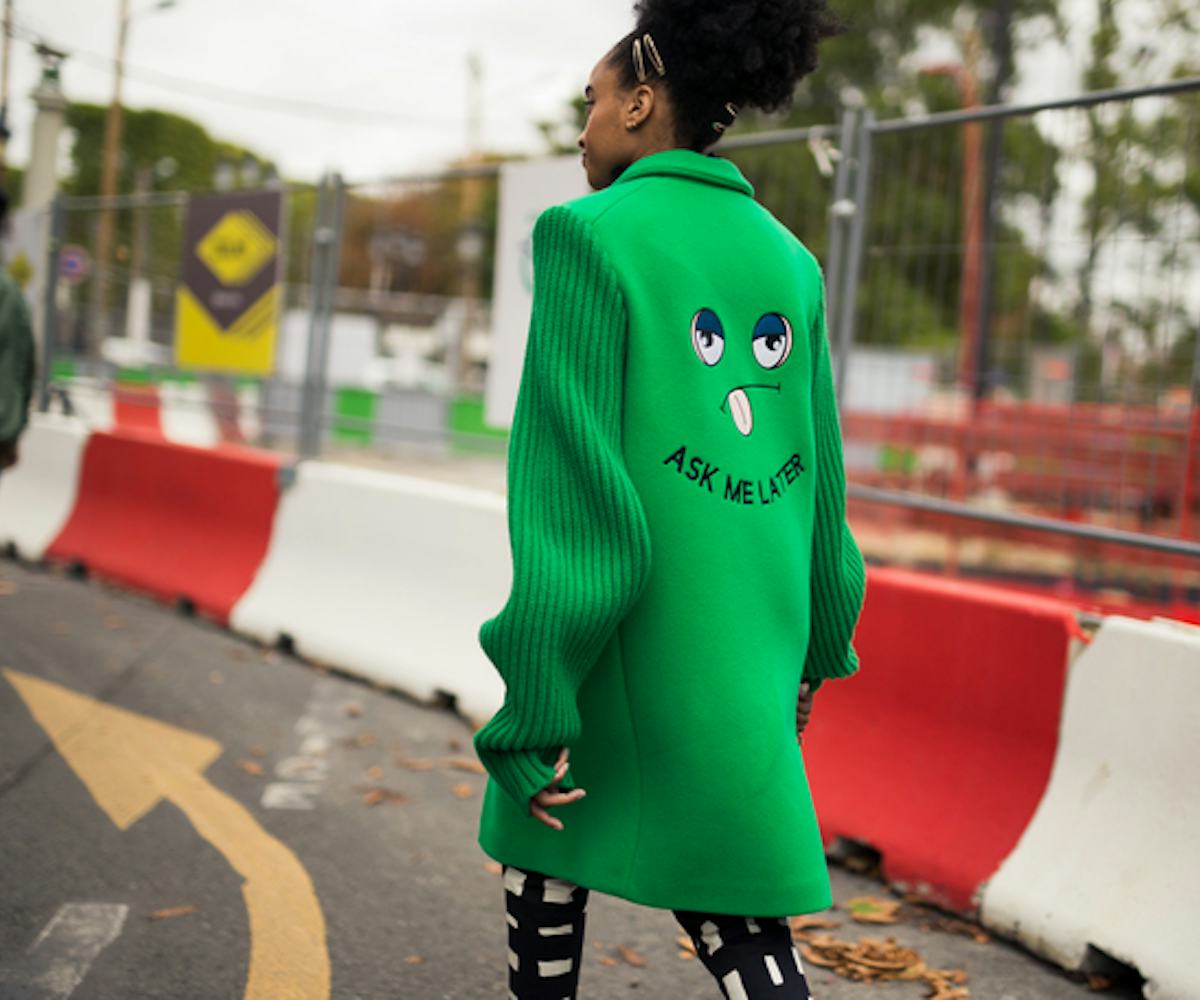 Photo by Matthew Sperzel
PFW Street Style Day 7: It's All About The Outerwear
Yesterday's streets were filled with fall jacket gold
One more day to go! As PFW nears an end, there's no shortage of statement-making looks roaming the Parisian streets. Whether a neon layer, mixing and matching of in-your-face prints, or opting for that one head-turning accessory (a swan-shaped clutch or a piano bag, anyone?), fashion show attendees really gave it their all.
However, the real stars of yesterday were show-goers' choices for staying warm. From printed capes and patterned blazers to neon puffer jackets, yesterday's outerwear was absolute perfection.
Below, check out our favorite street style looks from day seven. Missed day six? See it all, here.
Louise Wong's deconstructed denim look by Sacai is giving us life.
What's black and white and red all over?
We want our MTV!
Quite possibly the coziest look of all of Fashion Month.
Sometimes, you just need that pop of neon.
Fall goal: Get our hands on this Mira Mikati sweater jacket.
When you're attending Paris Fashion Week, but don't want too much attention, opt for camouflage. Who are we kidding? You'll still stand out.
Could this look be any more adorable?
It's all about the details.
How to become a street style star 101: Carry a clutch shaped like a swan.
We couldn't have said it better!
Fall's must-have statement piece: the red puffer.
This look is straight out of The Great Gatsby.
Never underestimate the power of a good pantsuit.
Grommets offer an interesting touch to a wardrobe staple like a blazer.
We need more headgear like this in our lives.
Same.
Leave it to Giovanna Battaglia-Engelbert to perfectly pull off the plaid/leopard combo.
Screeeeeek.
We need these pants, stat.