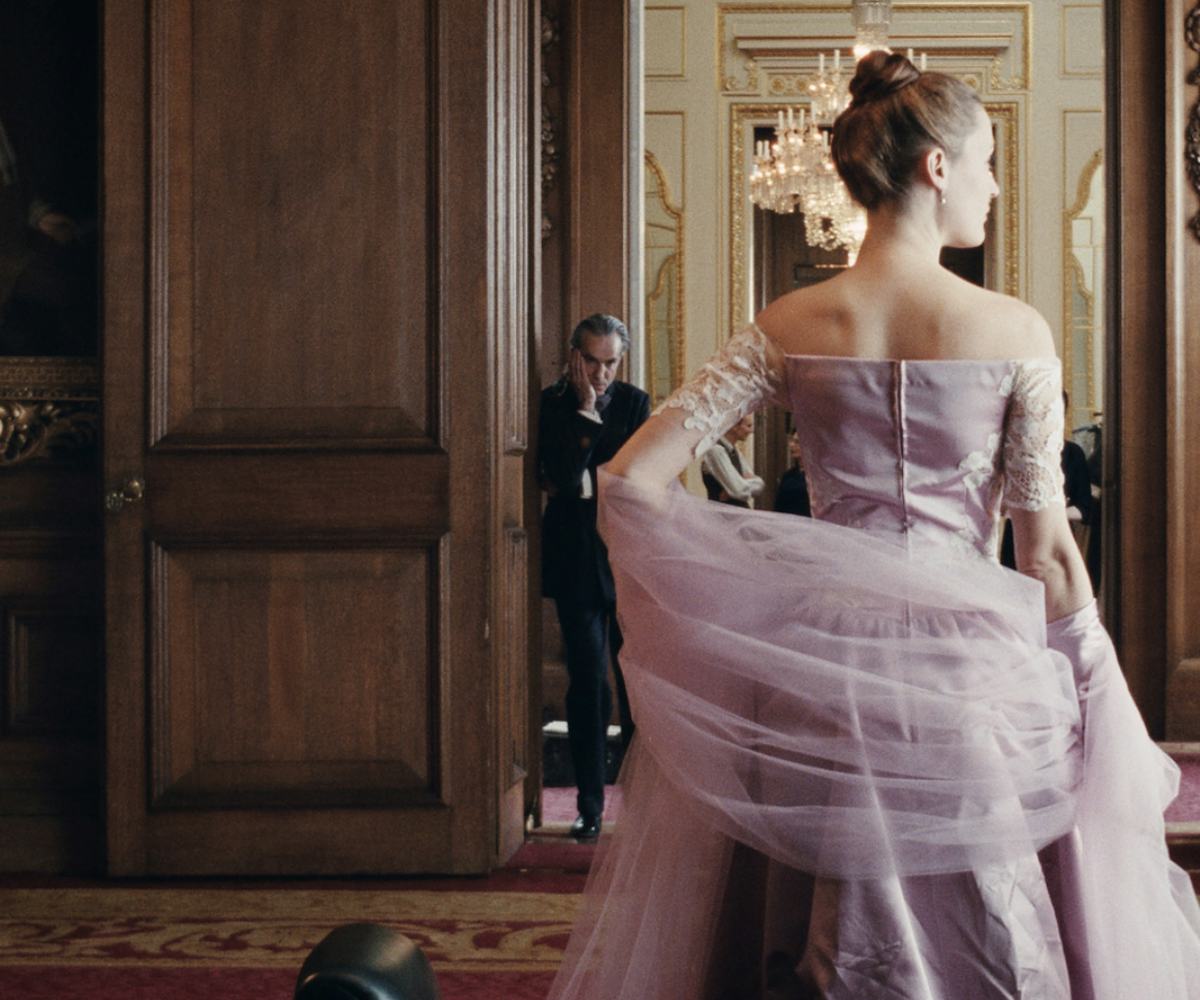 How 'Phantom Thread' Costume Designer Made "The Only Dress In The World"
"How are we going to tell the story best with these clothes?"
It's been a little over a month since I first saw Paul Thomas Anderson's Phantom Thread and it is still pretty much the only movie I want to talk about, even if I'm just talking to myself. (Which has kind of been the case, as the film has yet to be widely released!) Among the many things at the forefront of my mind are the stunning sartorial creations in the film. Ostensibly the work of fictional couturier Reynolds Woodcock (Daniel Day-Lewis), the gorgeous gowns actually sprang from the mind of costume designer Mark Bridges, who was tasked in Phantom Thread with the specifically difficult job of creating '50s-era couture dresses that were convincing enough to look like they had been designed by a famed couturier of the time, but not derivative of any of the actual couturiers of the time. Bridges succeeded beautifully at this task; it's no surprise, really, as he has designed the costumes for every one of Anderson's films. The two clearly work well together at creating an entire universe in which every touch of lace or scrap of rainbow-striped velour (hello, Boogie Nights) is part of a greater artistic whole.
A few weeks ago, I sat down with Bridges to talk about the unique challenges of working on Phantom Thread, what it's like to collaborate with Anderson, and how he set about creating the ultimate wedding dress. We're also premiering a never before seen clip from Phantom Thread, below.
You've worked on every Paul Thomas Anderson film. How does a project with him start?
It starts with Paul saying, "I've got a new script." [laughs] I don't think I hear about it until he's really ready to show it, at least the first version of it. So that's how I got a script for Magnolia from him. It's interesting, I have a lot of different versions of There Will Be Blood and I have a lot of different versions of Inherent Vice. This one, there might have been two versions of it, but [they're] not that much different. So I get that, see what it entails, go over it with him. We hang out at his office. He's got thousands of books, and we just look at what he's been looking at, whether it's newsreels of fashion shows or research books or fashion photography. Then, I go away and kind of put together my own thing about how we could approach it. And I come back to him, and we just continue to weed out and have a back and forth on what it's supposed to be over several months.
This film centers around a couturier; did that bring any additional pressure while designing?
I love what I do, so I was kind of looking forward to that challenge, really, and having a shop that was going to make me couture clothes was so fun. We do it all at kind of an unbelievably breakneck speed, from start to finish, actually working on the clothes and doing fittings and shooting and everything, I think it went for pretty much six months, and we were making garments the whole time while we were shooting.
It was wild because we were doing the fashion shows and fittings for the fashion shows and creating those gowns while we were shooting in the Cotswolds. And it's not an ideal way to work, but that's what we had to do. So the pressure... no, it's not more pressure, it's just you want to get it right. It's always a different kind of pressure and different requirements. When we did There Will Be Blood, we were in the middle of nowhere, and the studio was at odds with FedEx, so if I didn't bring it, we didn't have it. And so that's its own kind of challenge, whether you're in London and have everything at your fingertips or whether you're in west Texas and have nothing available to you. So you just want to get it right, and you want to serve the script, and you want to make a beautiful picture onscreen, always just keeping in mind how we're going to tell the story with those clothes. I think that was the biggest challenge: How are we going to tell the story best with these clothes?
Who were some of your inspirations?
I think if I was to be inspired by anybody, it would've been the British designers who were working at the time where our story is set, which is mid-'50s London. And so whether it's John Cavanagh or Digby Morton, or Michael Sherard, we just looked at what was happening in London at the time and then tried to figure out how Reynolds could have that flavor yet still be his own kind of creative artist couturier who sort of follows his own drummer a little bit and isn't worried about that dirty word, "chic."
It seems like such a challenge to be making clothes that the audience has to believe are the creation of somebody who is this highly esteemed artist, so they can't be derivative of anyone else but have to make sense with the era.And there are legalities involved, too. We were in constant talks with the lawyers. I think it was good that there are those constraints on it, though, because you want it to be fresh. You don't want it to be anything where people are like, "Oh, yeah, that's that very famous Norm Parkinson photograph, or that Avedon photograph," or something. Because it takes you out of it. If it's something you haven't seen before, you're that much more apt to believe this story and that Reynolds is real.
One dress that really stands out in the film is the wedding dress, one that is supposed to be not just the most beautiful wedding dress but "the only dress in the world." That's a lofty goal! What was the process for designing that?I tried to connect things that you'd seen in Reynolds' dresses before, [like the] black lace dress that Alma wears in the restaurant early on. And so the wedding dress has that same collar and sleeve and sort of sheer sleeves, and then this weird line under the bust that was on another gown that we had in the shop that I thought was really nice. And I found this incredible zibeline fabric, which is kind of a beautiful, lustrous, stiff fabric, and said to Cecile, our head cutter, "Let's just try to make this have the fewest amount of seams but still the grandeur of a wedding dress." And the fabric tells you what to do with it kind of because that zibeline isn't going to be the same as a chiffon skirt or even taffeta. So the fabric guides you a little bit on what it's going to be, too. 
So between trying to riff on something Reynolds had done before, so that it's a bit of a trademark or something that he likes for a woman, and an inspiration from an actual period garment, and then the fabric kind of telling us what to do, that's how we came up with that dress. And you know it's funny, they talk about it being the only dress in the world, and then he sort of critiques it as ugly. And so it's so interesting that everything's so subjective; some people think it's beautiful, he thinks it's ugly, but he was trying to make it the only dress in the world. So it seemed like ultimately what came up was a gown that could be judged in all those different ways, depending on who was looking at it. 
Yeah, it was amazing to see how negatively he reacted to this thing he created, one that referenced everything else he'd done and allegedly loved. It's like he realized that what he'd always done wasn't working for him anymore, even this thing he thought would be the greatest... the only dress in the world.It's interesting, things get funny like that. How do you do that, you know? The jury's still out on it a little bit for me.
Phantom Thread is now playing in select theaters and will be in wide release on January 19.