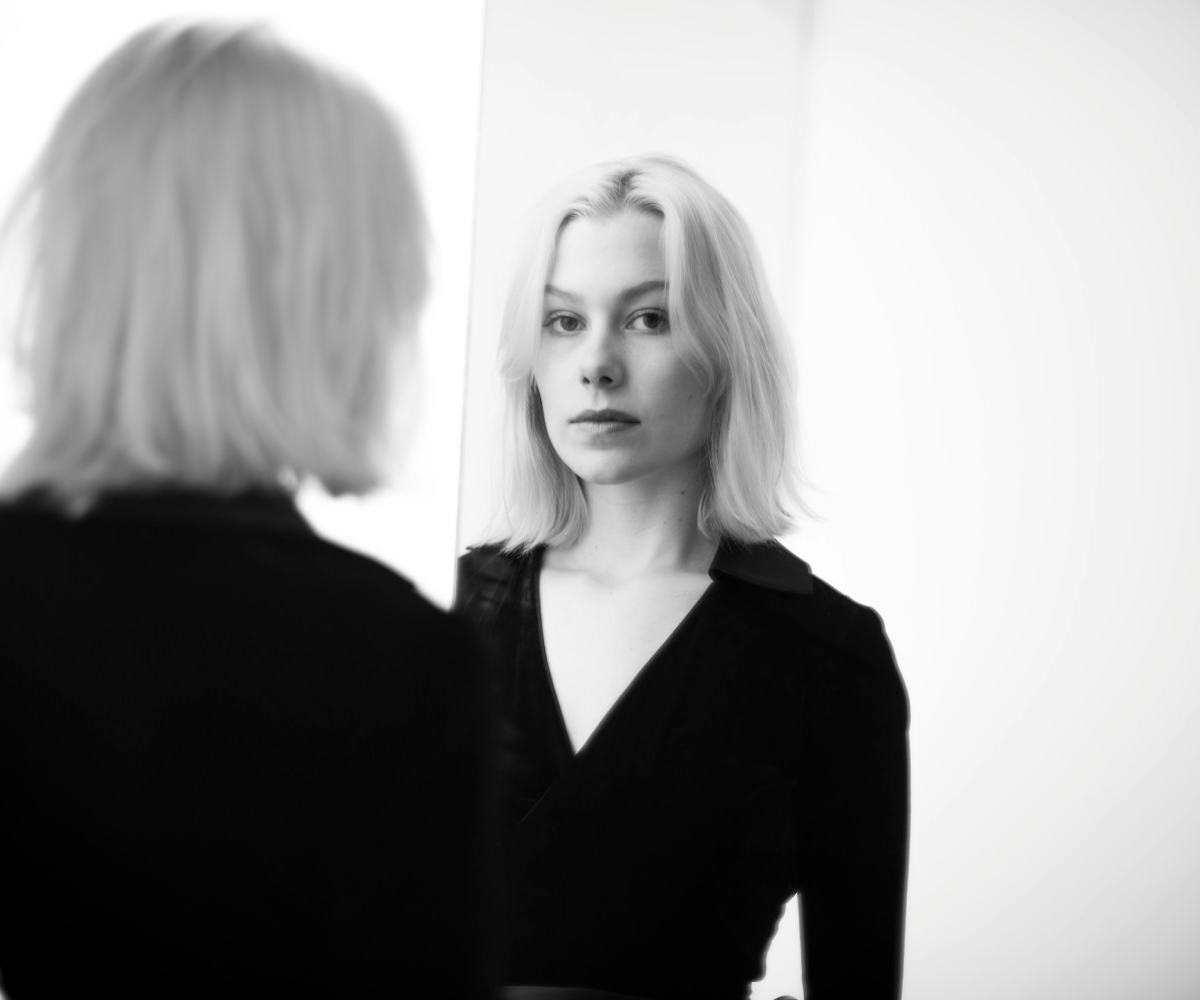 Photo via Chromatic Publicity
Talking With Phoebe Bridgers, Who Ryan Adams Called 'The Next Bob Dylan'
You won't be able to get her out of your head
Back in 2015, the world was blown away by the melancholic balladry from a young singer from Memphis named Julien Baker. While Baker was touring her record, she brought along another singer-songwriter as her opener: Phoebe Bridgers. While both artists have their differences when it comes to songwriting and tonality, Bridgers is about to be the next dark folk singer you won't be able to get out of your head. 
Musically falling somewhere in-between Joni Mitchell and Courtney Marie Andrews comes 22-year-old Bridgers; she's been making music since she was a kid, but she didn't get serious about it until she was a teenager. Along the way, she's found fans in both Baker and Ryan Adams, who helped produce her 7-inch Killer. With so many musical friends alongside her, Bridgers is definitely making waves in the indie-rock scene. 
We caught up with Bridgers about her time spent on the road with Baker, the best advice she got from Adams, and why she's obsessed with serial killers.
How did you first get started making music?
My mom has always been really supportive, so she'd probably tell you I've been making music since I was 10. I think I started taking it really seriously when I was 15. I was just a really big music fan growing up. My mom was super supportive, so she took me to see Neil Young, bought me a bunch of Tom Waits records, and she took me to Hardly Strictly Bluegrass in San Francisco since I was 12. She was just getting me stoked. I can't really imagine not being a huge music fan and fantasizing about playing music.
How did you and Julien Baker meet?
It's not entirely clear to me what happened first, but all I know is I was getting maybe three texts a day from people telling me, "You have to hear this girl Julien Baker. She just released a record. Everything you believe in is in one person." It kind of pissed me off, honestly. It was mostly my male musician friends saying I'd love this female singer-songwriter that was young. And then my lawyer, who's amazing (and was a musician in The Lemonheads), reached out to me and sent me [Baker's music]. I was like, I have to listen to this now.
I think I was driving and I actually pulled over to sob [the first time I heard her music]. My mind was blown. Two days later, [my lawyer] called me and was like, "Dude, she listens to your music." She heard me on Soundcloud. Then my agent submitted me for one show that was in Eagle Rock in L.A., and my agent said there was a possibility for a tour afterwards. I went to go play the Eagle Rock show and Baker was soundchecking; I went into the basement to get out of her hair before we met. She was walking up the stairs when I was walking down the stairs and she was like, "Dude." And I was like, "Dude." Then we started laughing hysterically and couldn't stop laughing. We've just been friends ever since. She's a forever friend. We've been emailing music back and forth.
Would you guys ever collaborate together?
I hope so. These are the best people in my life—the best people who are my musical friends. I am equally amazed and intimidated by them. No matter how sweet Julien is and how close of a friend she is to me, I will always be blown away by her music. I would love to collaborate with her. 
I definitely had the same reaction to your music and her music. I was stunned. Your music is quite dark. The first song I heard was "Killer." Have you been through a lot of turmoil during your life?
It's hard because I don't think my life has been particularly rough. I think human experience is insanely flawed. I always wanted to hear sad music. There's a Tom Waits quote that's my favorite quote: "I want beautiful melodies telling me terrible things." I think no matter what amazing stuff has happened to me in my life, I always pull from the bullshit. This is why Julien's sad record resonated with me so much. I have always pulled from whatever was torturing me because I don't sit down and think, Wow, I had such a great day. When I write, I'm miserable or remembering a miserable song. The first song I ever wrote when I was 10 was called "I'm the Only Bird Flying the Other Way." I think I found a reasonable medium. I was listening to a lot of Sun Kil Moon and Red House Painters. I love listening to stuff that you can't pinpoint why it's sad, but it makes you sad. 
"Smoke Signals," your first single in a while just came out.  What's it about?
"Smoke Signals" is a love song, but the underlying theme is the gut-wrenching year we had. I just felt like you'd wake up and there was another crazy thing. Your heroes kept dying. To love someone and be in the middle of that was the craziest feeling. It's kind of about the dichotomy of the world. It's very easy to go into a dark place and feel like the world is going to crash and burn. I also think that the worst times are when people get most passionate. It's a miserable song, and I don't consider myself a miserable person, but that's the place I write from. 
What were you listening to when you made "Smoke Signals"?
Julien [Baker] showed me tons of new music. Sharon Van Etten was at the Bowery Ballroom show, and she showed me lots of new music. I was listening to lots of Chris Isaak and Sun Kil Moon. I was in my really big Alex G phase. And always Elliott Smith forever.
Your song "Killer" was actually the first track I ever heard from you. Tell me about the story behind that song.
I have this fear that people think that it's romanticizing murder or violence. None of that shit needs any more attention than it's getting. For a couple of days I was in this Wikipedia wormhole of looking up serial killers and not being able to look away. I would be in bed and be like, "I shouldn't Google what happened with John Wayne Gacy" I was just torturing myself, almost like OCD thinking. America has this fascination with murder—this was before The Jinx. I had a breakdown and talked to my mom about it, and she was like, "You're just freaking yourself out, and everyone is fascinated by this stuff." So it was about just about feeling out of control with my brain. It would be five in the morning and I would be on my phone reading about serial killers. 
Do you channel your teen angst in your music?
A little bit. Although I wrote "Georgia" when I was a teenager, which is a little more sentimental and less specific. Yes, I do write a lot about being a teenager. Teen pain was a different kind of pain, but I think I was romanticizing the music I was listening to. When you become a teenager you start feeling a ton of pain at once. Also, I'm 22, so I don't know if it's because a majority of my life experience was being a teenager, but I've been told that that time is a really rough time for most people. 
How did you end up working with Ryan Adams on the Killer 7-inch?
My friend Harrison Whitford was just this crazy, crazy fan, and he was tweeting at Ryan all the time. Harry writes songs; that's how we met and we became best friends. He's obsessed with Ryan Adams. Ryan finally listened to Harry's music, and he showed it to his drummer, Marshall, who plays on Ryan's 7-inches and stuff. Marshall started talking to Harry by himself, and Harry showed him my music. Marshall asked me to open for his band Olin & The Moon. I did, and he said to me, "Ryan would really like you." We went over to the studio, and I played Ryan "Killer." He said, "Be here tomorrow at 4pm and we'll record it." He's constantly producing things. He's working with this band called Starcrawler and Liz Phair. We probably recorded it for a half an hour and we got a ton of crazy snacks. He's also another forever friend. I was just over to his studio last night. 
What's the coolest thing you learned from Adams?
When I first met him, I was having trouble with a song, and he said, "Just write your life. Don't question it. It doesn't matter if it's stupid. I guarantee you won't make it sound stupid. If it does sound stupid, you write it out. You write your life. You don't have to be Bruce Springsteen or a character. Just write your life, and it'll come out cool." We were talking about songs to record, and I played him a bunch of songs. He said, "Let's cut 'Killer' and that one and that one." He was like, "Write more songs—we're going to put out your best songs" He said, "If it's good, people will listen to it. If it's okay, it'll get buried."
Ryan Adams compared you to Bob Dylan. Do you agree with the comparison?
It's so, so flattering. I would love that, and it's everything I aspire to be, but there are some glaring differences. You and I have Bob Dylan's entire catalog to listen back to, and [Adams] has probably heard 10 of my songs. It's a big assignment, but the most flattering thing in the world. 
Do you have a theme to your forthcoming record? Do you know when it's coming out?
Not sure when it's coming out. It's hard because a lot of these songs I finished five years ago, and you don't get to do that with your second album. It's everything from my high school heartbreak to the election to when I sang at a kid's funeral who had a heroin overdose when I was 20. Now I look back on my record and I'm like, "Oh my god, it's my diary." It's basically just my whole life.