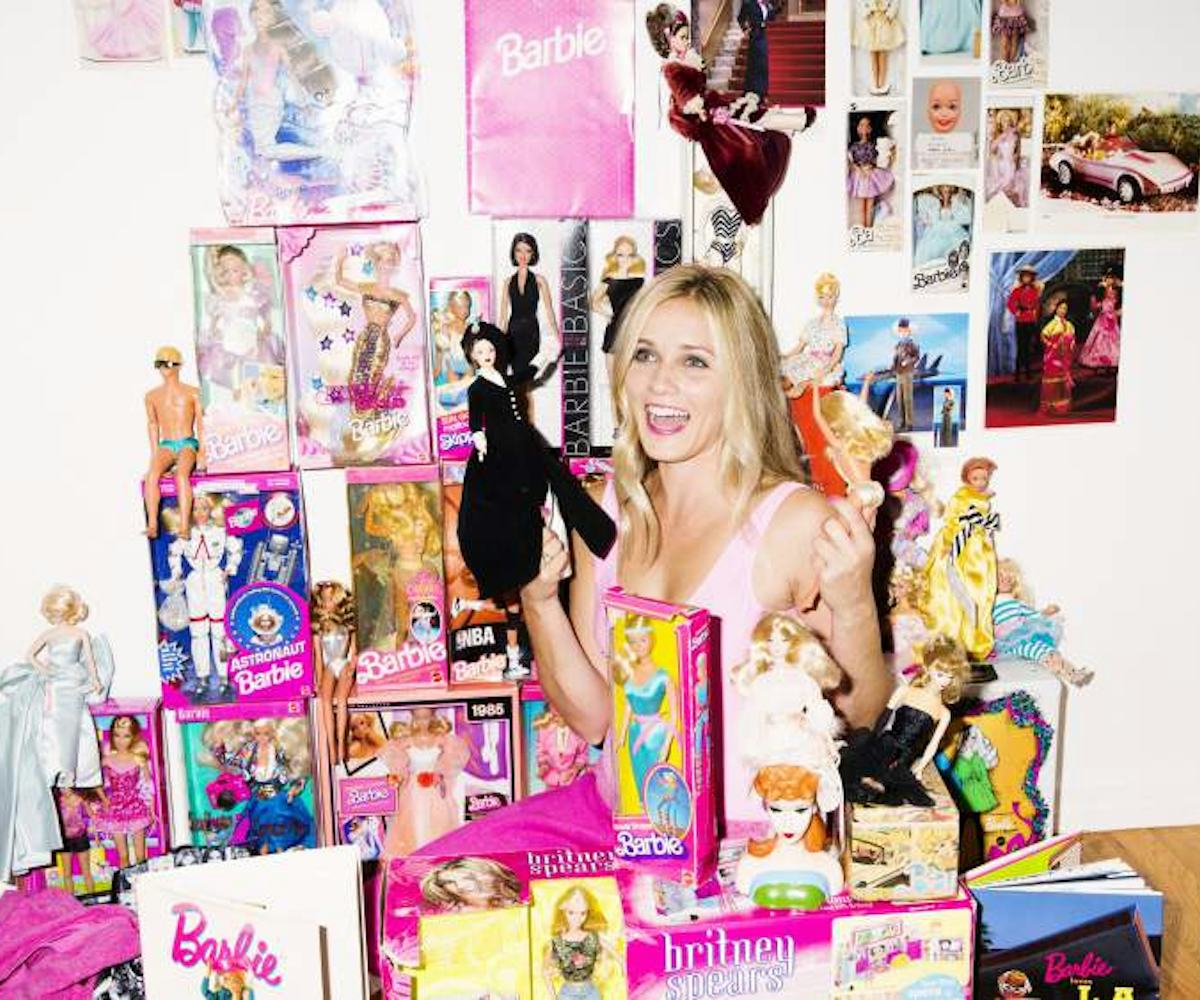 all photos by ben rayner
our photo director shows us her barbie world
welcome to the dollhouse.
As a hairstylist blows her long blonde locks into tousled waves, NYLON photo director Beth Garrabrant glances at her phone—currently covered by Moschino's pink Barbie mirror case—and worries that the overflowing Barbie collection on her dining table is not enough. The massive pile includes: a 1984 issue of Barbie Magazine, a mint-condition Christian Louboutin Barbie, vintage photographs from the Mattel factory, and a Garrabrant's favorite Britney Spears Barbie and tour bus. But the missing board game and polaroid camera—stored at her parents' home—weigh heavily on her mind.
"A lot of my friends make fun of the collection," says Garrabrant. "But everybody is secretly very interested and loves it."
Garrabrant's treasure trove has been a labor of love since she was three years old. By age 10, she started photographing her dolls in miniature still-life scenarios. "My sister stopped wanting to play with me, so I started using my Barbies as models," explains Garrabrant. "Obviously she's immobile, but she's a great muse."
Barbie, Ken, and Skipper acted the scenes like late-night parties at The Peach Pit and After Dark. "My sister and I secretly watched 90210 and Models Inc. when we were really little—like three or four—so our dolls dealt with teen pregnancy, rape, and cults," says Garrabrant with a laugh. "One time they got hooked into a prostitution ring."
She continued staging and shooting images throughout her teens, creating Barbie murder mysteries and sacrifices, and when she attended the International Center of Photography in New York City for graduate school, she made a film about her little plastic idol committing acts of self-destruction around the West Village.
"There's nothing basic about Barbie and no one can deny her," she says. "It feels like there's been a renaissance, but I would argue that it's been happening for quite some time."
Instagram blew up after Jeremy Scott's Barbie-inspired spring '15 Moschino collection (which actually came after both Wildfox and Forever 21 introduced their own Barbie-inspired lines this year). Then, in early October, nearly a thousand Lagerfeld Barbies—complete with his signature gray bun and sunglasses—sold out in hours. But Garrabrant reminds us that the designer collabs are a longstanding tradition. Remember the Nicole Miller, Christian Dior, Calvin Klein, Burberry, and Cynthia Rowley Barbies?
Of course, Scott's Moschino collection and spray-tanned models with platinum blonde blowouts and bubble-gum pink lipstick certainly brought Barbie to the forefront of the fashion conversation. But she's always been there and forever will be. As Garrabrant says, "Barbie always represents exactly what's going on in the fashion world. Hey, Mattel, can we have a NYLON Barbie?