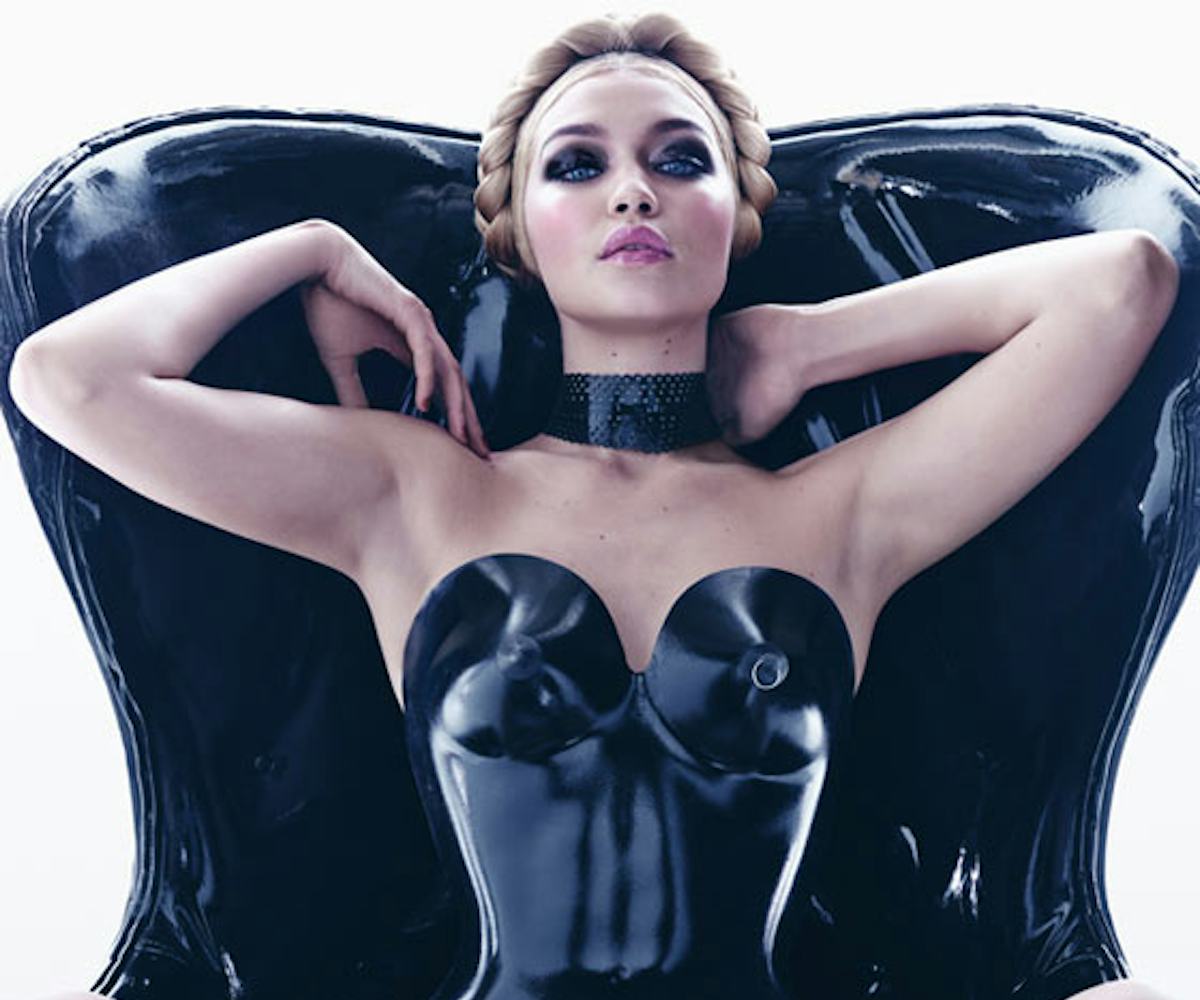 pirelli calendar
top models, exposed: the 2015 pirelli calendar is here
It is not an unfamiliar concept: An Italian tire company creating a pin-up calendar of naked women to raise its profile. In fact, it may be Marketing 101 — scantily clad women promoting some type of automobile product is, in many ways, the definition of mass culture. But, it would not be difficult to claim that there is no calendar in the world quite like Pirelli's. For forty years, the Pirelli Calendar has emerged as the pinnacle of high luxury, shot by some of the most famous photographers in the world, starring models that were (and continue to be) icons. As the years rolled by, the calendar's reputation has rocketed, featuring now-infamous photos lensed by Herb Ritts (1994, with Cindy Crawford and Helena Christensen in the Bahamas), Richard Avedon (1997, with Jenny Shimizu in New York), Annie Leibowitz (2001, with Laetitia Casta and Alek Wek in Rhinebeck), and Patrick Demarchelier (2005 and 2008, with, well, everyone, in Brazil and Shanghai, respectively). 
Noted for taking the mundane—a calendar—and turning it into something that fashion editorials look to for inspiration, this year's Pirelli calendar takes insiration straight from the Pirelli product: Latex, and more specifically, the way the material lends itself to fetish. Shot be the enigmatic Steven Meisel and styled by Carine Roitfeld, each of the images evokes recognizable fetish figures or pin-up models. There's the cowgirl (Isabeli Fontana), the sailor (Sasha Luss), the ring girl (Joan Small), and the vixen (Candice Huffine, the first plus-size model to ever be included in the calendar, but we'll get to that later). Despite the sexuality and nudity—these photos might make Kim K's look tame—each model is decked out in latex. Says Roitfeld, "Sometimes it's more sexy to show a little fashion instead of being completely naked." 
What marks this calendar as being truly remarkable, other than the fact that it recruits fashion's heaviest hitters, is the diversity of women featured this year. "In my opinion", said photographer Meisel, "these are the key aesthetic models of today's world. They represent the stereotypes that the fashion and star system impose upon us right now." There are the tried-and-true supermodels like Adriana Lima (January), Karen Elson (September), and Raquel Zimmermann (December), but then there are also up-and-comers, like the Kardashian-era Gigi Hadid (November), and activists, like mom Cameron Russell (July). Also, American model Candice Huffine (April), the first officially labelled "plus-size" model in Pirelli's history, shows up as the most literal interpretation of the fetish theme. 
Yes, nudity is a key part of the Pirelli project, but so is power. "I didn't want to make a conceptual calendar, or link it to some particular location, but rather to create 12 posters in which women, in all their sensuality, are the absolute protagonists of 12 very different images," said Meisel. Framed in playfulness but electric with sexuality, the theme is fitting: these women are worth fetishizing, but their own personal desire is just as immediate. Now that's pin-up. 
March: Joan Small
April: Candice Huffine
May: Carolyn Murphy
June: Anna Ewers
July: Cameron Russel
August: Sasha Luss
September: Karen Elson
October: Isabeli Fontana
November: Gigi Hadid