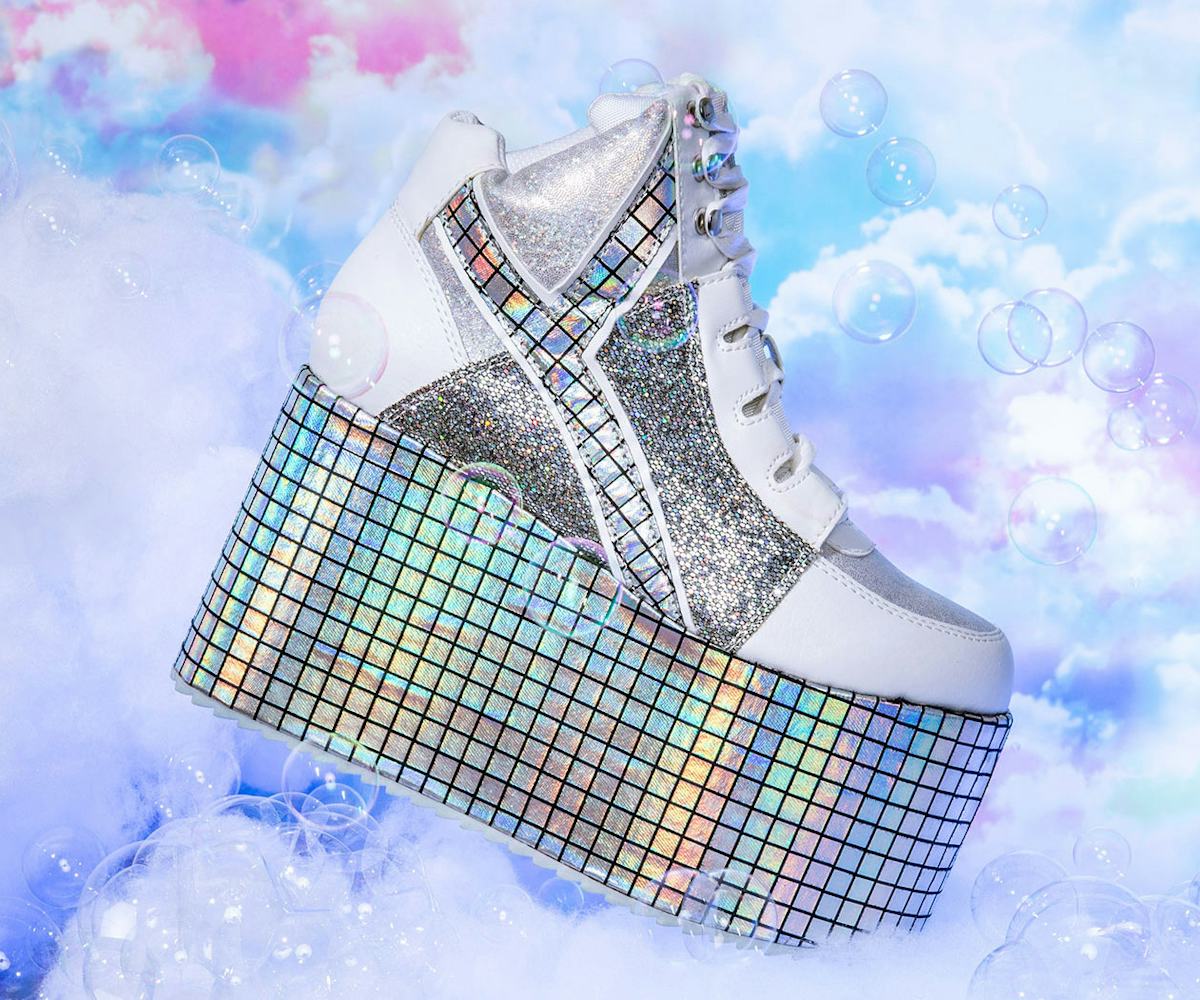 Photographed by Stephanie Gonot with prop styling by Lauren Machen
The Comeback Kid: Platform Shoes
The '90s trend has reached new levels
I was too young to engage in the platform shoe trend in the '90s, but I was an admirer from afar (and also from below). Lucky for Scary Spice-loving young me, sky-high shoes are back—along with basically every other trend from the decade formerly dubbed keeper of the worse fashion moments. Tell that to Matt Lauer's velvet choker!
For spring, big names like Marc Jacobs, Miu Miu, Coach, and Proenza Schouler declared platforms one of the most coveted trends for the second season in a row. As we know, what starts on the runway inevitably trickles down to the streets. And this past year, platforms, flatforms, wedged sandals, and raised shoes of all sorts were seen in every corner, in every city. Rihanna's very popular Puma creepers even snagged the 2016 shoe of the year. Though her sneakers, height-wise, weren't on the same level as others on the market, there's nothing like a Bad Gal seal of approval to boost a trend into mainstream territory.
Unlike Crocs, this is one sartorial revival we can get behind. (On a serious note: please, "fashionistas," don't make Crocs a thing.) And if you thought you could dodge the takeover, Vogue recently dubbed the style the "new Stan Smiths," so don't expect them to go away anytime soon. Check out some platforms we're really feeling ahead and give your wardrobe a little extra lift this year.
Photographed by Stephanie Gonot  
Prop Styling and art direction by Lauren Machen
Most platforms include an excess amount of cushion in order to put more distance between the wearer and the floor. Typically, that area is a single, muted color or design. Not in Gucci's case. They take advantage of the extra room and go wild with color. These rainbow and gold numbers aren't for the shy fashion bunch by any means. Be prepared to stand out in the best way possible once you slip them on. 
Gucci, Peggy Platform Sneaker, $950, available at Nordstrom. 
YRU is a popular shoe brand that specializes in platform sneakers and boots. You'll never find an average style from the selection, and these just might be the most kawaii of the collection. Baby pink with star and moon cutouts included? Someone get six-year-old us on the phone.
YRU, Sanrio Qozmo Little Twin Stars, $124, available at Amazon. 
Take a cue from Marc Jacobs' towering shoes of this past season and add a little a lot of shine to your wardrobe. These don't have to be for special rave occasions if you don't want them to be! Just make sure to leave the faux dreadlocks at home.
YRU, Qozmo Disqo, $185, available at NYLONshop. 
What Jeffrey Campbell's oxfords lack in height, they make up for in design. The flower appliques are feminine without veering into super-girly territory. Suddenly, we've never been more prepared for spring.
Jeffrey Campbell, Florencia Platform Oxford Shoe, $215, available at Nasty Gal.
Remember Moon Boots? Not the actual boots (seen here), but the play versions that you could bounce around in (seen here)? Those were fun. These shoes don't really resemble them in any way, but both give us similar intergalactic vibes. The iridescent finish of this YRU version adds an interesting layer of flair to the classic style.
YRU, Nightmare Reflective, $133, available at NYLONshop.