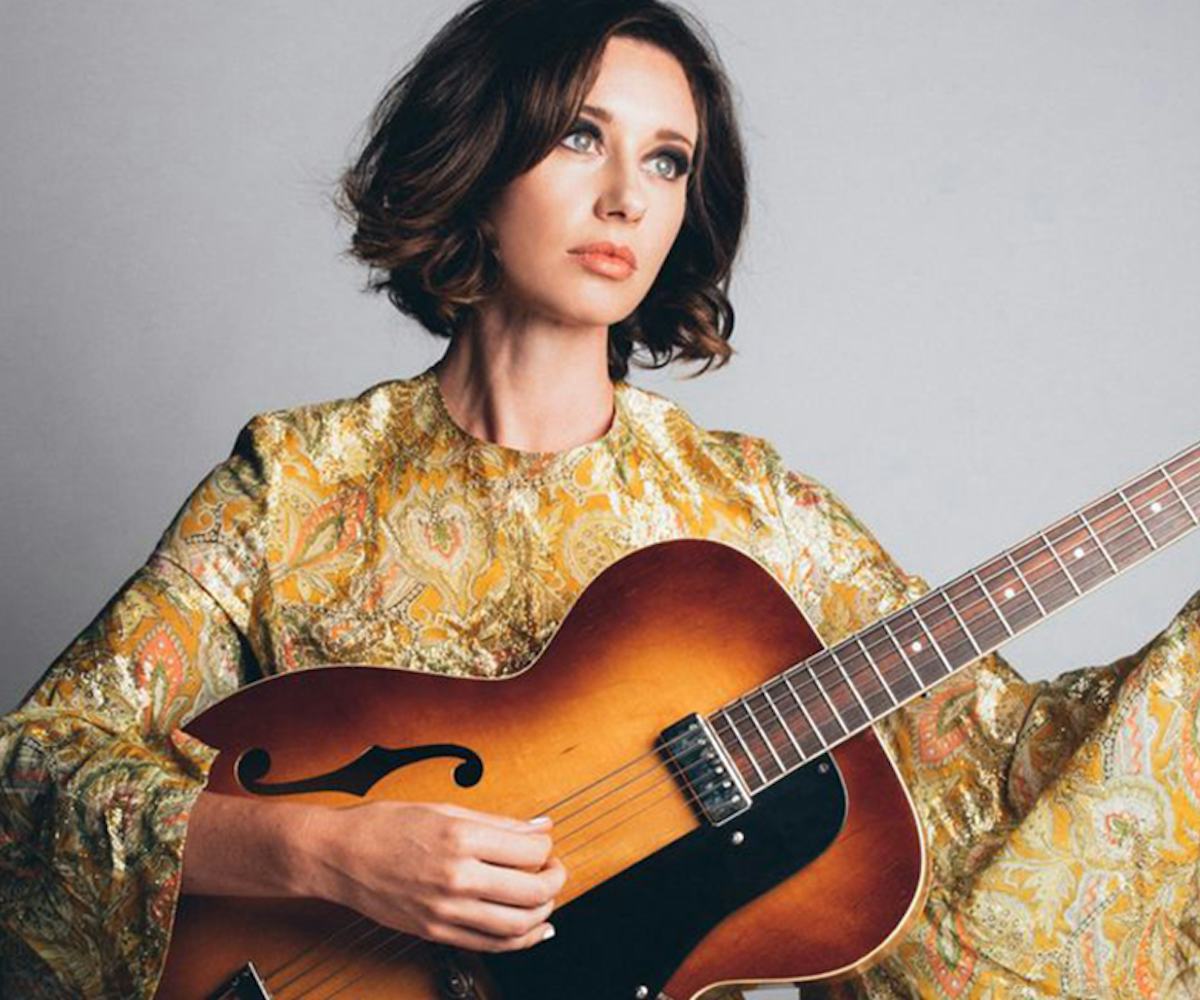 Photo by Alysse Gafkjen
Playing Well With Others: On The Power Of The Musical Duet
How Lera Lynn has redefined the duet
The image of the singer-songwriter in music is often a lonely one. A single voice on stage, the artist pouring their heart out, without anyone else to share the emotional burden. While great bands can distill the force of each member into a collective identity, songwriters are empires unto themselves, and letting anyone else in is something of a balancing act.
On Lera Lynn's new album Plays Well with Others, she undertakes such a balancing act on each of the album's nine songs, all of them duets, with people like Andrew Combs, Dylan LeBlanc, and elder statesmen like Rodney Crowell. While the album sees Lynn take lead-billing, she simultaneously tries on a series of new identities: "Breakdown," with Combs, has a dirty, gulch-y, eerie undercurrent; "What is Love," with LeBlanc, classic and elegiac; "Wolf Like Me," with Shovels and Rope, cool and unusual, with a deep, rumbling organ sound padding out the whole song.
There's a distinction in musical history between duets and, say, when a band uses backing singers, but should there be? "Midnight Train to Georgia" is as much about The Pips as it is Gladys Knight. Merry Clayton's background vocal on The Rolling Stones' "Gimme Shelter" makes that song what it is, but her credit is hidden. Lynn seems to be questioning that idea in the very opening song on this record, "Same Old Song," with Peter Bradley Adams. Rather than a back-and-forth between the two, Adams and Lynn sing the song in unison, almost in a whisper. If it had appeared on another of Lynn's albums, it'd be surprising to refer to it as a duet.
But surprising might be what Lynn is going for here, as it feels like, with this album, she is trying to redefine completely the idea of duets. This is particularly interesting given country music's history with a very classic, almost old-fashioned style duet. Think: Dolly Parton and Kenny Rodgers crooning "Islands in the Stream" in perfect harmony. Or: Johnny Cash and June Carter going down to Jackson, dancing on a pony keg. Even more recently, there have been examples of these kinds of duets between Faith Hill and Tim McGraw, Chris Stapleton and Justin Timberlake, Kid Rock and Sheryl Crow, Brad Paisley and LL Cool J (although the less said about "Accidental Racist," the better). Lynn is placing herself within the tradition, but also setting herself apart from it with the kind of choices she makes, particularly in the album's closing track, a cover of "Almost Persuaded."
It's telling that on an album where it feels Lynn is trying out a lot of new hats, she ends with something totally classic. "Almost Persuaded" is part of the canon of country. Written in 1966 by Glenn Sutton and Billy Sherrill, first released by David Houston, it's gone on to be covered by George Jones, Merle Haggard, Etta James, Louis Armstrong, and countless others. In the song, a man becomes tempted at a bar by a woman, and as they dance together and she asks him to come home with her, he sees his wedding ring reflected in her eye, and he stops and goes back to his wife. 
Lynn, joined by John Paul White, flips the script. Coming in on the second half of the song, she switches up the pronouns of that verse. It's now the man coming onto the woman, and the woman who is guided by her conscience, and says no. It's a small decision, but a powerful one. Lynn gives a voice, and an agency, to a character who's spent the last half a century of country music trying to take a man away from his wife. The narrative becomes far less clear-cut. It's a reminder that these songs aren't preserved in amber—they can be pulled apart, reshaped, and made to tell a different story. 
It's not a million miles away from the kind of sampling that happens a lot in hip-hop. Tupac isn't technically duetting with Bruce Hornsby on "Changes," but he uses his chorus from "That's Just the Way It Is" to help tell his story—the two songs are so thematically linked that they might as well be. On the other side, Dido's "Thank You" is not in any way about a crazed stalker, but the mood she sets up in those opening verses of hopelessness and sadness is transplanted brilliantly into Eminem's "Stan." You could even argue for Frank Ocean's nostalgia, ultra being an album of duets, taking full backing tracks and writing new songs over them—there's only one person singing, but he's in conversation with something else.
There's a kind of jeopardy in duets. The idea of someone being pushed out of their comfort zone, or attempting something different, raises the stakes. This is as true of Kanye West and Jay Z's Watch the Throne as it is of Lou Reed and Metallica's Lulu. There's the fear of being overshadowed, or being stifled, or even just the fear that collaboration on paper won't have any chemistry in the studio. There's also a small novelty factor. Duets are like crossover episodes. There's something fun about listening to two familiar voices run alongside each other, or seeing a guest introduced halfway through, even if it doesn't always come off.
But, implicit in the form is the fact that you have to give something of yourself away. The reason you do that is the hope that the returns will be greater. On Plays Well with Others, Lynn makes that bet with each of the songwriters she's brought in, and it comes off every time.