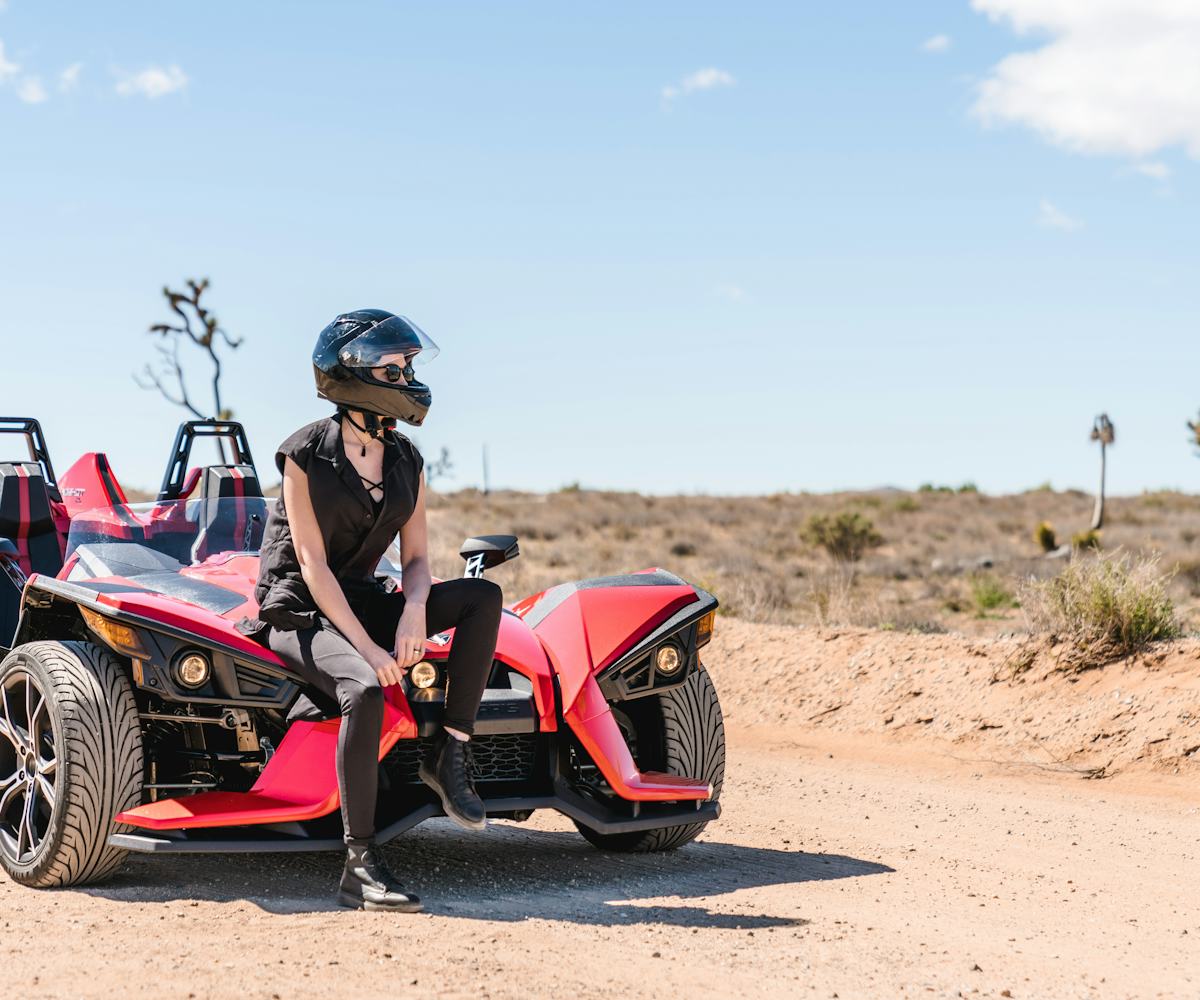 Photo by PHIVES Photography
What It's Like To Ride An IRL Batmobile
Taking the Polaris Slingshot out with EagleRider
I love thrills. Jumping out of a plane, hopping on a flight with a moment's notice, or swimming with sharks? Bring it. Life is best savored during the moments when my heart is thumping against my chest so hard, it's like it's trying to escape my body. I sometimes feel like I've done it all, but when I was presented with the opportunity to shoot across the Southwest in a performance roadster, I realized that in all my years as an experience junkie, the one thing that's evaded me is rubber and the road.
To say I'm not a car enthusiast is putting it mildly. I live in Chicago, a city of yawning potholes, of digging front wheels out of snow banks, of crawling traffic. I purchased my current ride by finding a model that met a checklist of "will it survive" criteria. Years ago, I was on the back of a motorcycle which had the ability to top out at about 45 miles per hour, and so my resulting feeling was "neat." Motors in my world are a necessity, not adrenaline fuel. Yet, here I was, in EagleRider's Los Angeles headquarters, outfitted with a helmet and protective jacket, ready to ride three days across the Golden State and into Arizona and then Las Vegas, all in a Polaris Slingshot SL.
"It's a rite of passage to ride across America on two wheels," EagleRider co-founder Chris McIntyre tells our huddled group before we embark. The way McIntyre speaks has an infectious, evangelizing tinge to it, and by the time he describes motorcycle riding as being as American as "apple pie," I realize I've not only drunk the KoolAid, I've tasted every last drop. I actually wouldn't be on two wheels this trip (no motorcycle license to my name), but no worry. Instead, I was presented with this... thing called a Polaris Slingshot SL, a low-slung red-and-black beast exploding with sharp angles and a Transformers-like profile. As I hopped in place with excitement like a toddler fresh off a candy binge, I thought: For once in my life, I'm excited to drive.
Slipping into the driver's seat of a Slingshot, for lack of a more complex description, simply makes one feel cool. It's a go-kart on steroids, created, it seems, with the primary intention of turning heads. With 173 horsepower, three wheels, bucket seats, and open-air sides, it's not quite a car, not quite a motorcycle; it's basically the DMZ of motor vehicles. I pop the radio on to Daft Punk's "Get Lucky," don my sleek, black helmet, and start the Slingshot to a satisfying rumble. Sitting in what looked like a weekender Batmobile and wearing an array of tailored armor had the unintended side effect of letting my inner badass shine through, and I was ready to let this newly found alter ego rip it on the road.
Okay, so I had to slog through a few hours of L.A. traffic first, but even at a crawl, it was hard to not be aware I was living a Mad Max fantasy. Other drivers gawked, passersby tugged on friends' shirts and pointed. The Slingshot is an event, and not just for the driver. Eventually, buildings and people peeled away to open fields and, free from peacocking, I was able to get a feel for my relationship with the drive. Highways slimmed to two lanes, hillsides exploded with yellow flowers, and palm trees gave way to pine as we began to climb through the San Bernardino mountains. What would have been mundane in a car now felt like living in a video game. Zippy, hairpin turns with all the sense of tangled cables were a rush to take; I loved bursting through low-lying clouds, the altitude's chill on my hands. It was at once a sensory overload and a centering experience. Architect Antoine Predock once said, "The connection to place, to the land, the wind, the sun, stars, the moon... it sounds romantic, but it's true—the visceral experience of motion, of moving through time on some amazing machine—a few cars touch on it, but not too many compared to motorcycles." Or, you know, pseudo-Batmobiles. I was starting to get it.
We swept up through iconically retro Palm Springs, through Joshua Tree and the desperado-like names of its sightseeing stops (Fried Liver Wash, Hall of Horrors), and down through Arizona en route to our end point in Las Vegas. There was an afternoon in the forgotten gold rush town of Oatman, and a stretch of driving on historic Route 66. It all felt otherworldly, especially given the juxtaposition of my future-forward ride with the dusty classicism of our stops.
I saw the terrain of the Southwest in a completely new way and caved to the romanticism. I enjoyed the roar of the engine on barren roads that hugged cliff sides; I drank in the scenery. The overripe peach tones of plateaus, chalky greens of rolling brush, and gnarly, Dr. Seuss-like profiles of desert trees stretched out for miles, without a single man-made building in sight. On these back roads, there is the sense of being able to see the whole of the world stretched out before you, and driving it in a Slingshot, with its openness, its ferocity, and, perhaps most importantly, its demand for attention (no checking makeup or taking phone calls the way you would in a car), there's a definite Zen-ness attained.
The arrival in Las Vegas that marked the end of our journey was bittersweet. I had to give up the Slingshot for an Uber, an airplane, my car back home—boxes in which to sit and waste time in order to get somewhere else. EagleRider and my trusty Slingshot had shown me that the way you get somewhere can be just as joyous as the arrival. In other words, when you're going 90 miles per hour in a sleek roadster that would be at home on an action movie set, it truly is about the journey, not the destination.
Based in Los Angeles with multiple locations across the United States, EagleRider is the world leader in motorcycle rentals and tours. With a fleet that includes brands like Harley-Davidson, Indian, BMW, Honda, and Polaris, EagleRider creates unique experiential tours for all kinds of adventure seekers. The Polaris Slingshot SL is available for rent at all EagleRider locations.