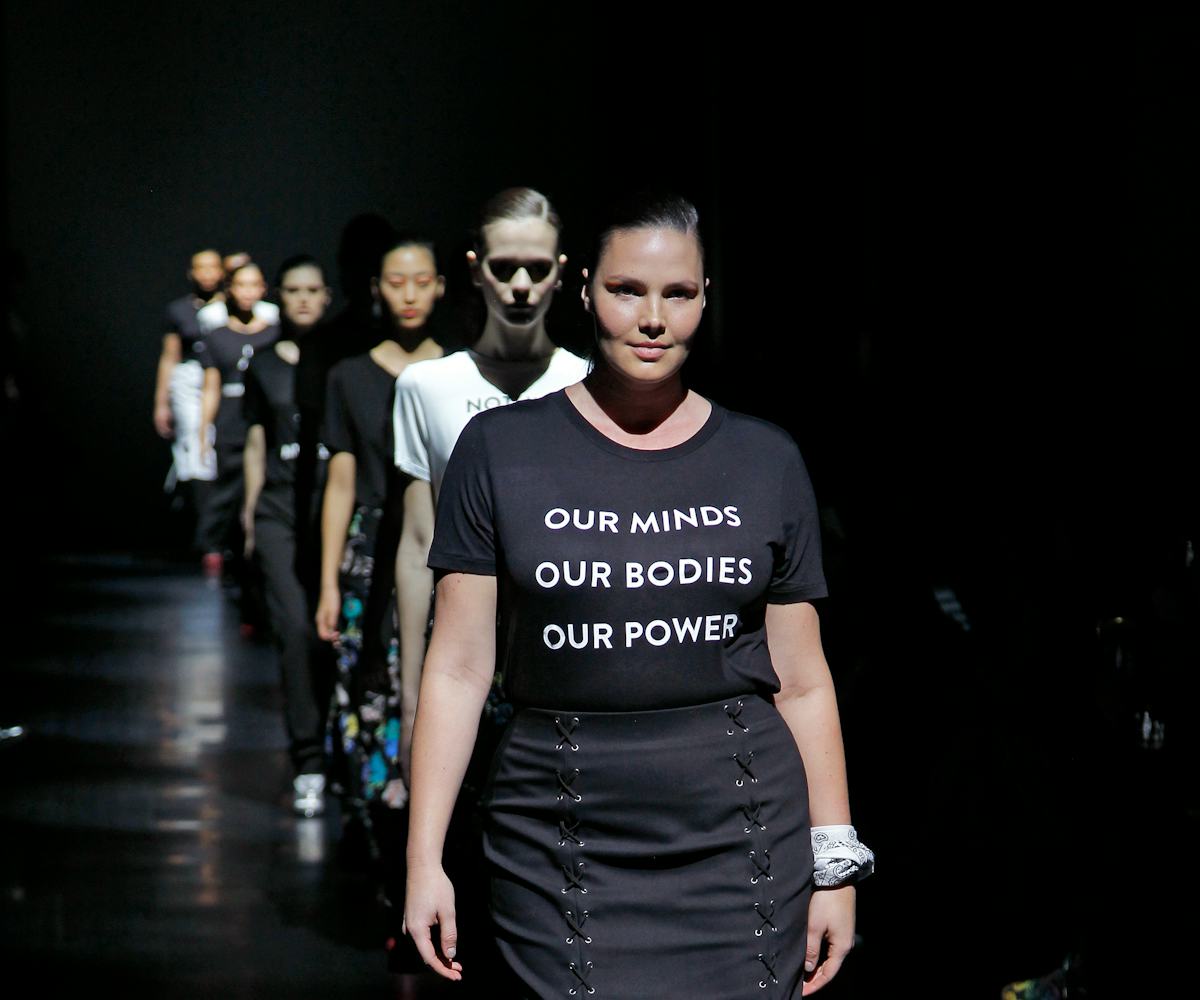 Photograph courtesy of Prabal Gurung.
The 18 Most Political Moments Of NYFW
One of the most buzzed-about occurrences that emerged from this season's New York Fashion Week wasn't a trend (even though there were plenty of those) or even controversy, but a movement that had been only occasionally been touched on before by a select few fashion designers: politics.
Designers, to an unheard of extent, tackled the current political climate head-on this past week, with many sending out see now, buy now T-shirts emblazoned with political statements, with proceeds going to important causes; distributing CFDA x Planned Parenthood pins; and recruiting models of various races (including those from the "Muslim Ban" countries) and sizes. By sharing their messages of inclusivity and showing support for immigrants, LGBTQI+ community, and women's rights, these fashion creatives used the runway as a political podium to make their voices and beliefs heard, whether through actual clothing or verbal statements that accompanied the shows, turning the idea of fashion as being superficial entirely on its well-coiffed head.
Ahead, 18 of the most political statements made on the runways of NYFW. Being political never goes out of style.
One of the most moving and empowering collections of NYFW was presented by Mara Hoffman, who opened her show with a statement from the co-founders of the Women's March on Washington. What followed next was part show, part contemporary dance performance that allowed the audience a much-needed moment to reflect.
An advocate for LGBTQIA+ community, reproductive freedom, and fair rights for immigrants and refugees, Jonathan Simkhai made a $5 contribution to Planned Parenthood for every seat in the room at his show "in honor and support of all the strong women in my life and yours." For his bow, he walked out in his "Feminist AF" T-shirt, proceeds from which also go to PP.
The Project Runway alum served an important reminder that, at the end of the day, we are all people; Depeche Mode's song of the same name played while the above look made its way down the runway. Proceeds from the tees, designed by artist Brad Walsh, benefit the American Civil Liberties Union. Siriano further supported his mission to be more inclusive by featuring models of all sizes and races on the runway.
"Make America New York" red caps made an appearance on the Public School runway, turning around what the red cap has come to be associated with and truly embodying the defiant spirit of New York. In addition to the "We need leaders" slogans, the show was also set to a remake of Woody Guthrie's "This Land Is Your Land."
No finale was more powerful than the one led by Bella Hadid at the Prabal Gurung show dedicated to the woman "who inspires us to present our unabashed and unapologetic definition of femininity with a bite" and attended by Huma Abedin, formerly vice chair of Hillary Clinton's presidential campaign. Dressed in T-shirts—emboldened with slogans like "I am an immigrant," "The future is female," and "Girls just want to have fundamental rights" and available for purchase now with proceeds going to American Civil Liberties Union, Planned Parenthood, and Shikshya Foundation Nepal—models of various backgrounds and ranging sizes closed the show, before the designer himself took his bow in a "This is what a feminist looks like" tee.
"This is the time to speak our conviction and use our voices to invoke change. This is the upside of the downside," wrote the designer in his statement. We couldn't have said it better ourselves.
Chromat ended their powerful swimwear show, featuring "garments that could help the wearer stay afloat and protected in the current political climate of paranoia, discrimination and the end of truth," with a not-so-subtle "F*ck Donald Trump" song.
In addition to the new fall line, Creatures of Comfort showcased a see now, buy now collection of limited-edition tees "in acknowledgment of the current tumultuous political environment." With the graphic shirts boasting words of unity, hope, and resistance, the brand is donating the proceeds to National Immigration Law Center.
For her new collection, designer Hillary Taymour looked to the future after the earth has been drained of resources, drinking water has been contaminated, and energy has been tapped, all thanks to society's overconsumption. Asking to look beyond, race, nationality, and gender into the future, Collina Strada's show, which purposely cast several models from the "Muslim Ban" countries, explored Mars as a possibly viable living option and asked what the next generation of humans will look like. Spoiler alert: They are awesome.
Tome found inspiration in, on first glance, an unlikely of places: the Guerrilla Girls. "Women's bodies are still under attack in 2017. It is no coincidence then that we look to the sculptures of Dorothea Tanning and Alina Szapocznikow—disembodied female arms, legs, torsos—and of course, to the work of Louise Bourgeois," said designers, Ryan Lobo and Ramon Martin, in a statement. "This is a time of global protest, and their particular brand of sardonic political commentary is all too timely." In addition to expressing their feminist battle cry—"Free the nipple, because: My Body My Choice"—the designers also sent a message of the importance of ethical and sustainable fashion with all their fur fake and hand-knit by women's collectives in Andes and pieces from their past collections in an effort to recycle and alleviate landfill waste. 
For his first collection for the iconic brand, Raf Simons was inspired by America. "It is the coming together of different characters and different individuals, just like America itself. it is the unique beauty and emotion of America," the Belgian designer said of the collection in a statement. "Cohabiting, cross cultures of clothing find new forms: not the old, not the new, but the necessary. The collection is a celebration of this diversity."
Less obvious in the clothing that was sent down the runway, and more in its message, Milly's latest collection was titled "Fractured." Of the theme, co-founder and creative director Michelle Smith said in a statement:
DURING THE TIME I WAS DESIGNING THIS COLLECTION, THE WORLD CHANGED DRAMATICALLY.
THE ELECTIONS LEFT ME FEELING DEFEATED, ESPECIALLY AS A WOMAN.
I NOW FEEL LIKE I HAVE TO FIGHT HARD FOR ALL SORTS OF RIGHTS I ONCE TOOK FOR GRANTED.
NORMALLY AN OPTIMIST, I FEEL UNCERTAIN ABOUT THE FUTURE.
I STRUGGLED FOR A WHILE TO FIND THE RIGHT MOOD AND LOOK FOR THIS COLLECTION –
ALL THE WHILE IT WAS RIGHT IN FRONT OF ME.
F R A C T U R E D.
THE TRUTH ABOUT HOW MANY WOMEN FEEL RIGHT NOW.
BUT FEELING FRACTURED DOESN'T SIGNIFY WEAKNESS.
THERE IS STRENGTH IN ACKNOWLEDGING THE FRACTURES. FEELING THEM.
NOT BEING AFRAID OF THEM.  ADDRESSING THEM.
THAT IS WHEN THE MENDING CAN BEGIN.
THERE IS TREMENDOUS BEAUTY IN THE FRACTURES, THE HONESTY AND THE MENDING.
The clothing was similarly powerful and representative of the complex layering of emotions and conflicts we are currently experiencing.
Divided into three sections—public emotions, dominance, and vulnerability—Rachel Comey's show, which took place in L.A., focused on inclusivity and general collectiveness. "We made 50 jackets for a group of women going to the March in D.C. For the first time, we made garments with a slogan on them. 'Si Vales, Valeo,' meaning 'If you are strong, I am strong.'" said Comey in a statement. "The group wrote us afterwards about how the jackets made them feel, and new people asked us for them. We will now be producing them and donating 10 percent of their wholesale to an actionable charity that needs the most attention at that time." The collection itself was a masterful juxtaposition of militaristic uniformity, Latex separates and harnesses, and delicate gowns.
One of the driving forces behind the presence of the CFDA's Planned Parenthood pins this NYFW, designer and CFDA board member Tracy Reese opted for a somewhat unusual presentation for her new collection, for which she recruited four women poets to read their works, tackling subjects like sexuality and masturbation, freedom, and power of the feminine, to stand around the models. Of the collection, Reese said in a statement: "More than ever, the world we inhabit demands that we, as women be all things: strong yet feminine, nurturing yet stoic, seductive yet demure. This collection is an ode to the strength and beauty of the feminine spirit."
One of the most chill-inducing moments of NYFW was when designer Naeem Khan sent out a lone model (pictured above) to slowly make her way through the rows as Maya Angelou's "Human Family" played in the background.
Also held in L.A. this season, Tommy Hilfiger's show, inspired by California's laid-back lifestyle and greatest hits of Americana, showed the models sporting white bandanas on their wrists. Standing for #TiedTogether, a campaign that encourages people to wear white bandanas as a symbol of inclusivity and human unity "amidst growing uncertainty and a dangerous narrative peddling division," the addition was a subtle political nod on Hilfiger's part.
Carly Cushnie and Michelle Ochs let their politics be known when they played the ultimate feminist manifesto, "The Future is Female" by Madame Gandhi, as models walked the runway.
Stacey Bendet, the ever-positive designer behind the quirky line, presented "Queen" and "Be The Change You Wish To See In The World" printed pieces in an attempt to send a message representative of both Salman Rushdie's novel The Enchantress of Florence, which inspired the entire collection, and the world right now.
A self-proclaimed "emotional designer," Bibhu Mohapatra showed a collection that reiterated "that a woman's power is not defined by a man." Drawing from the culture of his native India, he sent out a collection "inspired by the blurred lines between play and reality and the shift in balance of power between the two characters."