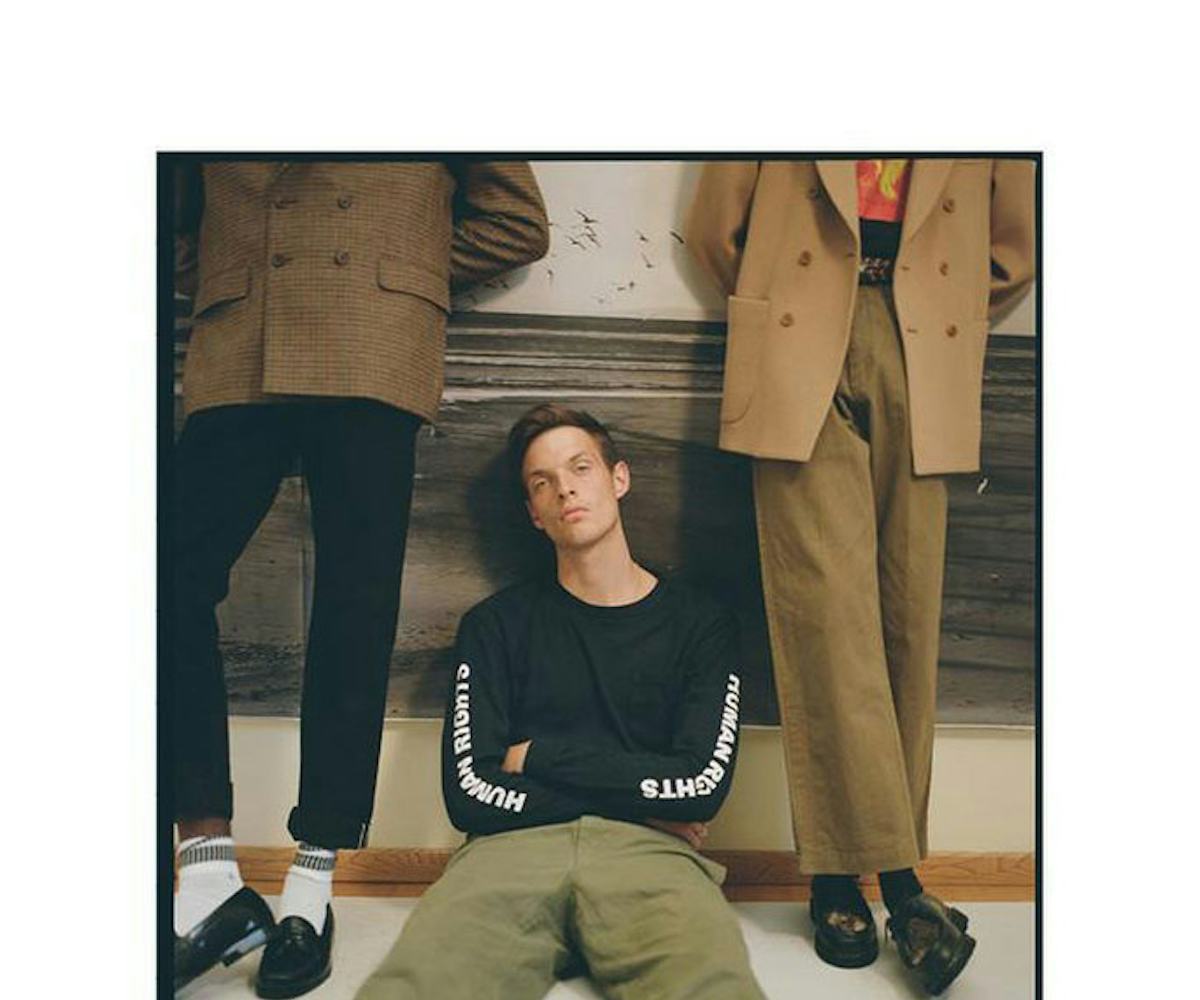 Photo courtesy of Noah
How Streetwear Brands Are Getting More and More Political With Their Designs
Now is the time to wear the resistance on your sleeve
When it comes to disavowing Donald Trump's actions in the White House and beyond, the phrase "silence means consent" has taken on an ever more important meaning. Now, it's become almost compulsory to take to your Twitter, Instagram, T-shirts, sneakers, and the pins on your denim jacket to denounce his hateful and discriminatory actions. Naturally, streetwear designers are getting in the mix, affixing their point of view onto a piece of clothing that will be viewed and worn by hundreds and thousands of their denizens.
For an obvious example of this, look no further than Supreme, a massive brand that hasn't shied away from broaching hot topics. In November 2016, they endorsed a political candidate, Hillary Clinton, in a presidential election for the first time ever and not long after released a shirt that read: "Say no to racists, to sexists pigs, to authority figures, to religion, to television, to patriotism, to political ideologies, and any of the thousand and one ways in which this society keeps you from realizing your own needs and desires."
But not all designers feel the need to be obviously outspoken about their political beliefs. Take Noon Goons, for example. Founder Kurt Narmore told Vogue earlier this year that the inspiration behind his brand was Youth Against Establishment. "We want kids who question current authority to stand up for what they believe in—not to get too political, but we need it with all of this Trump bullshit," he told them.
When asked to elaborate for this story, Narmore declined to answer any questions about getting political with oversized dusty blue suits, zippered flannels, and SoCal retro polos. He did admit, "Trump is a pathetic chump," but also noted that he doesn't want to "necessarily make political statements with our clothing." If just supporting an anti-establishment brand is enough for you, well, Noon Goons is certainly a great aesthetic to do it with—if only for one of those killer corduroy jackets.
If you're looking to rock a T-shirt with a much louder stance, one that feels positive and forward-thinking, then Noah should be your go-to.
"For me, Noah isn't just a brand. It's my vehicle to express things that I'm concerned with, or ideas that I have, or a way to establish a new relationship with the public, or to bring information to people, or create a new company culture for my staff," founder Brendon Babenzien told GQ. The brand first made political waves in July 2016 for posting an Instagram of Trump (that has since been deleted), proclaiming, "We don't support his brand of madness." Noah then offered a full refund for customers who didn't agree with the brand's political standing. 
Babenzien still puts an emphasis on good design—all while remaining cognizant of the impact his clothing has on the world. In the fall lookbook, there are striped turtlenecks, sweatpants lined with skulls, and nerdy retro knit sweaters alongside graphic T-shirts that spell out "HUMAN RIGHTS" in bold caps. These shirts, in hues of neon pink, black, and a zippy yellow, are a continuation of a collection first rolled out in 2015, but, as the Noah website points out, "the fight for equal human rights has come under more fire from the current administration, and the words now have a totally different context and meaning than they did just two years ago."
Citing police brutality, crimes based on race and religion, unconstitutional immigration policies, and the latest transgender military ban, Babenzien is aiming to cover quite a bit of ground with his T-shirts, which come together to form a collection along with a sticker and a pocket knife. Proceeds from the Human Rights range benefit the American Civil Liberties Union, the legal advocates that stand up for the rights deserved by all humans. 
The brand also happens to be rather realistic about the effect the Noah designs will have on the world. "Given the gravity and importance of these issues it is worth noting that wearing a shirt, putting up a sticker, or even donating to the ACLU will not be the end-all solution to this serious problem we're facing. What will ultimately help achieve respect for one another and recognition of human rights is action," the website reads. But we all know that the first step toward making a change is discussion—and doing so with a cool and coveted T-shirt is a brilliant way to start. 
That's also the stance taken by Scott Tepper, the founder of Ignored Prayers. "We now have enough of a history of T-shirts that we can look back at vintage styles and know what was going on in the world at the time. They become time capsules and reminders, so to speak," he said. The former Huf creative director started Ignored Prayers as a "platform for shared content amongst friends" in 2008, well before Instagram was founded. Ignored Prayers became a host for memes, photos, and music, many of which had direct references to current events. It was only in 2016 that Tepper decided to officially launch the clothing part of the brand, though he was already producing rare T-shirts for friends, plus zines and stickers every now and then.
Zines are still a large part of the brand identity, and prior to Trump's presidency, Ignored Prayers released a politically charged one, focusing on anti-police brutality. The cover featured a cartoon pig awarding a police officer a "hero" ribbon with what appears to be an image of Michael Brown's body lying lifeless in the background. The zine, titled 1,001 Reasons to Trust the Police, was entirely filled with blank pages.
Now that Trump is in the White House, some of Tepper's designs have gotten even more politically charged. "With the Trump administration in power, it's like they just filled up our gas tanks," he says. Not long ago, he dropped a 20-page zine titled Nuclear Summer 2017 and a T-shirt by the same name that depicts an image of the globe suffering what appears to be a massive migraine followed by the headlines "War!" and "Part III." Imagery for both the T-shirt and zine was lifted from sources including Nuclear Assault, Endless Summer, Toxic Avenger, and more. There's also a previous zine called Seasonal Depression Vol. 1, which is a parody of People magazine, but with sarcastic and sensational cover lines that read, "Nation's Women Agree: I Can't Even" and "Not So Fast Non-White People." Even more ironically, the pages are filled with unrelated art and photos from friends of the brand such as Jerry Hsu, Brainfreeze, and Nate Walton. 
But not all of Tepper's designs are politically charged. The brand, which is carried in Dover Street Market and Union Los Angeles, also offers more standard apparel, like T-shirts emblazoned with their "OG Hands" logo—made up of praying hands with a razor blade slicing the wrist—and long-sleeve tees with roses and blackletter typography.
According to Tepper, the name of his brand, Ignored Prayers, is up for interpretation by the customer. "I leave it up to them, I like that it agitates people a bit and, at the very least, sparks a conversation," he says. And in 2017, that type of conversation is perhaps the most important tool for fighting the powers that be.