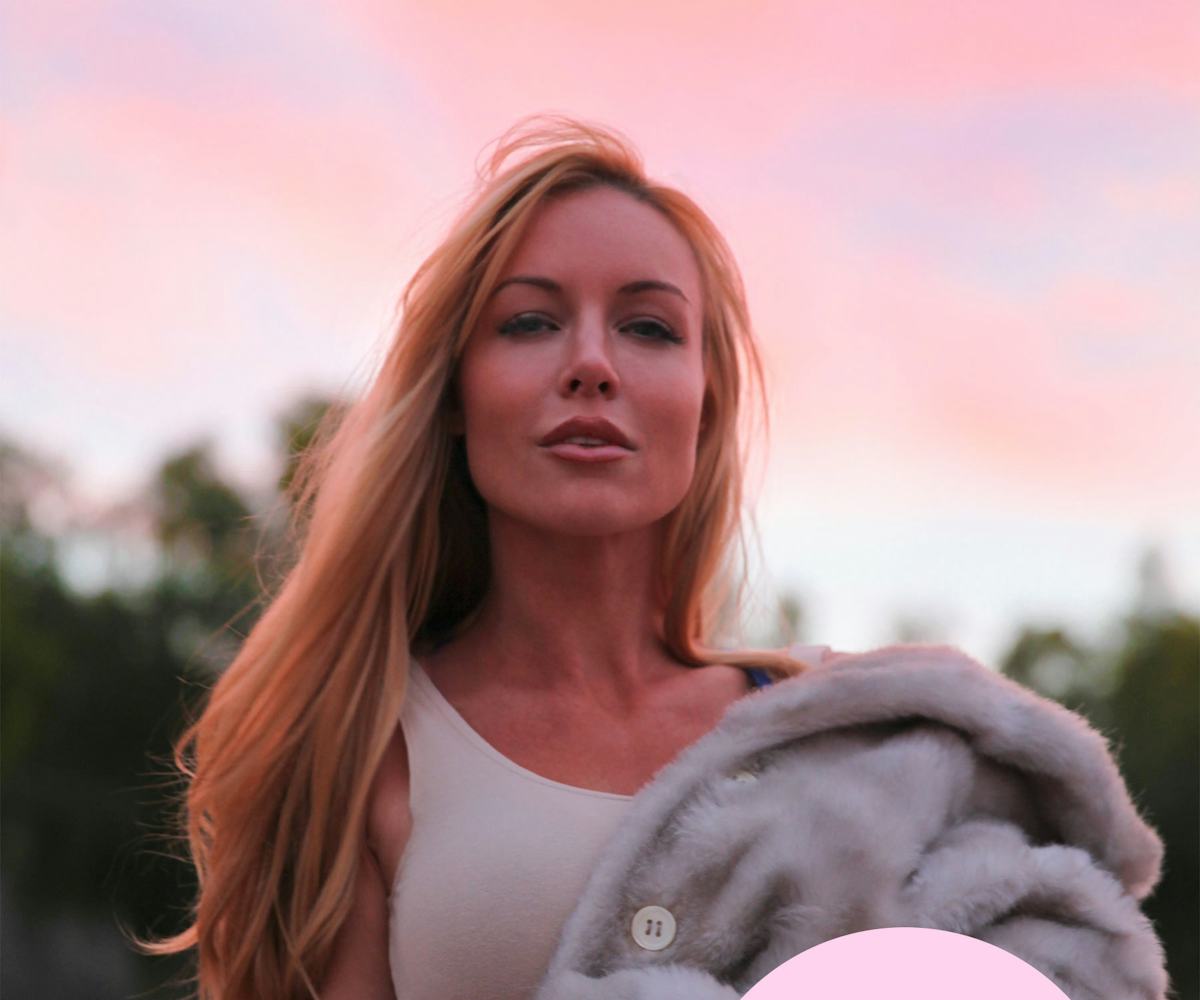 Photo by Signe Pierce
Porn Star Advice: Does Penis Size Matter?
Kayden Kross answers all your important, sexy sex questions
As real-life, fully-certified porn star Kayden Kross says, "You can't faze me. After all, I'm a notably awarded citizen, and 30 million eyeballs have interacted with my butthole." Indeed, we've tried. Thus, we're proud to have her as our official sex columnist. With her huge collection of experience-backed tokens, Kayden will be lobbing her left-fielded, unsubstantiated advice straight at the level of your forehead... well... only with your consent, of course. To get your question seen (and possibly answered), email Kayden@Nylon.com. Now, let the oversharing begin.
Question: Is penis size important or not?? I'm too shy to ask medical practitioners...
Answer: Dear Shy Guy,
I don't think there's a question I've been asked more in my career than this one. People hang an awful lot of self-worth on their genitalia—how much of it they have, how functional it is, how it smells, how it looks, and, most importantly, how it stacks up against other genitalia of its kind. Our genitals are so important to us—both culturally and medically—that they are among the most defining and enduring of our characteristic throughout our lives. Even a person who fully transitions to another gender will not escape the fact that he or she was born and defined one way and is now defined another way.
In other words: We give a fuck ton of shits about genitals.
But back to your query: First, don't bother asking a medical practitioner. They are concerned with the health of your bits, not the size. Plus, they don't know the answer anyway. This is not an educational deficiency so much as a subjective question in a medically objective world. There's definitely no absolute law of the more the merrier if that's what you're asking, but penis size is sometimes important between some partner pairings. It matters to partners who find very large penises uncomfortable, or who are only looking for girth, or who feel that their cervixes are under constant attack, or who feel that nothing has been penetrated until their cervix has. It also matters to people who are suggestible enough to believe that it matters because the noise around us has told us so.
But, objectively, no. Penis size doesn't matter. It doesn't take any sort of statistical deviation ahead of the penis norm to bring a woman pleasure (the norm is about five inches and change, not measuring from behind the ball sack). In fact, a woman has so few nerve endings inside the vaginal canal compared to the exterior of her girl bits that you could make her come with just the smallest tip of your finger and absolutely no penetration whatsoever. But you already knew that, and so do all of us, quietly, even though as a culture we continue to lug around this ridiculous notion that penis size is related to anything at all. Meanwhile, attention is diverted away from the qualities that a worthy partner actually should have.
Here is a truncated list of things that penis size is in no way correlated with: success, fertility, inner drive, performance, stamina, athletic ability, skin tone, intelligence, looks, muscle tone, GPA, empathy, lifespan, earning potential, survival instincts, likability, spiritual ascendance, or catching Pokemon. You may have noticed that many of these qualities actually are important to a fair amount of people—much more so than the inches you're packing. In fact, penis size is correlated with nothing aside from the penis size of your ancestors and some influencing factors like the amount of testosterone your body produced during puberty, your current weight, etc. It should not tip the course of your life.
Sure, it's important to some people at a subjective level, but, then again, so is competitive dog grooming. The better question is: To what extent is it important? One survey of women who self-reported on whether penis size actually mattered showed that 11 percent of them said it matters significantly. The takeaway here is that even if penis size does matter, it most likely doesn't matter significantly, aka it doesn't matter all that much.
On top of not really mattering all that much, the idea of what a large penis is and how it compares to a standard one differs by country, which goes to show that anything you might believe about penis size is nothing more than a reflection of what those around you believe about penises.
For example, if you're in England, you've got a head start on the whole big dick thing. Here's why: British women seem to have the lowest expectations about how big a big dick might be, as well as how big it might ideally be if they could pick the size. For them, an average dick can, in fact, be perceived as a whopper; a porn dick if you will. If you're standing in Poland though, go home. That is a country of grand expectations.
The takeaway here is that if you're feeling bad about whether your dick is keeping up with the Joneses, you can always just move. Contentedness with what one has is universally tied to what our neighbors have. If you don't like what you've got, get new neighbors.
Or, if you really want to shake things up, change eras. Penis size is all about what's in vogue. For example, ancient Greeks fancied penises that were short, slim, and heavily foreskinned, as evidenced by about every statue they ever turned out that featured a male with an idealized body. Functionally, they thought a smaller piece was more fertile because it was a shorter journey for the sperm to travel. Aesthetically, they thought large dicks looked barbaric.
But relocating in space or time to accommodate one's penis size is unrealistic for most people. What might be more realistic is blaming a good chunk of this size nonsense on porn and then ignoring it. The fetishization of big dicks in porn began with the necessity for something with a little more length so the camera could get its close-up. In a normal setting—i.e., two bodies pressed tightly together with the lights off—length really comes down to a matter of personal taste. But in a porn setting, we need those bodies to "open up" as we call it. We want the performers separated enough so that we can see what's going on, but the penetration still needs to appear to be a wild ride. It just takes more length to achieve that. What began as a practical solution to a problem that existed in an admittedly low place on the importance scale, quickly turned into a bit of excitement unto itself when porn started turning out stars with members that were larger than life alongside doe-eyed women who looked about ready to pass out from the magnitude of it all. Now, it's a thing. If given the chance, porn will lean toward the bigger dick in all situations. We've never held pretenses about our priorities.
Couple that fetishization with the way cameras can manipulate images, and you can see how viewers everywhere might live in the shadow of a question mark looming over their sad heads, wondering whether they'll ever stack up. Not only are they witnessing male performers do the deed using way bigger than average pieces of equipment, but also the cameras play with the depth of field so that the dick really does appear larger than it is in real life. Now bundle all of that in with the arguable influence porn has on sexual trends, and you can see how it might be at least partly to blame for size hang-ups around the world. A perfectly rational way to deal with a size hang-up, knowing this, is to do what the rest of the world does with porn-related things: simply dismiss it.
Or maybe accept that, as with most things in life, the right path is probably somewhere down the middle. I've always laughed at the way female porn stars are expected to straddle the fence with regard to the size question. On the one hand, we play the part that we play on screen right into the real world by selling the story of how enraptured we are by all those giant interchangeable penises when we promote our movies on social media. But, in the same breath, we placate our fans individually by telling them size doesn't matter anyway. The truth really is that it matters some of the time. One of those times is when you're dealing with blocking on a porn set. Another is when you're a hung dude with little else to offer. The rest of the times really do vary from couple to couple, with most couples, for the most part, not finding any problems with each other's anatomical proportions so much as each other's overbearing parents and other more pressing and significant problems.
Regardless of what you're working with, though, there's a good bit of truth to the old cliche: It's not what you have but how you use it. A notable number of women tend to say that those men who believe they have large dicks tend to also believe that all they need to do is show up, while men who don't believe they have large dicks tend to make up for it by actually trying to learn about what pleases a woman in bed. Women like a man who has paid enough attention to please them. Sex is an act, after all, and focusing on your own perceived deficiencies will only harm your performance. Don't let insecurity cripple the things that you do have control over. Sex that is not weighed down by the noise in your head is a magical thing.