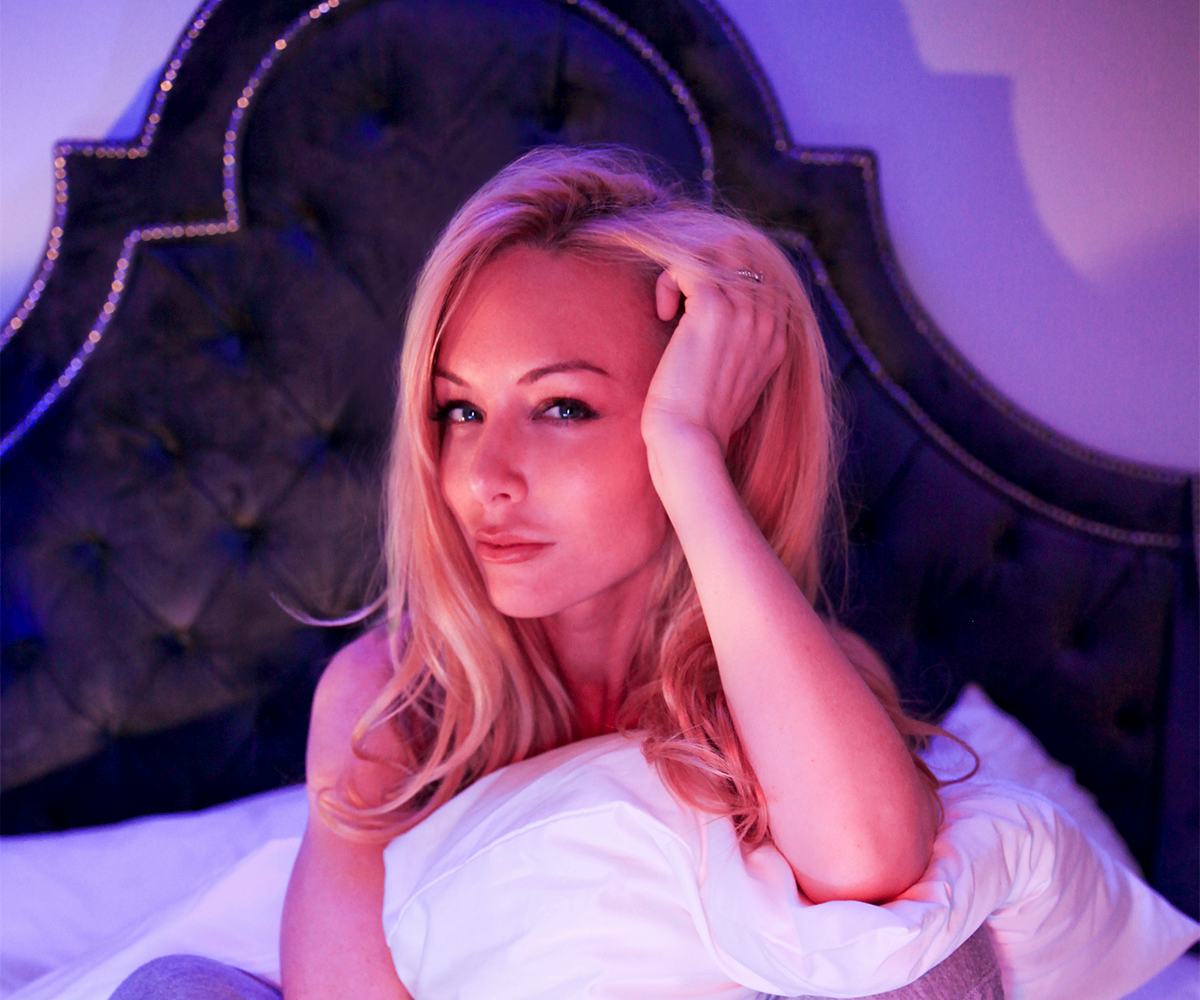 Porn Star Advice: The Great Cut Vs. Uncut Debate
Kayden Kross answers all your important, sexy sex questions
As real-life, fully-certified porn star Kayden Kross says, "You can't faze me. After all, I'm a notably awarded citizen, and 30 million eyeballs have interacted with my butthole." Indeed, we've tried. Thus, we're proud to have her as our official sex columnist. With her huge collection of experience-backed tokens, Kayden will be lobbing her left-fielded, unsubstantiated advice straight at the level of your forehead... well... only with your consent, of course. To get your question seen (and possibly answered), email Kayden@Nylon.com. Now, let the oversharing begin.
Question: One night my wife and I were touching and talking and I asked her what's something she wants to try. What she said she wants is a rape fantasy. It threw me a bit; I think I am pretty liberal with sex and I want to try it but don't know how. Also, I am usually the person to get things going in the bedroom. For once, I want her to make the first move. Please help with how we can spice it up and be more open. 
Answer: Dear Sexually Frustrated,
This is not all that large of a problem if we break it down. The first thing I'd break down is what each side wants. Her side wants a fantasy that by necessity requires you to be in control, and your side wants her to take control. The only way for both sides to get what they want, as far as I can see it, is for you two to have sex at least two more times within the course of your marriage. One of those times, you can focus on filling her fantasy. The other, she can focus on filling yours. 
Now as far as filling her fantasy goes: She harbors a rape fantasy. Okay. The rape fantasy has gotten a bad rap because a lot of people who actually violate consent have tried to lean on it as an excuse for their actions, but that doesn't mean the fantasy doesn't exist. If you don't know what to do, that's fine. You just need to ask her. She will know what aspects of this fantasy she finds exciting. Remember: Even if you think you 100 percent had this one in the bag, it's a sensitive one, and can easily go the wrong way if the two parties aren't clearly on the same page.
In role-playing, a good place to begin is with a safe word. Your safe word should be something short and sweet, and preferably something that doesn't rhyme with either side's go-to dirty talk. If she likes to call you "Daddy," for example, don't choose a safe word like "Batty." The next step is to understand the source of the fantasy. Is it a ski mask she likes? Does she want to be able to plead no while your desire overwhelms her? Does she want to be held down? Does she want it rough? It could be any of these things or something else entirely, but a lot of what the rape fantasy entails is a common power play theme. This means playing along with the idea that she has no control, therefore allowing her to safely experience what it feels like to completely sexually yield to someone else. Once you know what she's attracted to in this fantasy, you shouldn't have much trouble complying.
This goes the other way for her. Your fantasy is that she takes control in the bedroom. Great. Make that clear to her. Next, establish your safe word. Then tell her what it is specifically you like about this idea. Do you like the idea of a woman who jumps on top of you and fights to pull your trousers off as you complain about the long day you've had at work? Do you want her trying to give you a handy through your pants while you're sitting at a dinner table? A blow job while you're trying not to react because you're on a conference call? Or do you just want to be ordered around and made a sub? Control is passed in many ways. She may never have taken control in the bedroom for the same reason you're hesitant about this rape fantasy: The two of you haven't communicated enough to even know where to begin. 
And ultimately, communication appears to be the problem here. You said you want to spice things up in the bedroom, but you also immediately dismissed her fantasy because it clashed with yours. She gave you a hint of how she might be inspired to spice it up. Did you give her one as well? Having this conversation in the first place is a huge exercise in trust. You both have to trust each other not to make the other feel small for having disclosed these secrets, but you also have to trust each other to listen well enough to really hear what it's about. It's not enough to simply ask about a fantasy if you don't follow through, just like it's not enough to simply wish that things were more exciting and open if you don't take the necessary steps to make it so. Bringing a fantasy to reality is an undertaking. The first step to completing any project is understanding the steps.
Question: I wanted to ask if you could help combat the ignorance surrounding the debate about "uncut vs cut" of male penises, since you are married to Manuel, who is uncut, and because you're about as American as they get (by that I mean you're not from a culture that might make you automatically compassionate to the issue of being an uncut man). 
The stigma of an uncut man being ugly and/or disgusting is one that has been promoted in American culture, including, notably, by Hollywood. Examples of this include Seinfeld, in which Elaine's opinion about an uncut penis is that "it's got no face—no personality"; Nip/Tuck, in which Matt performs a self-circumcision because his girlfriend is disgusted by his uncut penis; and Bad Moms, in which all three female leads express revulsion at the idea of having sex with an uncut man.
Since you have performed with both uncut and cut men, you're someone that can speak to any difference—real or imagined—with real weight and conviction. And, let's be honest, because most of us get very poor sex ed in schools and don't learn much from our parents, lots of people learn about sex from porn, which is actually a great educating tool for both men and women. I believe that if women in porn executed some type of campaign to push the message that uncut men are not disgusting, it might actually start changing the mindset for many people. What do you think?
Answer: Dear Uncut,
You're right about a lot of this. In America, there does seem to be a bias against uncircumcised men. I personally don't take cut/uncut into account to such a degree that I can't easily tell you which of the people I've performed with have been one or the other. You're right that it's clearly a form of body shaming, and that there's not much difference between cut and uncut when the penis is erect. I think most female performers—who arguably have had their fair share of experiences with both—would agree. In fact, as I'm reflecting on foreskins right now, it's slowly occurring to me that I've literally never had a conversation about foreskin with another female performer. It just doesn't register with us because it doesn't actually register. But I've had plenty of conversations with curious women outside of my industry who have never been within finger distance of a foreskin, and think they wouldn't know what to do about it if they ended up there.
Some of our best male performers are uncut in this industry. If we were all developing our biases based on porn, I don't think this would be one of them. Circumcision is just very culturally rooted and goes back a millennium or two further than today's porn does. At one point, science tried to explain the practice as being somehow medically more advantageous than an uncut penis, but that has since been debunked. Cut is not better than uncut, from either the standpoint of medicine or desirability. I've heard women complain that an uncut penis is less clean smelling to them, but frankly, if a man's penis smells, it is not because he has a foreskin. It's because he needs a fucking shower. My answer to those women is, "Date men who shower."
That said, it is easier for an uncut man to smell like he needs a shower—down there—but it should never actually get to that. We do not hunt bear and live in stone huts. We have decorative soap and hot water. Oh, and men have external junk. It is very easy to hoist over your everyday modern ceramic sink bowl, which is conveniently placed atop modern indoor plumbing. Foreskin or lack thereof should not dictate varying levels of hygiene. There should just be standardized hygiene, and men who cannot adhere to it should stop expecting blowjobs. 
And if potential hygiene concerns were the drawback of the uncut penis, I'd say the allure of them is the added sensitivity and lubrication. It's not so much of a difference that deals are made or broken over it, but for me, personally, it's always appreciated. Does that mean I'd lean more towards an uncut stranger than a cut one if I were on the market? Absolutely not. That would be ridiculous, and all I'd be doing is limiting my options in my search for the person who ultimately pairs well enough with me as to increase my overall happiness. And isn't that what we're all up to out there, if we're considering potential partners, in the first place?