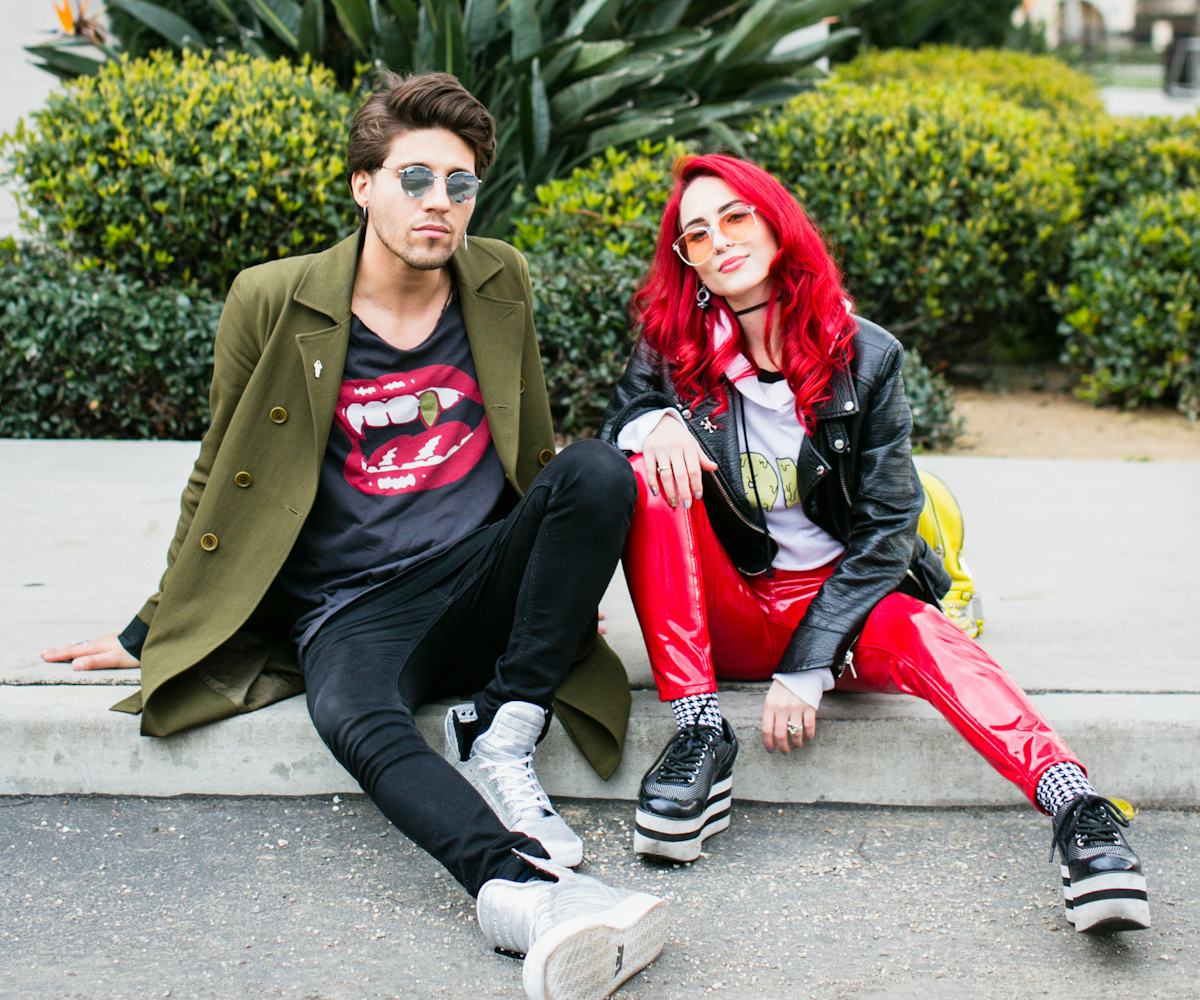 Photo by Elli Papayanopoulos
What You Can Expect On POWERS Forthcoming Tour
With stellar songwriting skills and an ear for sublimely grooving pop, it's high time POWERS scored their first headlining tour. And the timing couldn't be better. The duo is gearing up to release its debut album, Alpha, and this tour, the NYLON Music Tour, is an excellent platform to unveil new, danceable material. To get you hyped, we caught up with POWERS' Crista Ru and Mike Del Rio after their Air + Style set in Los Angeles where they premiered a couple new tracks. Suffice it to say, they're great and surefire crowd pleasers. Hope you've dusted off your dancing shoes, you're gonna need 'em for when POWERS comes to a town near you. Until then, here's a little taste.
So, you're about to go on tour. What can the audience expect?
Crista Ru: You can expect a new record—which is coming out very, very soon, in May—and a lot of new songs. You know, a funky little light show.
Mike Del Rio: A new production, a bunch of new production. This is the first time we're really getting the opportunity to do a full POWERS set. We've always been a support act, or on someone else's time. We now have a little chunk of time to give the audience what we've always wanted to: a celebratory evening.
CR: It's nice to have the freedom to get to do whatever you want without having to worry about how long it's going to take to set up or break down or interfere with someone else's set.
Is there anything about going on the road that intimidates you?
CR: Packing. To be completely honest, it's always packing because you never know when you're going to have time to. That's so not rock and roll.
MDR: Each show is different, you know? When you're performing, you're always walking on the edge of a knife. I don't really know what to expect. This is our first time on the bus, too—
CR: That's going to be the really exciting thing. Sleep is a rare occurrence usually when we're on the road, so having the ability to go to bed at night at a hopefully reasonable hour is great.
MDR: I get carsick, so we'll see.
If you could have a dream rider, what would be on it?
MDR: I think we're pretty simple, but I would have a room full of plants. Like, a whole room full of trees and plants and misty nature vibes.
CR: A really hot masseuse.
MDR: With a jacuzzi and a hot masseuse. That's a dream rider. I would take that.
What tour has had the most impact on your personally and how do you hope to maybe emulate it?
CR: Prince. Getting to see him play, put the bar of greatness at a whole new level. It made us want to go home and just write and play and just...
MDR: Give everything.
CR: Give it like, 150 percent 'cause that was what he was giving that night. He did a five-hour set in Cha Cha heels and a velour suit; he didn't even break a sweat or miss a note. He wasn't even a little bit sloppy. That was a game changer.
MDR: Some people hate on them, but I love Coldplay, and I think when you go see a Coldplay show, you see seven-year-old kids, you see 71-year-old people; it's such a huge margin of people that connect to this music. That has always been the core of what we want to do. We want to celebrate and have everybody enjoy one another. I don't care where you're from or how old you are or who you love. The inclusiveness of going to a Coldplay concert was always something that I hoped that we could replicate at a POWERS show.