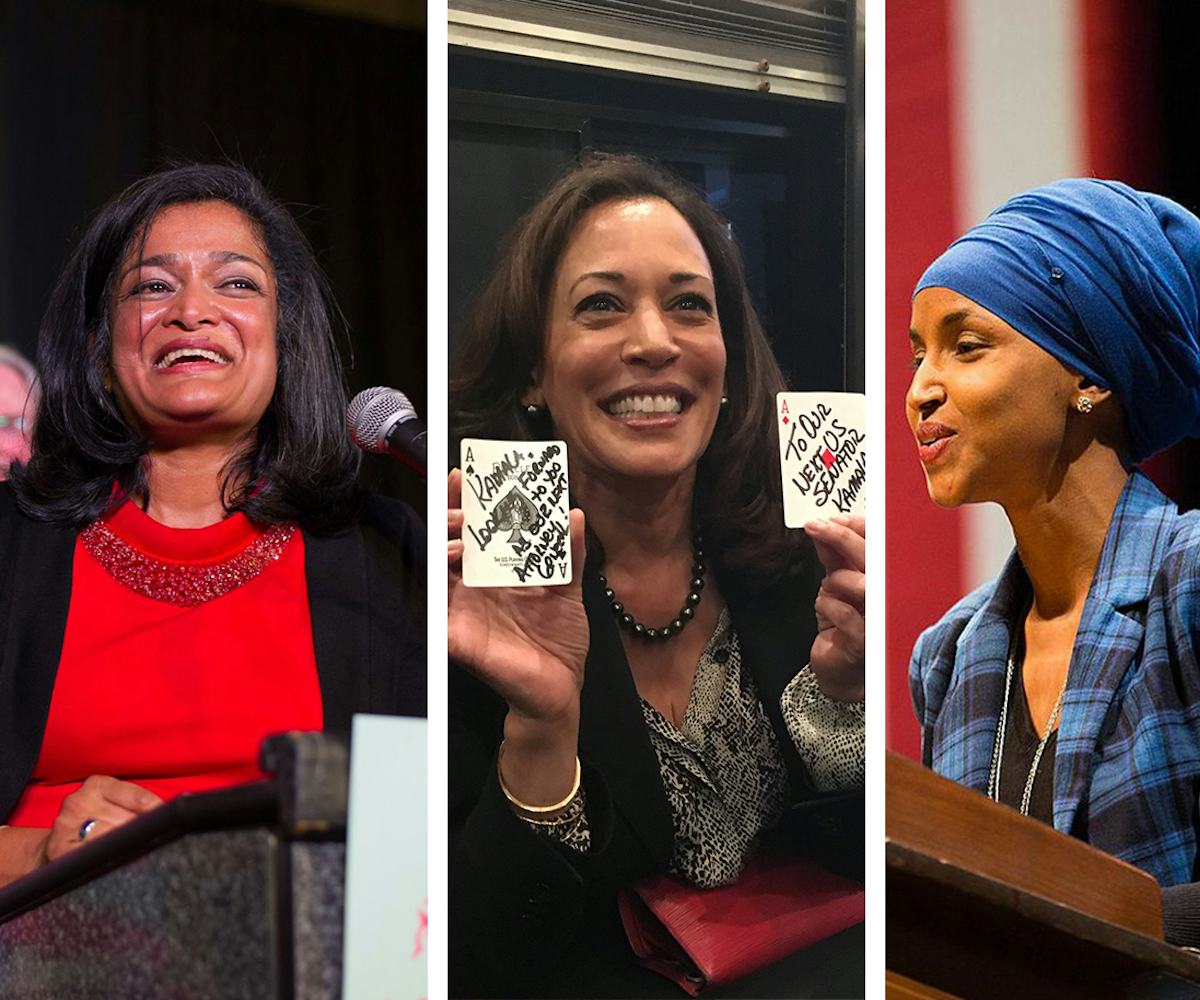 Pramila Jayapal, Kamala Harris, And Ilhan Omar Claim Victory In The U.S. Election
Women of color continue to make history in spite of it all
So many things went wrong with the presidential election, but, despite it all, there were a few small victories for women of color. Washington state senator Pramila Jayapal has officially become the first ever Indian-American woman to be elected to Congress with a seat in the U.S. House. After her family immigrated to the U.S. when she was 16 years old, she started working as a civil rights activist, which eventually led to her founding the advocacy group OneAmerica.
Minnesota elected Ilhan Omar into the House, making her the nation's first ever Somali-American legislator. (It should also be noted that she is a follower of the Muslim faith.) After immigrating to the U.S. at the age of 12, she later became deeply involved in politics as a teenager.
"[America] is the land of liberty and justice for all, but we have to work for it," Omar previously told The Huffington Post. "Our democracy is great, but it's fragile. It's come through a lot of progress, and we need to continue that progress to make it actually 'justice for all.'"
Kamala Harris was chosen as the new U.S. senator, which makes her the first black politician to represent California in the Senate. (She also happens to be the state's first new U.S. senator in 24 years.) Her family comes from a lineage of Jamaica, America, and India. Harris is also joined in the Senate by a select few women of color: Mazie Hirono will represent Hawaii, Tammy Duckworth is taking back Illinois, and Catherine Cortez Masto scored big in Nevada. Back in 1992, Carol Moseley Braun became the first black woman to be elected to the Senate in Illinois. 
At least we have something to celebrate from all the chaos. Maybe the world as we know it won't burn to the ground after all. We are so proud of these hard-working and accomplished women and look forward to watching them take control of our futures. Women have the power to change the world—we can't lose hope and give up now.