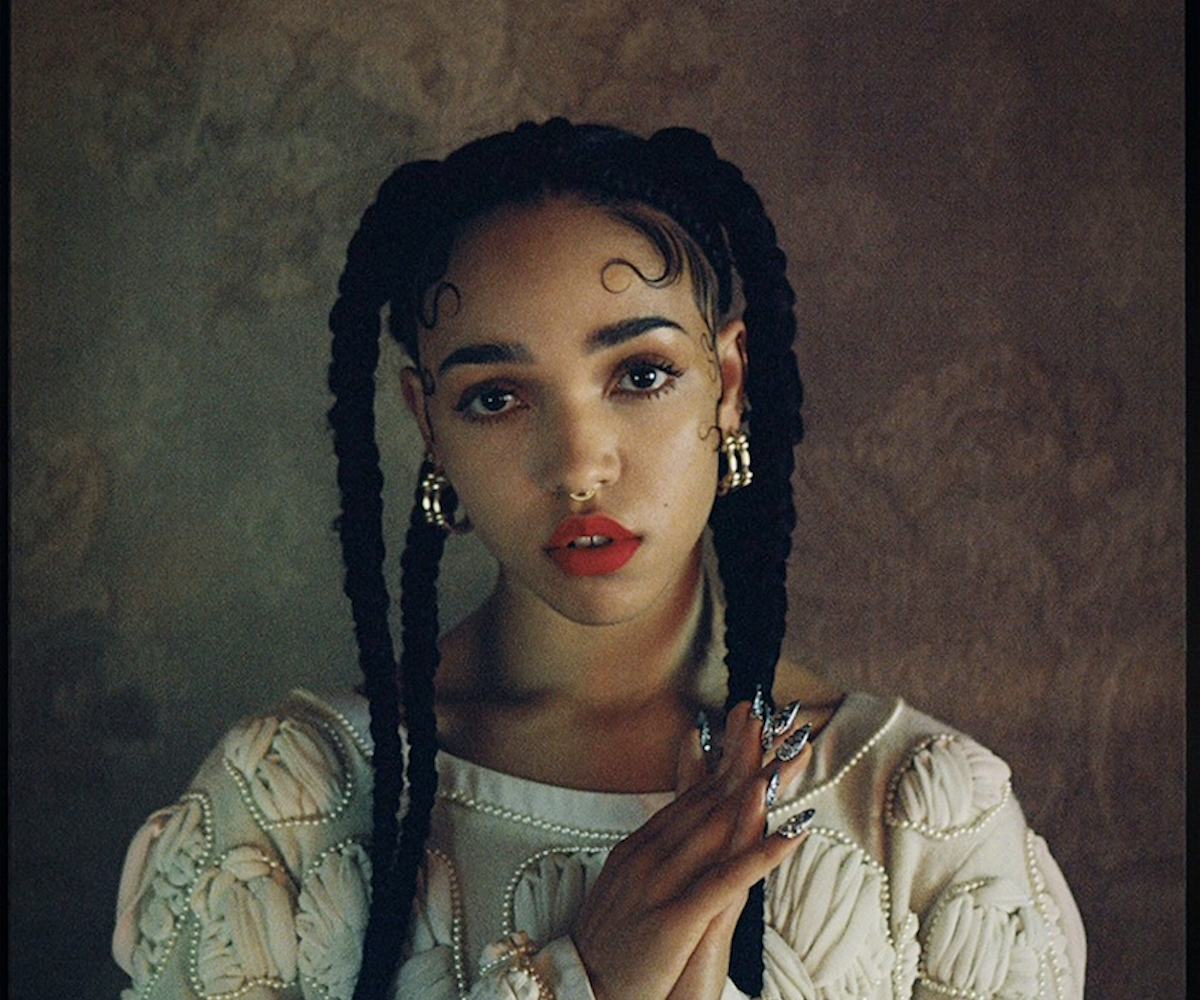 big in 2014
the bands, actors, and everything else you'll be talking about next year.
We came, we saw, we conquered 2013...so 2014, hope you're ready for this! From the soon-to-be-sold-out music acts to the new It food (sorry cronut, you're
so
last year), find our picks for the next big things below. You can tell all your friends you told them so later.
BREAKOUT BAND
- Angel Haze: "Her first full album just came out, and we expect to see her everywhere during fashion week."--Ashley Baker, executive editor
- FKA Twigs: "Glitchy and seductive and mysteriously cool, and I'm in love." --Liza Darwin, senior web editor 
- Skaters: "Every so often a band comes along and makes straight forward rock n' roll...Skaters is right on time." -- Josh Madden, men's content and marketing director 
- Dominic Lord: "He is not only a friend of mine from Harlem, but also an up-and-coming artist, agency model (with IMG), designer, and more." -- Mitsu Tsuchiya, men's market director
- Temples: "My interview with their bassist Tom Warmsley has taken first place for best day of my life." --Jackie Yaeger, newsletter editor
- "In my dream world Big Ups become huge because they are that band you want at every single party...but in the real world, I'm betting big that Temples has a Tame Impala-like breakthrough with their debut album (out in February). Prepare to turn on, tune in, and drop it to the sound of
Sun Structures
" --Rebecca Willa Davis, executive web editor
- Vic Mensa: "He may be the next big rapper out of the Chi.  And after a feature on Chance The Rapper's "Acid Rap," I think he'll only get bigger." --Christian Lavery, associate men's editor
BREAKOUT ACTOR
- Shailene Woodley: "She's already made great movies--we especially loved T
he Spectacular Now
–but with next spring's
Divergent
, she's carrying a big-budget box-office behemoth on her shoulders." --AB
- Mackenzie Davis: "She's got major indie cred and two big-budget comedies coming soon (including one with Zac Efron)...mark my words, she's gonna be huge."--LD
- Alicia Vikander: "Remember the name. The Swedish actress had a small role in
The Fifth Estate
(with Benedict Cumberbatch and Daniel Bruhl), but she'll be everywhere in 2014, including Guy Ritchie's
The Man from U.N.C.L.E.
with Henry Cavill and Armie Hammer." --David Walters, deputy editor
- Oscar Isaac --Steff Yotka, associate web editor
-  Imogen Poots: "She has five movies slated for release in 2014. Enough said." -- RWD
- Dane DeHaan: "He is the next Leo. Trust me. And if you don't, then go see
Kill Your Darlings." --
JY
BIG FASHION TREND
- Pastels: "We've seen these desaturated sherbet shades everywhere for resort, and then spring, so ubiquity is only a matter of time." --AB
- Baggy on baggy: "Think roomy trousers with boxy tees (at least, I'm hoping this happens!)" --LD
- Comfy: "Sweatsuits will continue to take over the planet." --JM 
- Wearing everything by Jacquemus: "Have you seen the Parisian brand's spring '14 runway show? Yeah, I want every single outfit to wear every single day of 2014. It's sporty, it's French, it's unexpected....It's everything." --SY 
- Chunky boots: " I am in love with chunky cut out boots. Whether you wear them with cool socks, or barefoot--they're basically like wearing art on your feet without looking crazy." --JY
- "Oversized and structured dresses that aren't the form-fitting bodycons of yesteryear." --Katherine Martinez, e-commerce manager
- Turtlenecks: "I'm expecting to see turtlenecks all over the fall 2014 runways...so might as well start wearing one now, while it's freezing out." --RWD
- Sneakers: "I'm hoping this whole sneakers are fashionable thing lasts through 2014, I'm really loving being comfortable and fashionable in my Nike Air Max sneaks." -- Marissa Smith, fashion assistant
BIG BEAUTY TREND:
- Short hair: "New takes on short hair, like choppy bobs and DIY-inspired bowl cuts." --LD
- Natural: "Sweat pants hair tied chilling with no make-up on, that's when you're the prettiest I hope that you don't take it wrong." --JM
- "Braids and purple lipstick. You'll see."-- JT
- Hair stuck in lipgloss a la Miu Miu: "In my opinion, it does not get any better than this. Just read this article for my long-winded fangirl explanation." --SY 
- (More) nail art: "Such an easy way to make your outfit way more interesting." --JY
- Going dark: "A continuation of dark goth lips that we've been seeing." -- KM
-- Mini braids: "It started with Tricia's cornrows on
Orange is the New Black
, was followed by a slew of runway shows featuring the tiny twists, and coalesced this month with Lorde's chunky braids. Expect to see these little rows running around the heads of just about every cool girl come spring." --RWD
- "The minimal makeup trend has been going on for too long so I'm hoping for lots of bright, poppy colors next season."-- Katie Dickens, beauty director
BIG FOOD TREND
- Mason jars: "Packaging everything in mason jars: oatmeal, drinks, smoothies, desserts...there's really no limit." --LD
- Pizza: "Pizza is making a real comeback I think." --JM 
- "Dessert kale" --JT 
- Different kinds of cake: " I'm not sure exactly how long cake pops have been around, but I think the first time I saw them in bakery and Starbucks cases was this year, and let's just say I have had way more of those things than any normal person should." -- JY 
- "Riceballs stuffed with meat and different spices will replace meatballs."-- KM
- Gourmet rice krispie treats: "Come on, who doesn't love one?!" --RWD
BIG TRAVEL DESTINATION
- Brazil: "It seems to have everything and it's just far enough off the beaten path." --LD
- Costa Rica: "Have you been?" --JM
- The luxury staycation: "With boutique hotels opening in every city, I think it's really worth booking at room at your local hotspot for a night and treating yourself like
Pretty Woman
. None of the hassle of travel, all the pampering of a vacation." --SY 
- Hong Kong: "It's currently #1 on the list of where ex-pats relocate and work." --KM
- National parks: "I abhor the word glamping, but between the resurgence of the Americana enthusiast, the rise of the hipster backpacker, and the US government shutdown reminding us of all the awesome natural spaces in our own country, US National Parks are going to be the destination of choice next year. Yellowstone, here I come!" --RWD
- Disney World: "As if I haven't said it enough on nylonmag.com, everyone needs to go to Disney World and enjoy themselves." -- MS 
- "Colombia! My trip there for a story in the December/January '14 issue was a wonderful whirlwind of old city enchantment, deep-fried fare, and salsa nightlife in Cartagena followed by urban art, streetwear shopping, and one evening at a crazy multi-story, decked-out dining-drinking-dance club spot in Bogota. It's an awesome country with tons of exciting and up-and-coming stuff!" --Lisa Mischianti, editorial assistant