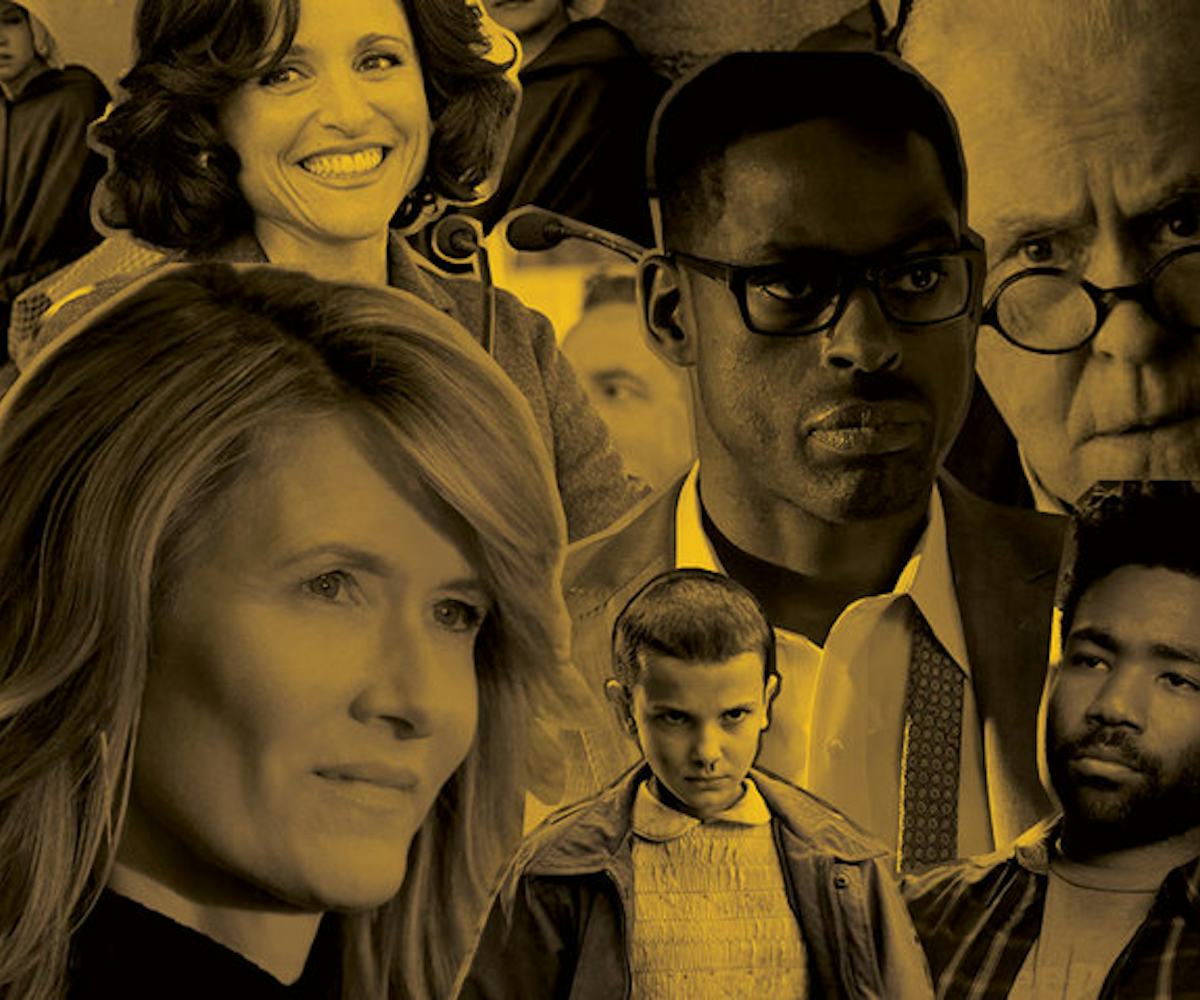 Our Guaranteed, 100 Percent Accurate 2017 Emmy Predictions
The Emmy Awards are happening this Sunday, and through a combination of thorough analysis, complicated algorithms, and old-fashioned guesswork, we're 100 percent sure we know who's going to win all the major awards. So without further ado, here are our well-reasoned predictions for the Oscars of television. Spoiler alert!
Drama Series"Better Call Saul" (AMC)"The Crown" (Netflix)"The Handmaid's Tale" (Hulu)"House of Cards" (Netflix)"Stranger Things" (Netflix)"This Is Us" (NBC)"Westworld" (HBO)
WINNER: Westworld has the most nominations of any show this year (tied with SNL for 22) and Stranger Things breathed rarefied air as cultural phenomenon, but the former was met with mixed reviews by critics and audiences alike, and the latter came out so long ago that its second season is only a few weeks away. That means The Handmaid's Tale should sweep in to steal it from both. Not only was it so popular that it single-handedly put Hulu on the map as a creator of original content, but it was also the most topical piece of popular art to come out in these uncertain times.
Comedy Series"Atlanta" (FX)"Black-ish" (ABC)"Master of None" (Netflix)"Modern Family" (ABC)"Silicon Valley" (HBO)"Unbreakable Kimmy Schmidt" (Netflix)"Veep" (HBO)WINNER: Speaking of topicality, Veep's sixth season felt more like real life than satire, thanks to the election of you-know-who. (Even though by real-life standards, the characters on Veep feel like actual politicians.) FX's zeitgeisty Atlanta would be a deserving winner and could very well upset, but with the beloved HBO comedy—which has won the past two years—announcing that next season will be its last, Emmy voters will likely go with this sentimental favorite.
Drama ActressViola Davis ("How to Get Away with Murder")Claire Foy ("The Crown")Elisabeth Moss ("The Handmaid's Tale")Keri Russell ("The Americans")Evan Rachel Wood ("Westworld")Robin Wright ("House of Cards")WINNER: Currently enjoying another tour-de-force run on Top of the Lake's second season, 2017 was the year that Moss became the queen of television. The Emmys will stand as her coronation. 
Drama ActorSterling K. Brown ("This Is Us")Anthony Hopkins ("Westworld")Bob Odenkirk ("Better Call Saul")Matthew Rhys ("The Americans")Liev Schreiber ("Ray Donovan")Kevin Spacey ("House of Cards")Milo Ventimiglia ("This Is Us")WINNER: This category doesn't have a clear-cut winner, and hasn't since the days of Cranston and Hamm. With the exception of Kevin Spacey's Frank Underwood, it also doesn't have an iconic character (and even that's a generous assessment). But Bob Odenkirk's Jimmy McGill/Saul Goodman is climbing into that conversation, and his embodiment of despair on the show's third and best season could, and should, make him a first-time winner in this category.
Comedy ActorAnthony Anderson ("Black-ish")Aziz Ansari ("Master of None")Zach Galifianakis ("Baskets")Donald Glover ("Atlanta")William H. Macy ("Shameless")Jeffrey Tambor ("Transparent")WINNER: We're choosing Glover here under the theory that if you want something to happen hard enough, the universe might allow it. And that's not to take anything away from Jeffrey Tambor, who could just as easily win and continues to be incandescent on Transparent. But Tambor has won the award two years running, and it would be nice to watch Glover win for his understatedly charismatic work on the show he also created. Plus, the last time he accepted an award, he introduced most of the country to a future number one hit.
Comedy ActressPamela Adlon ("Better Things")Tracee Ellis-Ross ("black-ish")Jane Fonda ("Grace and Frankie")Lily Tomlin ("Grace and Frankie")Allison Janney ("Mom")Ellie Kemper ("Unbreakable Kimmy Schmidt")Julia Louis-Dreyfus ("Veep")
WINNER: JLD has won this for every season of Veep to date, and there is zero reason to believe that Sunday will be any different. This will, however, be her first acceptance speech in the Trump era, so we have that to look forward to it.
Limited Series"Big Little Lies" (HBO)"Fargo" (FX)"Feud: Bette and Joan" (FX)"The Night Of" (HBO)"Genius" (National Geographic)WINNER: Even though these are awards honoring the best television has to offer, movies stars still shine brightest, which is why the Academy will likely award this to the one starring Reese Witherspoon and Nicole Kidman, two of the biggest stars we have. However, the fact that Big Little Lies will likely have a second season, carrying on the stories of the same characters, should technically disqualify it from this category. Oh well!
Limited Series Actor
WINNER: This was the year that Riz Ahmed went from actor-on-the-rise to full-blown internet heartthrob, and his quietly devastating performance in this HBO limited series was major reason why. Ewan McGregor, who doubled up as twins on Fargo, could steal it, but it should be the capper to Ahmed's banner year.
Limited Series ActressCarrie Coon ("Fargo")Felicity Huffman ("American Crime")Nicole Kidman ("Big Little Lies")Jessica Lange ("Feud")Susan Sarandon ("Feud")Reese Witherspoon ("Big Little Lies")WINNER: We figure that, although delivering stellar work as two fiery screen sirens doing battle in Feud, Lange and Sarandon will cancel each other out. Ditto for Kidman and Witherspoon. That leaves Huffman and Coon. Both were marvelous, but these types of awards rarely go to network shows, and the Emmy might also be secretly awarding Coon for her work in The Leftovers, which is arguably better than the work she put in during the third season of the Coen brothers homage.
Supporting Actor in a Drama SeriesJohn Lithgow ("The Crown")Jonathan Banks ("Better Call Saul")Mandy Patinkin ("Homeland")Michael Kelly ("House of Cards")David Harbour ("Stranger Things")Ron Cephas Jones ("This Is Us")Jeffrey Wright ("Westworld")
WINNER: If word out of Toronto is to be believed, then Gary Oldman is the one to beat for the Best Actor Oscar, thanks to his portrayal of Winston Churchill in the upcoming wartime drama The Darkest Hour. But Oldman needed prosthetics to fully transform into the famed leader and orator. Lithgow needed only his acting toolbox, distorting both his posture and face (not to mention using a flawless British accent), to bring Churchill to life in The Crown's stirring first season. The Churchill-centric ninth episode remains the series high point.
Supporting Actress in a Drama SeriesAnn Dowd ("The Handmaid's Tale")Samira Wiley ("The Handmaid's Tale")Uzo Aduba ("Orange Is the New Black")Millie Bobby Brown ("Stranger Things")Chrissy Metz ("This Is Us")Thandie Newton ("Westworld")WINNER: Stranger Things needs at least one win, and who better to take home the gold than the 13-year-old girl who helped put the show (and the number 11) on the map?
Supporting Actor in a Comedy SeriesAlec Baldwin ("Saturday Night Live")Louie Anderson ("Baskets")Ty Burrell ("Modern Family")Tituss Burgess ("Unbreakable Kimmy Schmidt")Tony Hale ("Veep")Matt Walsh ("Veep")WINNER: SNL is coming off arguably the most talked-about year of its 42-year history, as evidenced by its leading 22 nominations, and the major reason for that was Alec Baldwin's landmark performance as the 45th President of the United States. There's no way he doesn't get this.
Supporting Actress in a Comedy SeriesKate McKinnon ("Saturday Night Live")Vanessa Bayer ("Saturday Night Live")Leslie Jones ("Saturday Night Live")Anna Chlumsky ("Veep")Judith Light ("Transparent")Kathryn Hahn ("Transparent")
WINNER: It's hard to imagine this going to anyone but McKinnon. She remains the marquee star for a show that just had a historic year, and her rendition of "Hallelujah" in character, as Hillary Clinton, is one of the most emotional and cathartic moments to hit TV screens all year.
Supporting Actor in a Limited Series or MovieBill Camp ("The Night Of")Alfred Molina ("Feud: Bette and Joan")Alexander Skarsgård ("Big Little Lies")David Thewlis ("Fargo")Stanley Tucci ("Feud: Bette and Joan")Michael K. Williams ("The Night Of")
WINNER: Bill Camp is the platonic ideal of a character actor. You remember his face but not his name, and he's terrific in everything he does. He's never been better as a world-weary and skeptical detective in HBO's slow-burn whodunit, managing to be both comforting and menacing at the same time. He was also terrific in a brief appearance in the final season of The Leftovers, which could factor into a victory here.
Supporting Actress in a Limited Series or MovieJudy Davis ("Feud: Bette and Joan")Laura Dern ("Big Little Lies")Jackie Hoffman ("Feud: Bette and Joan")Regina King ("American Crime")Michelle Pfeiffer ("The Wizard of Lies")Shailene Woodley ("Big Little Lies")
WINNER: With such an impressive cast and so many nominations in the acting categories, Big Little Lies is due for at least one win. Thanks to her unforgettable work in the The Twin Peaks revival, Dern is currently the name on everyone's minds. And she was pretty terrific on the show, too.