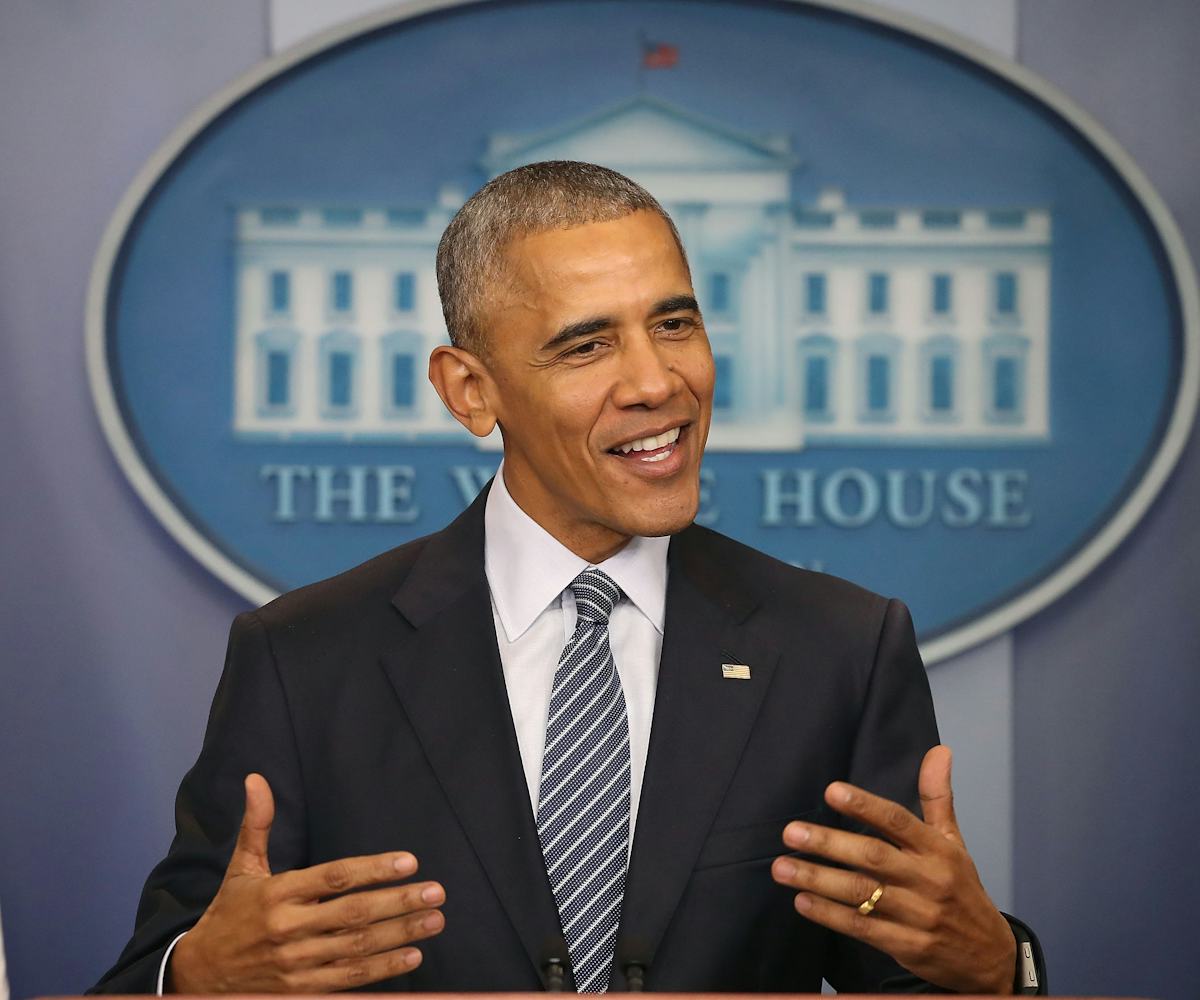 Photo by Mark Wilson/Getty Images
Meet The 21 People President Obama Is Awarding The Presidential Medal of Freedom
The nation's greatest honor, nbd
Additional reporting by Carine Lavache
Before President Obama leaves the White House, he's awarding exceptional Americans with the Presidential Medal of Freedom. The award is considered to be the nation's highest civilian honor, so needless to say it's a very big deal.
Among the group of recognizable household names of celebrities and sports icons are people who have made highly impactful contributions to our society like scientists, activists, philanthropists, artists, and public servants. Regardless of their level of fame, these candidates are all incredible role models. 
President Obama said that the award is "a tribute to the idea that all of us, no matter where we come from, have the opportunity to change this country for the better." He believes that all of the candidates are striving to "push America forward, inspiring millions of people around the world along the way."
The ceremony for the presentation of the awards takes place at the White House on November 22. (Talk about a nice way to ring in Thanksgiving... These people are truly living the American dream.)
If you want to know more about the candidates, we've got you covered. Get all the background information on these honorees in the gallery, below.
Kareem Abdul-Jabbar
Abdul-Jabbar is most known for being the NBA's all-time leading scorer, but he's also been lending a hand in trying to make the world a better place. As an advocate for social justice and former cultural ambassador for the U.S., he regularly writes for The Washington Post.
Elouise Cobell
Cobell is a force to be reckoned with when it came to the rights of Native Americans. The Blackfeet Tribal community leader played a major role in establishing the Native American Bank, restoring homelands to various tribes, and led the Native American Community Development Corporation.  
Ellen DeGeneres
Whether she's hosting her hit talk show or making us laugh as our favorite fish, Dory, DeGeneres has been making her mark for years. Not only has the comedian paved the way for LGBT+ entertainment, she also has been a champion of equality for everyone. 
Robert De Niro
We loved him in The Untouchables and Goodfellas and Raging Bull and The Godfather Part II and Silver Linings Playbook and, well, we could go on but we won't. What's not to like about an actor who's brought some of our favorite characters to life in just five decades, and has also contributed greatly to New York's cultural scene by being a huge advocate for the arts, as well as the creator of the Tribeca Film Festival?
Richard Garwin
Not everyone can earn a Ph.D. at just 21 years old, but Garwin did. The polymath physicist has made contributions to U.S. defense and intelligence technologies, low-temperature and nuclear physics, laser printing, nuclear arms control and nonproliferation, and more.
Bill and Melinda Gates
Being billionaires hasn't stopped this duo from playing an active role in changing the lives of people all over the world. Since being established in 2000, the Bill & Melinda Gates Foundation has provided more than $36 billion in grants to help people all around the world in countless ways.
Frank Gehry
If you've ever been amazed by the design of the Walt Disney Concert Hall in L.A. or the Dancing House in Prague, you've got Gehry to thank for that. As one of the world's most notable architects, he helped define contemporary architecture and made our world a more beautiful place.
Tom Hanks
Hanks captured all of our hearts as Forrest Gump and Captain John Miller, but he's been doing some amazing work off screen as well. The actor has advocated for environmental and social justice, and for veterans and their families.
Michael Jordan
Everyone wanted to be "like Mike" back in the day, and it's not hard to understand why. Jordan has become one of the greatest athletes of all time with six NBA championships, five Most Valuable Player awards, and 14 All-Star game appearances under his belt. He's currently the owner and chairman of the Charlotte Hornets.
Maya Lin
Lin is an artist known for designing the stunningly simple and immensely powerful two-acre Vietnam Veterans Memorial. Currently, Lin is working on "What is Missing," a multi-sited memorial that will bring awareness to the planet's loss of biodiversity and habitat.
Lorne Michaels
Saturday Night Live wouldn't exist without Lorne Michaels. And who can imagine an election cycle without it? Beyond the more than 40-years-and-counting run of SNL, Michaels also produces other award-winning shows including The Tonight Show Starring Jimmy Fallon, Late Night with Seth Meyers, and 30 Rock. Plus, he's the inspiration for Dr. Evil. Talk about icons!
Robert Redford
We have Redford to thank for one of indie film's biggest launching pads. The actor, director, and environmentalist established the Sundance Institute to advance the work of independent filmmakers across the world through its annual Sundance Film Festival, and just so happened to create the world's best winter weather fashion runway in the process. Plus, have you seen Butch Cassidy and the Sundance Kid? You should. 
Diana Ross
"Ain't no mountain high enough" for Diana Ross. Her success in music, film, television, and theater has also led her to be inducted into the Rock & Roll Hall of Fame and a recipient of the 2007 Kennedy Center Honors. Plus, without Diana, there would be no Tracee Ross. Diana is truly a national treasure.
Vin Scully
Scully is the voice you've been hearing while watching the Dodgers play on television for probably all your life. For over 67 seasons, he has broadcasted some of baseball's most historical moments including Kirk Gibson's home run in the 1988 World Series and Hank Aaron's record-breaking 715th home run. 
Bruce Springsteen
You've definitely heard "Born in the U.S.A" at least once in your life. Bruce Springsteen is a huge influencer in American music, author of an incredible autobiography, voice for social justice and change, and was also inducted into the Rock & Roll Hall of Fame. He's also known as your, mine, and everybody's dad's favorite musician.
Cicely Tyson
Aside from playing Viola Davis' mother on the hit show How to Get Away with Murder, Tyson's long career has taken her to the stage and the silver screen. She has won two Emmy Awards and a Tony Award for her performances. 
Margaret H. Hamilton
Breaking the glass ceiling has never looked so good! As a pioneer of women in STEM, Hamilton led the team that created the Apollo 11 onboard flight software when she was just 29 years old. She later went on to create her own software company where she paved the way for modern software design and engineering. 
Grace Hopper
"Amazing Grace" was a leader for computer and programming development. She helped make coding languages more accessible before joining the United States Naval Reserve and becoming one of the first programmers of the Harvard Mark I computer.
Newt Minow
Minow helped make television what it is today. As Chairman of the Federal Communications Committee, he fought for the broadcasting of programs that aligned with public interest. 
Eduardo Padrón
As the President of Miami Dade College, Padrón has become a national voice for inclusion. In the span of his more than four-decade career, he worked to make sure all students have access to high-quality, affordable education.