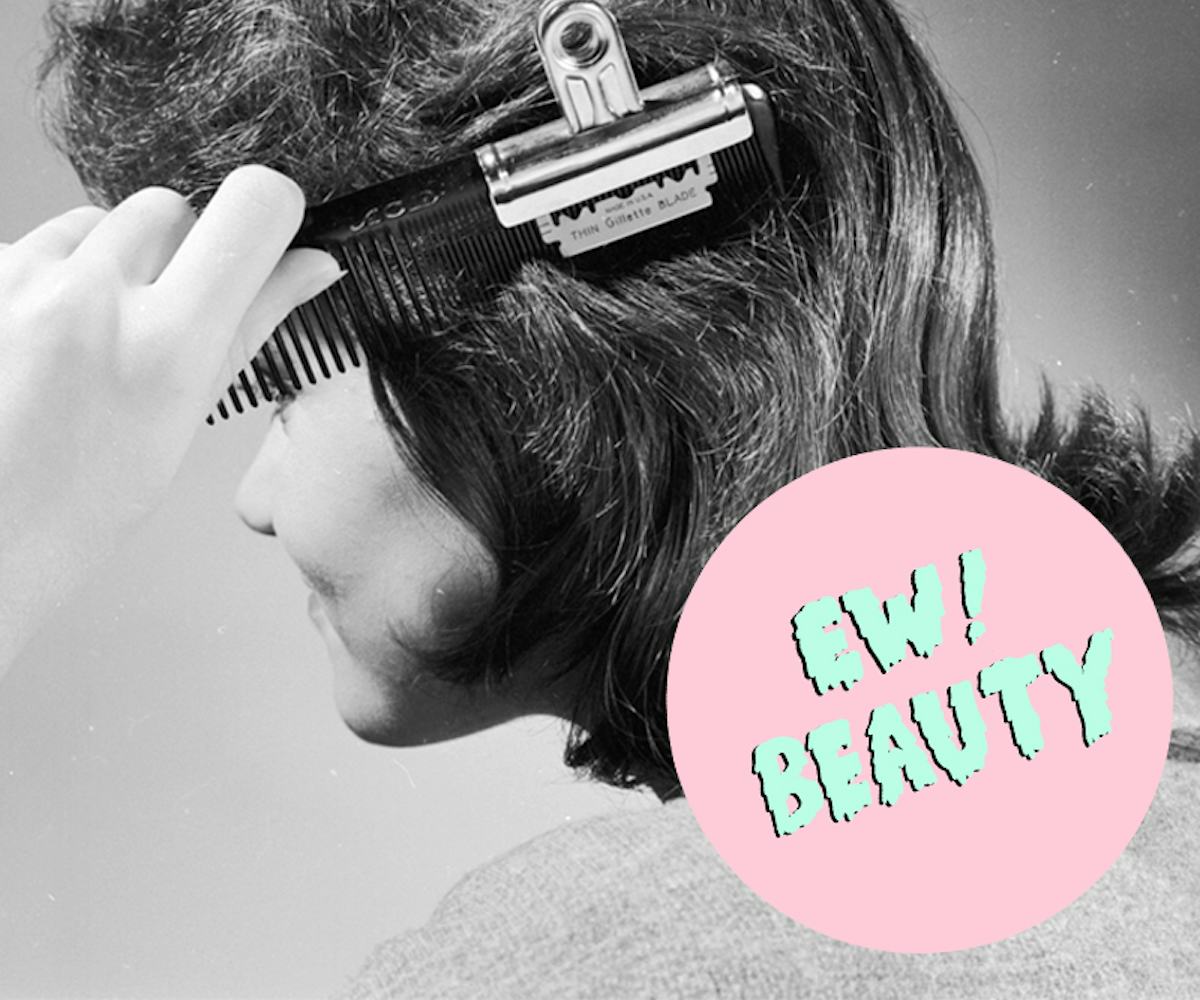 Photo via Getty Images
Ew! Beauty: Greasy, Sweaty Strands
Let's face it: Along with summer's heat, humidity, and other sweat-inducing qualities comes a ton of gross beauty problems. From dry, cracked feet to ingrown hairs and chafing, there's a lot that can hold you back from living the confident poolside life you're destined to lead. But don't worry—we're talking to experts about how to fix them. Welcome to Ew! Beauty.
When it comes to summer beauty problems, our skin isn't the only thing getting damaged by the sun's powerful rays. With the majority of our time spent outdoors, our hair gets fried, the color fades, and strands become endlessly sweat-prone and greasy. On top of the warm weather woes, there's also the reality of what happens when we work out (for that bikini body and all); basically, not a day goes by when we don't have the desire to wash our hair of the dampness and oil that seems to constantly torment our roots and the back of our neck. It's easy to feel defeated.
Don't let the heat put a damper on your locks! We turned to three haircare experts to get their advice on having your best summer strands. Ahead, tips to set you up for an eternally good hair day.
Go easy on the styling products
As tempting as it might be to use a lot of styling products to maintain a 'do, too much product will weigh hair down, causing it to fall flat and limp, and get greasy. "With the heat from the light or outside, when you use too much product, it can 'melt,' totally changing your style. So not overusing product is key," says Nate Rosenkranz, Alterna Global House of Experts stylist at Alterna Haircare. Think less is more: Use a small amount of products that are lighter in texture and feel. 
In particular, avoid any heavy-duty hairsprays or formulas containing alcohol. "The alcohol in extra-hold hairsprays is too sticky and can also dry out the hair during the harsh summer elements," says Matt Fugate, Kérastase Paris consulting hairstylist. Instead, he adds a lightweight spray oil (Elixir Ultime Bi-Phase Spray Oil) to a round brush while styling hair. "This is the best for adding shine and keeping hair in place," he says. The oil also acts as a barrier between the water and the sun and removes excess oil from the scalp, not unlike facial oils.
Alli Webb, founder of Drybar, agrees, saying that summer is the time to give your hair a break from products and boast your natural hair texture. "On a recent trip to Greece, I didn't pack a bender and embraced my natural waves," she says. Should you find yourself in need of something more styled (for an outdoor August wedding, let's say), but still natural-looking and minimally product-free, she suggests the "Mai Tai," a hair-down look with loose curls. "The look is beachy, tousled, and a little messy," she says. Aka perfect for masking greasy hair.
Sweat-proof your hair
As with most things, prevention is key. It's easier to take cautionary measures to avoid getting hair sweaty and greasy in the first place than to deal with it ex post facto. To help your hair last during a summer workout or a day at the beach, apply dry shampoo pre-exercise/being outside, throw your hair up into a topknot, and, for workouts, wear a moisture-wicking sweatband right at the hairline. Rosenkranz adds, "You can actually prevent your hair from absorbing salt water, sunscreen, and the rest by wetting it with clean water before you go to the pool."
If you hair ends up getting damp, there is a way to revive your roots and neutralize the odor: dry shampoo. Fugate warns against applying dry shampoo on wet, sweaty hair, though. "Hair cannot be soaked. It should be at least towel-dried or paper towel-blotted," he says. "Then, work the dry shampoo into the hair either with fingers or a blow-dryer or get in a convertible and drive top-down" We'll take the latter.
Protect your hair from the sun
If you are planning a day on the beach, remember to protect your locks from the sun too when you are prepping. After all, your head and strands are just as sensitive to the sun rays as the rest of your skin, and you definitely don't want to deal with an itchy, burnt scalp and faded hair color. "Many thermal protectors and leave-in conditioners, like Elixir Ultime Crème Fine or Nutritive Touche Perfection, have UV filters now so it makes it super easy to protect your hair when going in the sun," says Fugate. 
Hydrate hair
Much like you need to hydrate and replenish with water after a particularly hot day of sweating, your locks need moisture too. After a day at the beach, make sure to quench your wet strands with water and hydrating products. "Sweat actually contains a lot of salt, so you want to combat that salt with a great lightweight leave-in conditioner," says Rosenkranz. "Surprisingly, leave-in conditioner can help your hair expel the salt from sweat and grease!"He suggests using Alterna Haircare Caviar Anti-Aging Replenishing Moisture Milk on hair post-workout or a day out, and then following with dry shampoo. If you don't have any products on hand and are far away from home, wet your head with clean water for a quick fix.
If you tend to spend a lot of time in salt water or chlorine, make sure to give your locks an occasional hydrating treatment after fun in the sun. "A deep conditioner is a must to replace moisture and nutrients that are lost after too many hours in the pool or ocean," says Webb. "Use a deep conditioning treatment, like our Mudslide Nourishing Hair Mask, one or two times a week. "
Experiment with washing your hair
This brings us to the Great Hair Debate: over-washing. While some experts claim that washing hair too frequently can lead to stripping of the natural hair oils and damage of the strands, others suggest that over-washing is only a problem when using low-quality shampoo. "It really depends on the hair type, but the fewer shampoos, the better. Try to keep it to less than three times a week," says Webb. Experiment with shampoos and frequency to see what best works for your hair type. If frequent washing feels like it's damaging your hair, but skipping a wash is not an option, forgo shampoo and just use a volumizing conditioner when in the shower.
If needed, prolong time between washes
Dry shampoo is non-negotiable when it comes to prolonging your blowout or hairstyle between washes. "Dry shampoos are a great time saver and a temporary fix," says Rosenkranz. "The formula contains silica, which is an absorbent fine powder. When the powder is sprayed onto an oily or dirty surface, it absorbs anything on the surface—similar to a sponge. Once those little 'sponges' absorb the oils and dirt, they become heavier and can be brushed out, leaving a refreshed surface behind."
Webb agrees that the best way to extend time between washes and remedy greasy roots is by using dry shampoo. However, remember that to truly clean your hair, you need to wash it. "When using dry shampoo often, I tell all my clients to use a super cleansing or clarifying shampoo once a week, like our Happy Hour shampoo, to get rid of all the product build-up, oil, and dirt," Webb says. "This also ensures you start your blowout with clean hair, which is one of the keys to a long-lasting style."
If physically keeping your hair dry when showering is your biggest challenge, use the age-old shower cap to shield your hair. Just make sure to get one that's lined to protect your hairline and prevent any dampness, which will cause frizziness—a whole other summer hair tribulation.
Embrace second-day hairstyle options
If you are the ultimate lazy girls like us, may we suggest some second-, third- and fourth-day hairstyle options? A simple, messy topknot paired with a bold lip is always a chic look. "Braids and twists are amazing for hiding greasy hair after being at the beach," says Fugate. "The hair sculpts nicely when sweaty and the braid takes the focus off of the grease. Pair with a looped topknot at the crown, and you're good to go."