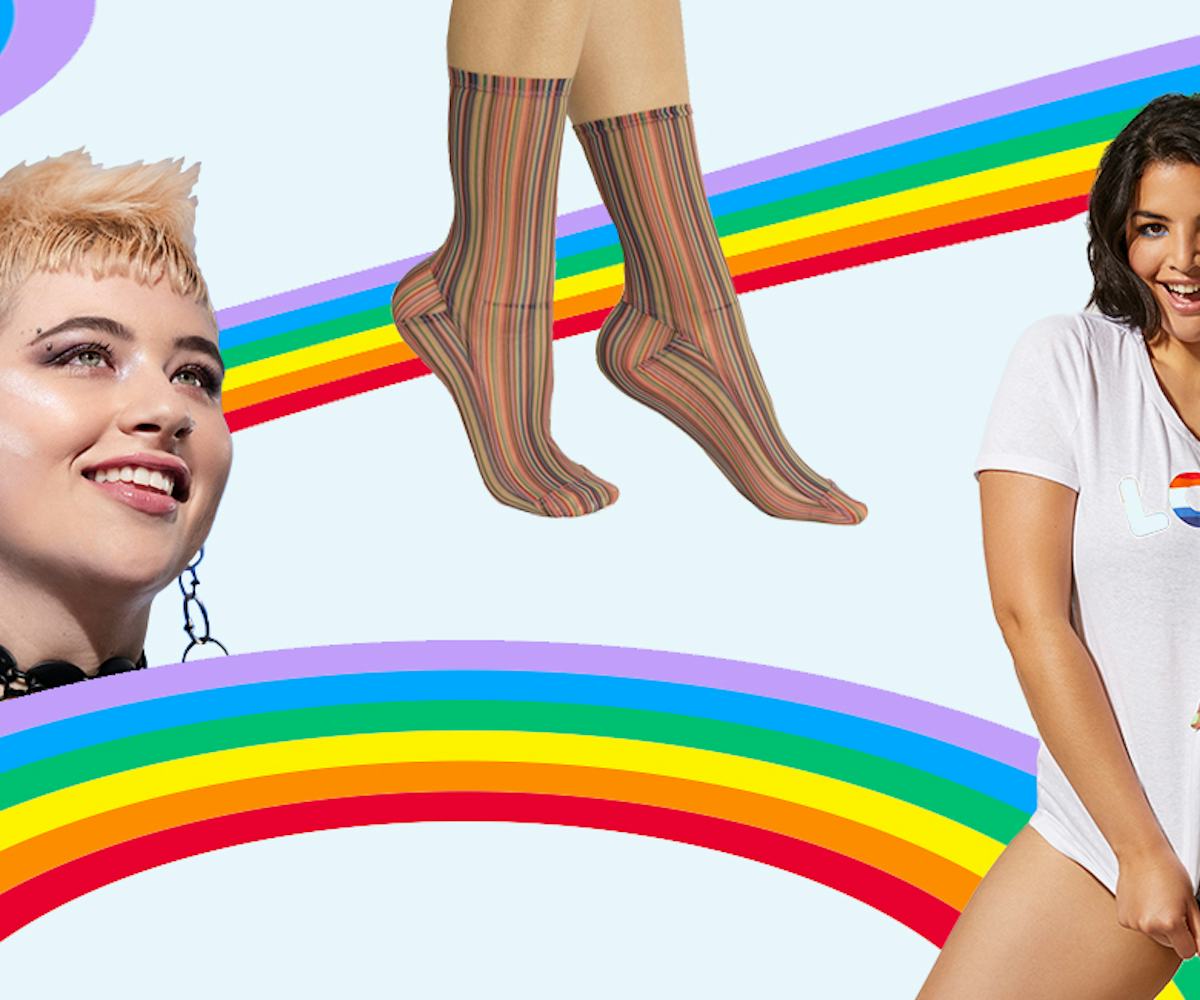 These Pride Collections Actually Give Back To LGBTQIA Causes
Where to spend your money this month
Pride Month is officially in full swing, and that means lots of brands are doubling down on rainbow-hued, glittery products. However, though there's a ton of new limited-edition Pride-inspired clothing, accessories, and beauty products, it's important to keep in mind that only some of these brands are actually doing their part in supporting the community, too. It takes a lot more than just selling rainbow t-shirts to give back to those in need.
To make things easy, we rounded up the 13 coolest Pride Month collections to shop this June, all of which give to LGBTQIA organizations such as The Trevor Project, the It Gets Better Project, the Human Rights Campaign, and more.
With so many parades and parties heading our way, look no further than the below to get your looks covered. This way, you can look good and do good.
American Eagle
American Eagle is back with a new Pride collection for its #AExME mission, once again donating 100 percent of sale proceeds to the It Gets Better Project.
American Eagle, AE Pride Graphic Tank, $19.95, available at American Eagle.
J.Crew and Madewell
Both J.Crew and Madewell have teamed up with the Human Rights Campaign to launch limited-edition tees and accessories in celebration of Pride. Fifty percent of sales from each piece (which range from $8 to $35) will go back to the cause.
J.Crew, Women's J.Crew x Human Rights Campaign "Love First" T-Shirt, $34.50, available at J.Crew.
Levi's
Levi's returns with the fifth installment of its annual Pride collection, donating 100 percent of sales proceeds to the Harvey Milk Foundation and the Stonewall Community Foundation.
Levi's, Pride Community Logo Tee, $29.50, available at Levi's; Levi's, Pride Community Graphic Tee, $29.50, available at Levi's.
Darner
Ten percent of proceeds from Darner's newly released Rainbow Stripes Mesh Sock will be donated to the Los Angeles LGBT Center.
Darner, Rainbow Stripes Mesh, $38, available at Darner.
Gilt
Gilt has teamed up with The Trevor Project to launch its This Is What Pride Looks Like campaign. The unisex collection, which consists of t-shirts, pool slides, workout gear, and more, ranges from $15 to $59.99, with 100 percent of net proceeds from sales going back to The Trevor Project.
Gilt, Unisex Tank, $25, available at Gilt.
H&M
H&M will be donating 10 percent of all sales from its new Pride OUT Loud collection to the UN Free & Equal campaign.
H&M, Pride T-Shirt, $12.99, available at H&M.
Lane Bryant
In celebration of Pride, Lane Bryant has launched a colorful line of intimates and tees, while donating 10 percent of sales to GLSEN, an organization that works to create safe and inclusive school environments for all.
Lane Bryant, Fast Lane Pride Love Graphic Tee, $34, available at Lane Bryant.
Milk Makeup
Milk Makeup is donating 50 percent of proceeds from its new Pride Pack and iconic Glitter Stick to The Center, NYC's LGBTQIA community center.
Milk Makeup, Limited Edition Pride Pack, $28, available at Milk Makeup; Milk Makeup, Glitter Stick, $30, available at Milk Makeup.
Wildfang
While Widlfang donates a portion of sales from its Wild Feminist collection to different organizations year-round, it launched an exclusive tee to celebrate Pride month, with proceeds benefitting The Trevor Project.
Wildfang, Wild Feminist Pride Tee, $40, available at Wildfang.
Zenni
Zenni is donating 100 percent of proceeds from its new limited-edition collection of rainbow eyewear to the It Gets Better Project.
Zenni, Browline Glasses, $19, available at Zenni.
LOFT
LOFT is donating 50 percent from the purchase of its Love Is Proud tee to GLSEN throughout the month of June.
LOFT, Love Is Proud Tee, $34.50, available at LOFT.
Valfre
During Pride Month, Valfre is donating 25 percent of proceeds from its Pride-inspired products to Immigration Equality, the leading national LGBTQIA immigration rights organization.
Valfre, Inspired But Tired Sweatshirt, $68, available at Valfre.
Mignonne Gavigan
Mignonne Gavigan launched an exclusive capsule collection to celebrate Pride, with 50 percent of sales benefitting the Stonewall Community Foundation.
Mignonne Gavigan, Madison Earrings Pride, $250, available at Mignonne Gavigan
Converse
Converse is back with its latest Pride collection designed by Miley Cyrus. All net proceeds from the collection will support various LGBTQIA youth community partners globally, such as the Happy Hippie Foundation (Cyrus' foundation), It Gets Better Project, Minus18, and Rainbow Youth.
Converse, Pride x Miley Cyrus Chuck Taylor All Star Platform High Top, $95, available at Converse.