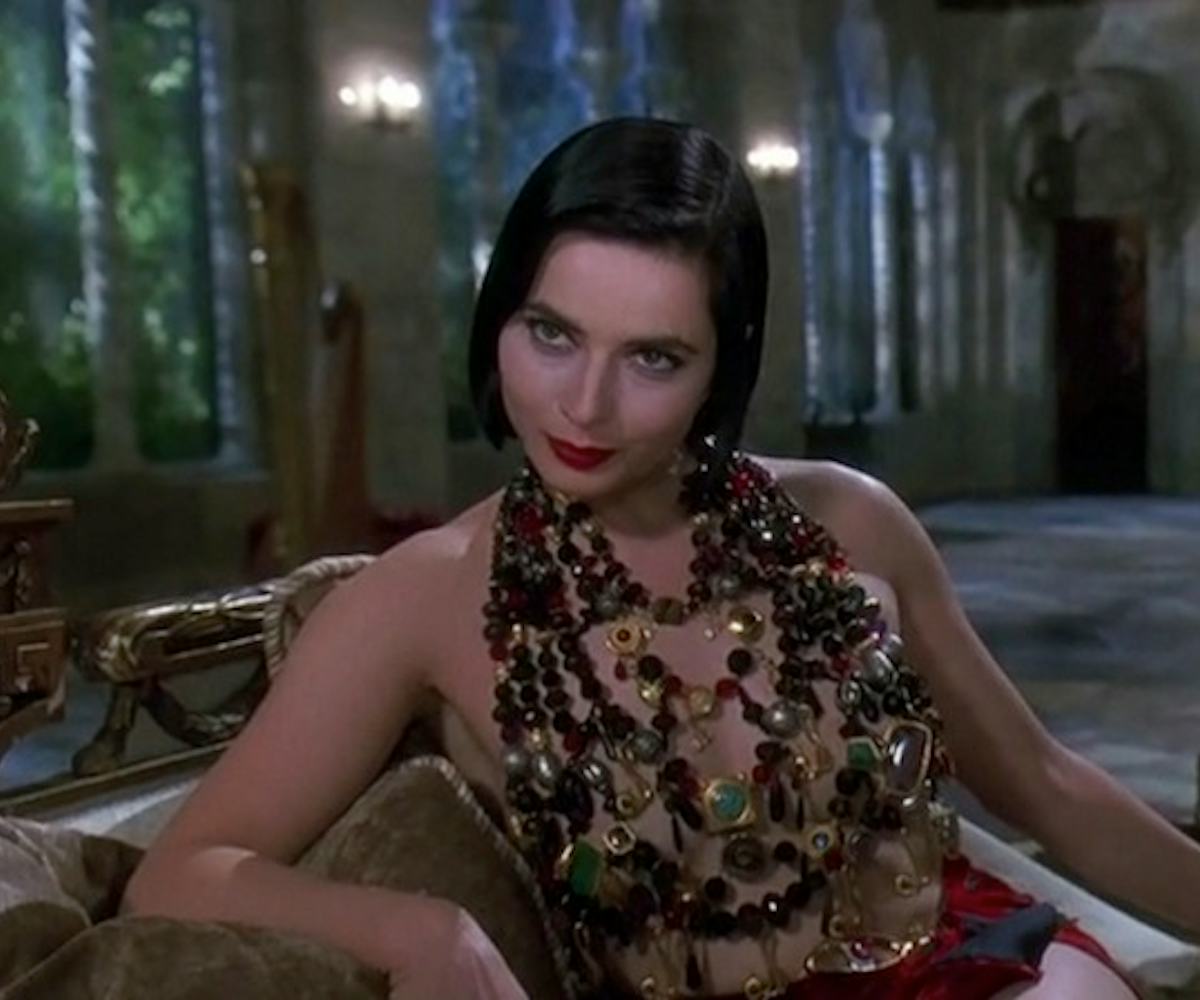 photo via Tumblr
Private Icon: Death Becomes Her
isabella rossellini drinks the fountain of youth.
Ah, eternal youth. It's a concept so universally sought after that men and women alike have risked their lives to find in a fountain, in blended green juices, and in more creams and lotions than one could ever possibly use. Yet, somehow, Isabella Rossellini has achieved—well, technically she turns 61 today, but her character in 1992's
Death Becomes Her 
did. And it seems as if a badass sense of self and style come along with the promise of eternal beauty. 
In case you haven't seen the film, Isabella Rossellini plays socialite Lisle Von Rhoman. When aging actress Madeline, played by Meryl Streep, meets Lisle, dressed bare-to-none in a chandelier-like necklace and sarong-wrap skirt, she has no idea that the beautiful, Cleopatra-esque woman standing before her is 71 years of age.
Long story short, Lisle agrees to sell Madeline a potion that grants immortality and ever-lasting youth so long as she disappears from the public eye in 10 years.
When things go awry, Lisle's true nature is revealed as she excommunicates Madeline and Helen, played by Goldie Hawn, from her forever-young cult, succumbing them to the destructive effects of aging. Lisle, however, will continue to live in a castle, wearing low plunge coats dresses, surrounded by her boy toys.
And we're that's how Lynch's once-muse Isabella herself spends her days—in our minds, that is.
Click through the gallery to see the coolest Rossellini-inspired outfits now! After all, age is nothin' but a number. 
American Apparel Cotton Spandex Sleeveless Crop Top in Nude--$26
Bumble and bumble Straight Blow Dry, 5 o.z.--$29
Nars Single Eye Shadow in Night Breed--$25
KAT VON D Tattoo Liner in Trooper--$18