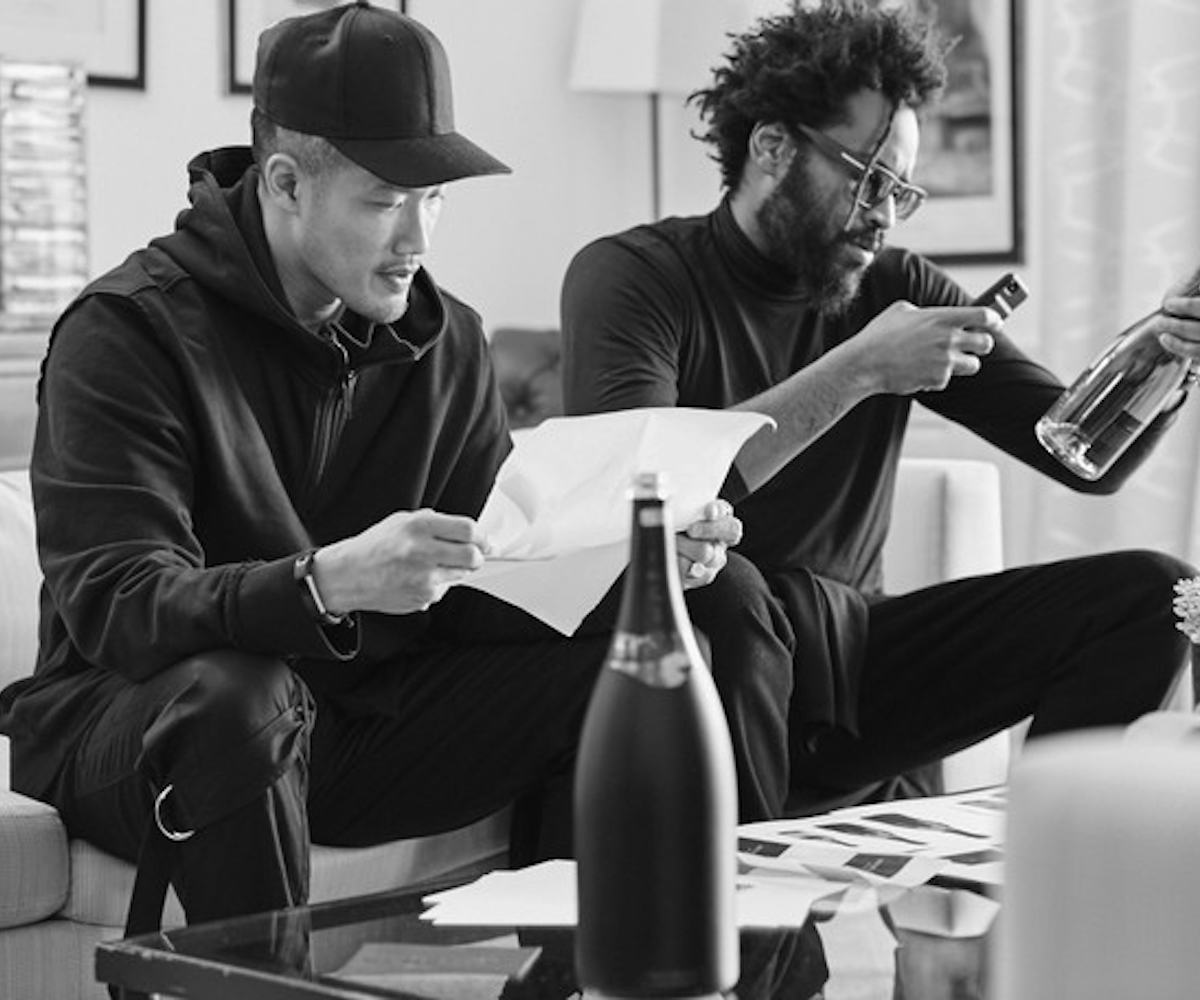 Photo courtesy of Moët & Chandon
Public School Just Made Fashion Rosé A Thing
The brand teamed up with Moët & Chandon‎ on an exclusive bottle
Just when you thought rosé was on its way out, fashion came to the rescue.
Public School has teamed up with Moët & Chandon to design three limited-edition bottles of Moët Nectar Impérial Rosé, which just so happens to be the best-selling rosé Champagne in the U.S. Designers Dao-Yi Chow and Maxwell Osbourne have put their signature high fashion streetwear twist on the classically elegant Moët bottle design.
Inspired by the classic leather jacket, the bottle features a chic matte black foundation, while the larger Magnum and Jeroboam bottles feature actual fine black leather and hidden designs you can only see when the bottle is illuminated. "We applied the Public School aesthetic to the bottle, but we also took away some of those distinct elements that you typically find on the Moët bottle," says Chow. "We played with shapes and colors and really stuck to that design philosophy throughout the collaboration."
While Public School and rosé may seem like an unlikely pairing, the two brands have quite a bit in common. "We come together with brands that emulate our lifestyle. When you think about Champagne, you think about Moët & Chandon, you think about celebration, and you think about nightlife," says Osbourne. "Moët really resonated with us as it's all about celebrating life, and celebrating what's happening right now. We're interested in creating products that make up that whole other spectrum outside of fashion."
This exclusive, limited-edition rosé will only be available in select cities, such as New York, Miami, Atlanta, Chicago, Los Angeles, and Washington, D.C., and found at local retailers starting October 1; however, you'll also be able to purchase online at Reservebar.com.
You can snag a 750ml bottle for $59.99 a pop, or a case of all three designs (the 750ml, the Magnum bottle, and the Jeroboam bottle) for $999. Fashionable rosé comes at a price, my friends.
Click through the gallery, below, to check it all out.
Public School x Moët & Chandon, Moët Nectar Impérial Rosé, 750ml.
Public School x Moët & Chandon, Moët Nectar Impérial Rosé, Magnum.
Public School x Moët & Chandon, Moët Nectar Impérial Rosé, Jeroboam.
Public School x Moët & Chandon, Moët Nectar Impérial Rosé, Full Set.