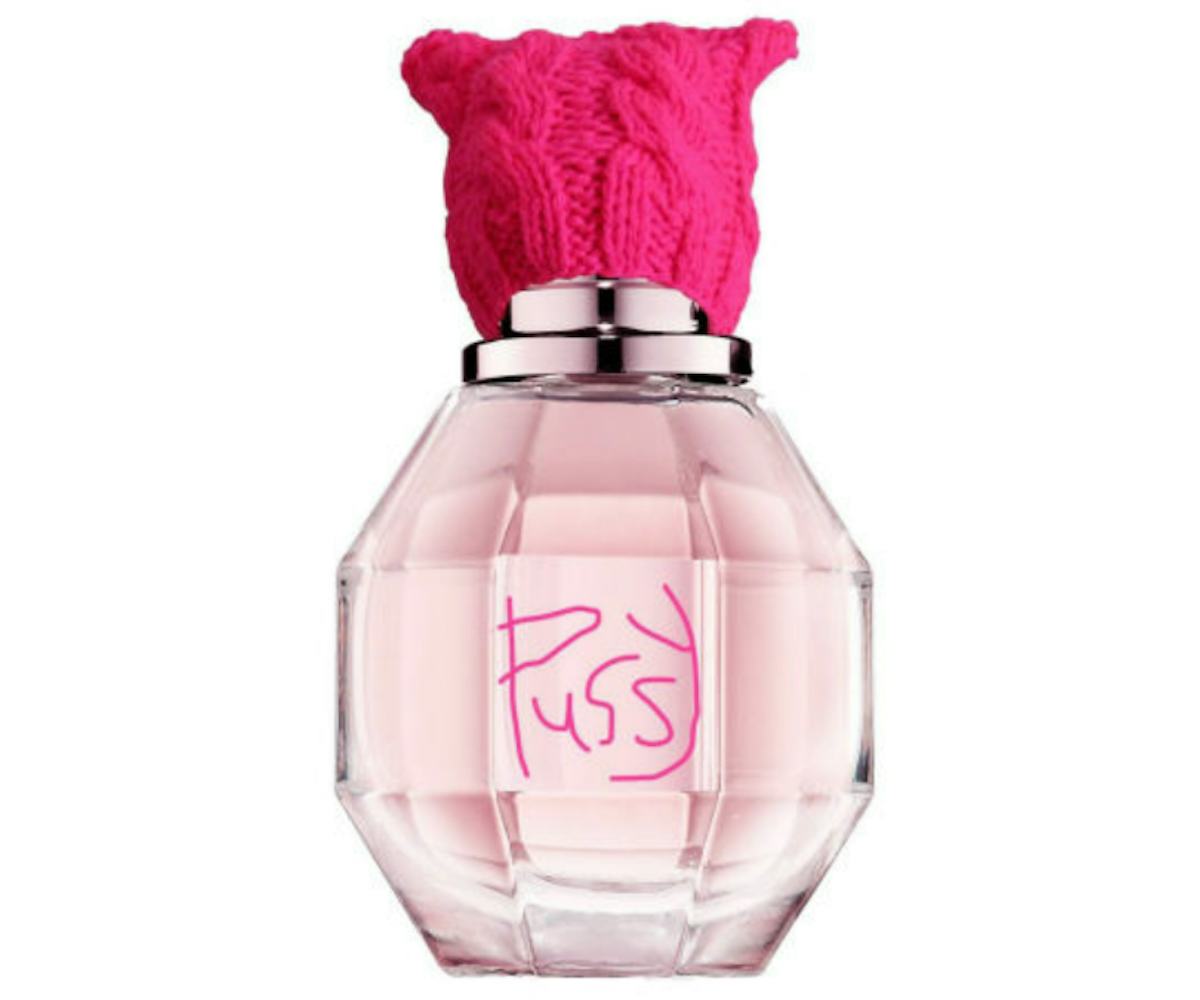 Image Courtesy of U.S. Patent and Trademark Office
Do We Really Need This Supposedly-Feminist "Pussy Perfume"?
It's difficult to take this seriously, TBH
A new form of feminist merch has emerged from a sea of pink hats and "Nasty Woman" shirts: "Pussy" perfume that (we guess?) is supposed to smell like the resistance. A New York woman named Fran Moss filed patent and trademark applications for the scent, which will come complete with a tiny pink hat and so much more:
According to the docs, Fran's toying with product names like pussy juice, pussy power, pussy now, and pussy positive. She also wants her trademark to include the 'pussy power color' pink, and the pussyhat ears.
It looks like Moss also has plans for commercializing feminism that extend beyond making us all smell like we're #WithHer. Expect "fragrance-emitting wicks, sachets, pet sprays, body sprays and perfumes" and more! (We can just see the branding now: "Make your pussy smell like a pussy with our Pussy Pet Spray!") One of Moss' "sexual stimulant" pussy products even touts "preparations in the form of everything that has to do with beauty, hygiene, sex appeal containing flowers, grasses, spices, fruits, wood, roots, leaves, alcohol, essential oils, body scents." (What?)
While we're all for making your voice heard through fashion, this is such a clear money grab that it's difficult to take it seriously. And as if the concept wasn't silly enough, that mockup of the bottle isn't a Paint-created parody. Moss actually submitted it to the patent office as a prototype when she filed the applications back in December.
Time has yet to tell if we'll actually be able to spritz ourselves with pussy perfume, but if it ever is released, we'll just go ahead and stick with our usual signature scents.
Moss' patent concepts (and, frankly, so much other #resistance merch) stink of glib white feminism that uses activism as a trendy prop rather than an actual tool for change. Instead of shelling out a bunch of money to brands that want to make a quick buck off of a serious movement, how about donating the cash to organizations that are actually working to give women a voice?