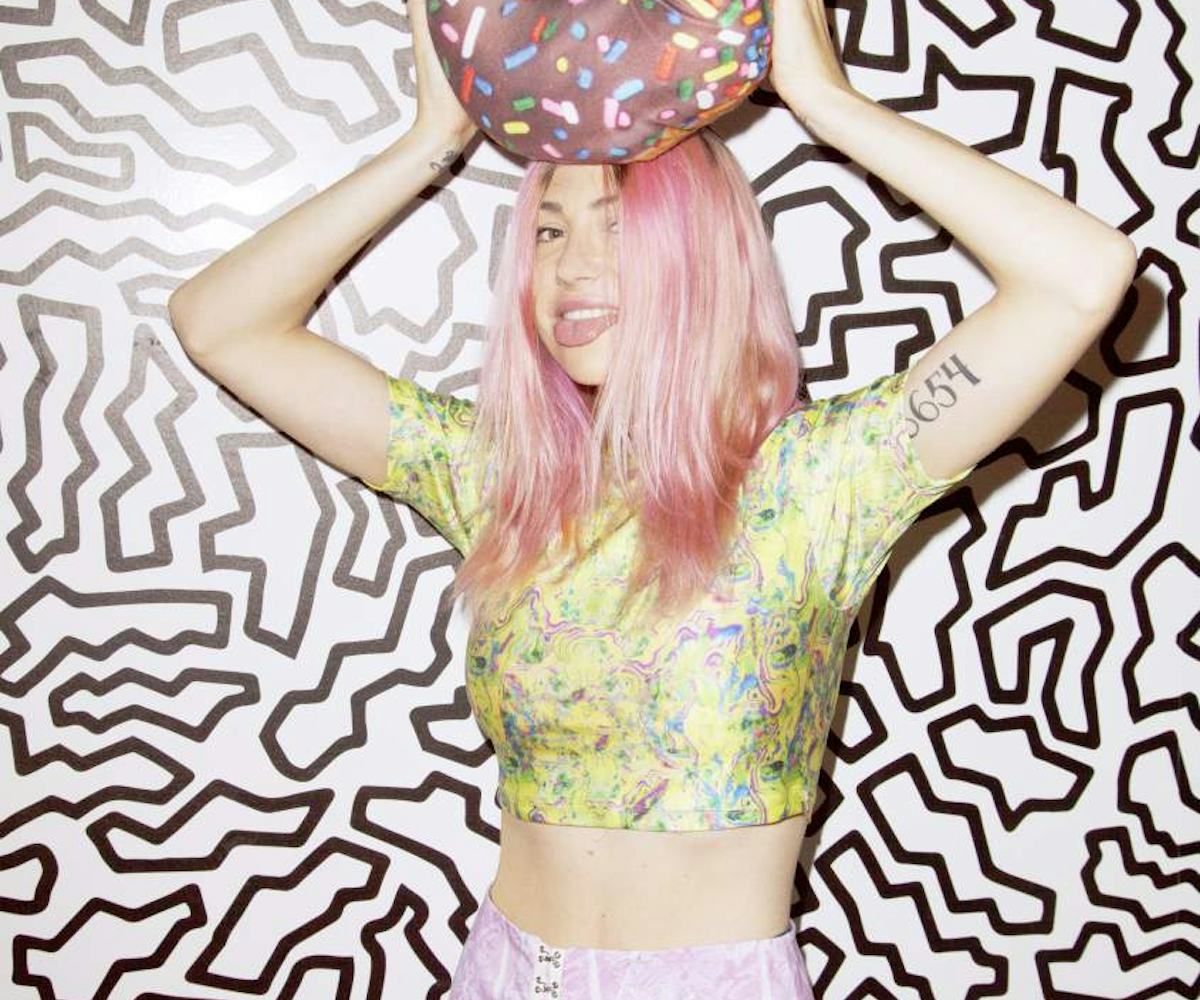 all photos by scott león
internet girl rachael finley opens up
about her husband blake anderson, beauty + her nickname.
Despite having a cult following on the Internet, there's still a cloud of mystery that surrounds Rachael Finley—also known by the nickname, "Steak." The designer of the Teenage clothing line (a co-production with husband Blake Anderson of Workaholics) and new mom (to baby girl Mars) finally opens up.
Introduce yourself!
Hello! I'm Rachael Finley, better known as Steak Anderson. I live in Los Angeles. 
How did you get the nickname "Steak"?
When I was a poor, college- aged kid, I was too stubborn to take handouts from my family, so they found a way around that. To keep me from starving to death—or whatever illogical things were bouncing around their heads—they started shipping me Omaha steaks. I had so many of them stacked up over time that nothing else could fit in our fridge—so I'd always have people over to our porch to help me put a dent in my back stock. Over time I went from "that girl with steak" to "that steak girl" to just "steak." In 2005 I started a blog called Steaktooth, because red meat is still my go-to. I don't like chicken; it's useless unless it's a vehicle for sauce.
What is your beauty philosophy?
Less is more, but do it right. I've gone through so many makeup phases. Sometimes I'd pile it on just for special nights out and then I'd look back at photos and be like, "What the fuck is all this shit on my face?" I feel like everyone needs slightly less makeup than they're using, but the stuff you do elect to use, you should know how to apply properly. 
Who are some of your all-time favorite beauty icons?
Ever since I was a kid, Jessica Rabbit has been my dream girl—but she is ballsier than I am; I never wear a hard eye and a hard lip together. I really like Rihanna's makeup. It's a nice, thick lash and a punchy, classic lip. That's style. Man, I wish I could pull off everything Rih does. 
What do you usually keep in your makeup bag?
Cocoa butter balm, it's good for your lips and anything else that feels dry. A good volumizing mascara. Red lipstick. And my phone, some trash, crumbs, gum, and pennies. I don't carry a purse, so if it's a bag on my body, it's got everything in it. 
What is your signature scent?
My caked-on Dove Cucumber Melon deodorant, probably. You never know when your next shower is coming, so you have to be ready for the world. But when I'm going out and I really want to take on my full persona, I wear Tom Ford Black Orchid. 
What is your hair care routine, and when did you start to dye it?
Because of the amount of lighteners in my hair, my entire routine revolves around deep conditioners and dry shampoo. You can't wash it that often or the colors won't stick—especially pink. I'm not going to pretend that I was in the groundbreaking movement for pastel hair; I think I dyed my hair the same time every other girl in L.A. did. You can't really go to a bar here and be special with colored hair, but the shade and tones are still cool to play with. I love my peachy hair—I don't plan on changing it for a while, but if I did I'd go back to teal. 
How did you and Blake meet?
We met at a bar. I mean, it was 3 p.m., and they also serve awesome craft food, but I was using it as a bar, and he was using it for a quiet meal with his friend. I yelled at him about some shirt he was wearing because I'm an ultra-smooth operator. Anyway, look at him—it was love at first sight for me. A week or two later, I found out what he did for a living, and it was un- love at first sight. I kind of didn't want to talk to him because the world he is in was a red flag for me—but at the same time, he was so dreamy that I was torn. Unfortunately, he found my Twitter and realized that I was a good balance between a train wreck and kind of funny, and I think it was love at first tweet for him. The first thing he tweeted at me was "please don't crash your car." After that, it was game on—we went to the planetarium on our first date, and I liked him again because he was a real, human nerd and not whatever I thought someone chasing an acting career would be. He's my best friend. I feel like we haven't spent a day apart since. 
And how did the Teenage shirts get started?
I got lymphatic cancer three years ago and had to quit my career in fashion to go through treatment. I was super devastated at having to leave a career that I had made for myself– plus I was finally making enough racks that I was dreaming about the future and all that stuff. I was depressed about being sick, and I was bored, so Blake asked me to make him some shirts to pass the time because he wanted to wear them on the show. I started selling extras on my blog, which, at the time, had only 50,000 readers, and they sold out right away. We never set out to make a clothing line, but whoops! Whatever it was, it was my saving grace during my treatment, and now it's my full-time job. I feel really blessed to have stumbled into this. 
I'm obsessed with the fact that you a) have a baby and b) named her Mars.
Mars Ilah Anderson. Most notably known from the one time her name was a quiz option about Lil' Kim's baby. She's a goddess. I always thought parenthood was going to be— well, not what we are experiencing. Yeah, I'm tired sometimes, and things are a little chaotic, but I also have a new little friend. That's how we treat her. We went from two besties in the house to three. 
Klorane Dry Shampoo With Goat Milk, Gentle Formula, $17.91.  SkinCeuticals Hydrating B5 Masque, $54.  Hollywood California GlamGlow YouthMud Tinglexfoliate Treatment, $69. Fresh Sugar Tip Treatment Sunscreen SPF 15, $22.50.  Too Faced Melted Liquified Long Wear Lipstick in "Melted Ruby", $21. Moroccanoil Moisture Repair Conditioner, $22.80.  Josie Maran Model Citizen Argan Cleansing Oil, $32. Wexler Intensive Night Reversal And Repair Cream With MMPi•20 Serum, $45.  99 Point Nine Pure Moisture Stick, Concentrated, Coco Butter, $5.95.  Manic Panic Cotton Candy Pink Classic Cream Formula Cream, $13.99.  NYX Eyebrow Cake Powder, $6. Napoleon Perdis Auto Pilot BBB Cream Broad Spectrum SPF 30, $45. Topshop Nail Polish in "Dark Knight", $10. Chloé Rollerball, $25. Kat Von D Tattoo Liner in "Trooper", $18.