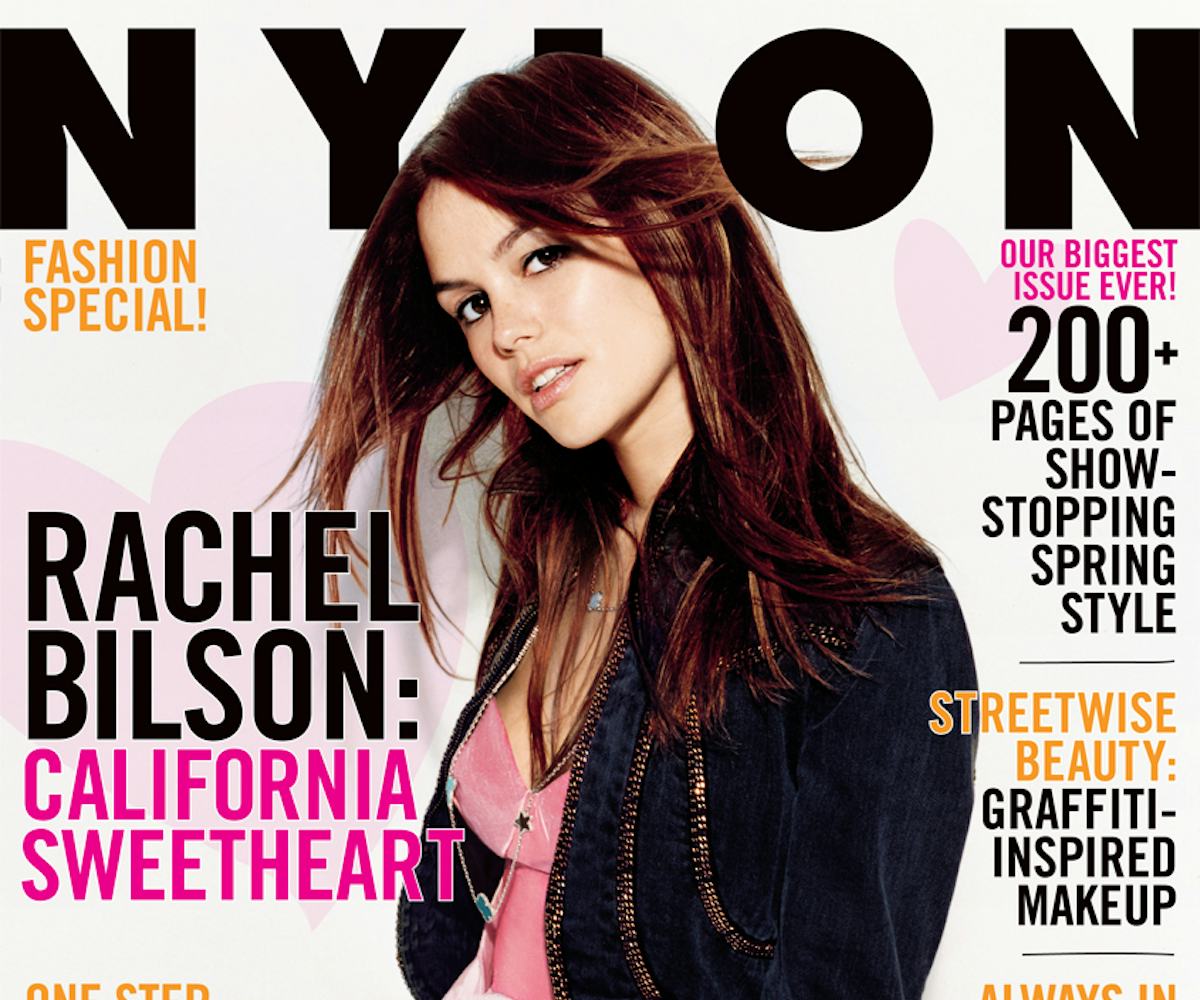 Photographed by Hilary Walsh
flashback: summer love
reread our 2008 cover story with rachel bilson.
Our weekly Flashback Friday just got a whole lot cooler. We're still posting some of our favorite covers from past issues of NYLON, but now you can go even more in-depth with our faves by reading the cover stories in their entirety! Yep--consider this your really rad trip down memory lane. This week takes us to our March 2008 issue starring Rachel Bilson, so read on for a little bit of summer this February. 
Thurman Murman is having a moment, and Rachel Bilson is perplexed. "Is he barking at the statue?" she asks. He is, indeed. Thurman, Bilson's dog, has cornered a bronze Grecian goddess in the courtyard of a near-empty cafe, and he's determined to bark her into submission. "Hey, hey, it's nobody," Bilson says, soothing him as he continues to growl. Finally, she pleads. "Thurman, are you going to be distracting?" You said you would behave..." Apparently, he remembers such a promise, so quiets down and slinks under her chair. "That's hysterical," she says as he does so, clearly pleased as punch with this newly discovered quirk. "My dog barks at statues!" 
On a sunny Friday afternoon in Los Angeles, Bilson and Thurman make a dashing couple. He in blue-grey fur, pastel-striped dog leash, and shaggy bangs that fall into eyes that rarely stray from his owner. She is more colorful, and—with giant brown eyes and skin lightly flecked with the sparkle of powder—even cuter. Today, Bilson has donned a lightweight burnt orange scarf, a hand-painted T-shirt, a ruffled pink and green skirt that's trimmed with bits of shiny satin, loose grey jersey cardigan, a shrunken leather jacket, black tights, and metal-tipped cowboy boots in a size so small they look like pixie shoes.
"I've been into fashion my whole life," she says, settling in now that Thurman has relaxed. "I was two years old and my mom and my dad would take every single outfit out of my closet and be like 'Do you want to wear this? Do you want to wear this?' and I would say no to everything until there were no more options and I had to dress myself. I'm sure there were some horrific outfits that I came up with, but I was very adamant about it at a very young age." Bilson's mom indulged her daughter with shopping at vintage stores, and she had an aunt who taught her about designers, and now, when asked to name some of her current favorites, Bilson rattles off everyone from Zac Posen and Chanel to Mayle and Vena Cava. "I love it, it's honestly a passion, and I LOVE it," she repeats. "That feeling of clothing and putting on an outfit..."  She'd someday love to have her own line or at least collaborate on one. " I think the Olsen twins do a fantastic job with their line The Row. It's so cute, and similar to the idea of what I would want to do," she muses. "There are some actresses who just put their name on anything, but I think it's such a great way to be creative and expressive."
For the moment though, Bilson's design goals are of a more personal nature, and she's working with Brian Reyes to create a bridesmaid dress for O.C. and Gossip Girl creator Josh Schwartz's wedding, as Schwartz is marrying Bilson's best friend, and she's the maid of honor. "I introduced them and now they are getting married, it's so exciting!" she exclaims. "I'm pretty proud of this one."
Bilson is, of course, most known for her work on The O.C., where she played Summer Roberts, a spoiled Newport Beach baby whose life changed when she fell in love with Seth Cohen and later became a rabbit-releasing environmental activist. And there are, actually, some loose parallels between Bilson and the teenager she played for four years: BIlson is a California girl, too, but born and raised in LA; offscreen, she did fall in love with Adam Brody, who played Seth Cohen, but while Summer and Seth got married, Bilson and Brody broke up; and while Bilson isn't about to give up acting for Greenpeace, it's easy to imagine her doing a bit of animal liberation if she ever came across a cage with a loose latch. ("I recently went to a party where someone had a chimp dressed up in a santa suit," she recalls, her face growing stormy over the apricot glow of her cheeks. "Maybe I overreacted because I was too tired, but it made me so mad! All these people were drunk and taking pictures, and it was horrible."). However, there's much more to Bilson, and while she'll be the first to admit Summer is her most well-known character, that's all likely to change very soon.
"I want to do something very character driven, something very different. It's hard to break out of the teen drama...Summer Roberts...whatever," she says, trailing off. "Reaching out and trying someone completely different and showing yourself in a different light is really important, especially in this business, if you're known for one character, one thing." In what seems to be a typical free-spirited fashion, though, Bilson claims she doesn't worry about it too much. "I kind of just take things one day at a time and do what I do and hope that I'm not known as Summer Roberts for the rest of my life," she laughs. "But I'm grateful that she is known, and that I'm known for her, because it's really brought me everything."
The day of this interview is just another day that the headlines in Los Angeles and much of the world have been dominated by "Breaking Britney News," a ubiquitous saga that illustrates the mind-bending surreal reality of fame more graphically than anything we've seen in a long time. In a refreshing contrast, the biggest public scene that Bilson seems likely to cause is when Thurman decides he's no longer moving, and she's forced to tug him down the sidewalk, embarrassed that he's making her look like a bad pet parent.  Bilson is the girl next door who would actually make a good neighbor, and she seems determined to keep it that way. While she says she has met some great people in Hollywood, specifically citing Olivia Wilde and Kristen Bell, her closest friends are still the ones she's had since childhood. She's been involved in no scandals or legal incidents, and while the paparazzi occasionally do catch her at the baggage claim, she always looks exasperated and pissed off, not like she's relishing in the attention. 
"I try to lay low and avoid that stuff as much as possible," she says. "Like you don't see me going out to all the clubs or getting into cars without any," she pauses and blushes while she thinks of the right word, "undergarments on. That's the latest thing with paparazzi now, you get out of a car and the camera is right there, so they can get a nice shot. I think it's really important to keep some privacy in your personal life, just because it's the one thing that you can have to yourself when there's so much of yourself out there," she continues. "Obviously, I don't have it as bad as a lot of people, like I can't imagine being Britney Spears. Whether you want the attention or not, to have tons of people surrounding you all the time... I would probably, literally, go crazy myself. Your entire life, things that are so personal and private, are splattered in a magazine or on the news headlines. I just think it's sad."
Bilson's clean image isn't calculated. "I don't have any persona," she says. "I just am who I am. I said fuck in an interview once, and my publicist was like 'Good! It gives you edge!' I was like, 'what do you mean? I need an edge? Well, I can say fuck again in another interview.'" She finger combs Thurman's hair into a mohawk. "I'm not out there doing the things that other girls do, so maybe I'm looked at as more a good girl? I don't know..." 
The fact that she was cast in The O.C. at 21 meant that she got to ride out the ups and downs of her teenage years—which were just as turbulent as everyone else's—without the scrutiny of anyone but her parents, and now, at 26, she's over any sort of rebelliousness for its own sake. "I wasn't that dramatic or drastic or anything, but my friends and I hung out with what was probably not the best group of guys," she says. "My parents were divorced and my dad was working a lot, and my mom, she didn't know what to do. And if you're an out-of-your-mind early teenager, it's hard to reason with a kid then. I'm grateful that I wasn't 15 with money thrown at me and all that, because I would imagine when you get that at a very young age, it's hard to know any better."
Bilson's mom is a counselor who specilizes in sex therapy ("Which for me is like, 'Ok mom. Enough'"), but her grandfather was a director and her stepmother an actor, so Bilson grew up familiar with the entertainment industry and acted in plays when she was in high-school. After she graduated, she went to junior college in San Diego, which didn't go so well. "I guess you would call it a semester," she says. "But I didn't get much done. It was fun, I had a great time, but I had to come home. My dad was like 'I'm not going to pay for you to not go to class.' I was like, 'But I'm getting the dorm experience!" The dorm experience alone, though, wasn't enough for her parents, and when Bilson landed back in Los Angeles, her family encouraged her to try acting professionally. When she did, it fit. "It was like second nature in a way, because I was familiar with the sets and stuff and it wasn't like a strange world," she says. "It was like all things in life: You try it and if it makes you happy, it sticks."
Since entering the public sphere, Bilson has appeared on various men's magazines "Hot 100" lists, and in 2005, received the Teen Choice Award for "Hottie Female." In person, she is practically pocket-sized and the phrase 'cute as a button' seems like it must have been coined especially for her. However, she still bristles when talking about the pitfalls of working in such an appearance-focused industry.  "I try not to pay too much attention to that. There's too much focus on young girls, and I think it's silly," she says. "I don't think anyone should feel pressure to be thin, it's not what girls should be caring about when they're 12 or 15. I hate it when people are like, 'How do you stay thin?' or 'Do you workout? What's your routine? What's your diet?' Then it's like, if I tell you I don't, are you going to give me a hard time?" While she was still shooting The O.C., Bilson was in Last Kiss, a romantic comedy with Zach Braff, where her on-set behavior did stir up some buzz, but only because she didn't want to film nude scenes. "I feel pretty strongly about it, morally," she says, "that it's not necessary to be exploited in that kind of way. I can't say that I'll never do it, but I don't see a reason now, especially when you're still trying to establish yourself." 
Currently, she has just finished filming her second movie, Jumper, a high-tech sci-fi adventure due out this month. Bilson co-stars with Hayden Christensen and plays Millie, a female lead role that originally belonged to Theresa Palmer until the studio decided that the character needed to be older. Director Doug Liman, who'd produced several early episodes of The O.C., called Bilson while she was still filming the show's final season. "Doug Liman, who's fucking fantastic....There I go again!" she yelps, as the F-bombs dropped during this interview now total three. "Doug basically sent me a text message saying 'What are you doing this fall?' and I was like, 'I'm working...on the TV show...that you used to produce.' And he said, 'Well, what do you think about coming and being in a movie?' He flew me up for a day to Toronto to read with him and read with Hayden, and then the following Monday, we started to work it out with the producers, which is unheard of for a series regular, to be the female lead in a movie that is shooting in a different country." The role was also something Bilson hopes to get more of. "You don't find many strong, feminine characters, especially in movies like that," she says of Millie. "You think she's going to be the damsel in distress and the superhero has to save her, which there may be scenarios like that in the movie, but she's strong and she's not stupid, and she stands up for herself. I think that's cool to have a girl that's not just like 'What? Come save me...'"
The chemistry that Bilson was able to conjure for her initial reading with Christensen must have been pretty powerful, as the two are now a couple—albeit, one that's never been formally confirmed. Christensen recently bought two pot-bellied pygmy pigs for pets, something that would surely put an animal lover like Bilson over the moon with delight, but when asked about them, she looks at Thurman and laughs: "I don't know what you're talking about!" Clearly, though, she does. "All I will say is, pigs are my favorite animal, which is why I don't eat them... Any pig is a friend of mine." Is that all she has to say about the said pigs' owner? She thinks for a second. "Any person who owns a pig," she says coyly, "I'm a fan of." Though various pictures have been snapped of Christensen and Bilson shopping and lunching—including pics of Christensen holding Thurman, surely not something Bilson trusts to just any old co-star—both are mum when it comes to the topic of being more than friends. Though she once gushed "We always have a lot to talk about, and we tell each other everything. I feel like I have everything now – the dog, the house, the job and him. I can't ask for anything more" about Adam Brody, her tight-lipped stance now seems to be a sign of seriousness about her career, and evidence that Bilson's smart enough to know that tabloid covers don't translate into Oscars.
She's also just moved on, and the halcyon days of The O.C. are in the past, and getting even further behind her. "I think we had a good time and it was a great thing for a lot of reasons. It was good while it lasted." And when asked, she admits "I actually haven't seen Mischa or spoken to Mischa in probably over a year," she says, "and I haven't seen Adam since the wrap party for The O.C., so it's been a while, you know? I hear things about Adam and stuff, and I hear he's doing pretty good. He's a good guy," she adds. 
When Bilson and Brody broke up, obsessed fans posted setto-music photo montages to YouTube, and many of the show's characters are still known on a first name basis. Bilson, though, isn't mourning, instead relishing the challenge that comes from searching for and finding the next project.  "This past year, I've been all over the place and your life is definitely different," she continues. "At first, it was a shock to not have that same routine, where you're with the same people in the same place for 10 months out of the year. But that's the exciting part, being able to do different characters and you get to really move on and do the next thing. Ideally, I want to keep working in the film industry and have the opportunity to keep doing movies. It seems to be working out. I hope so."  In her typical fashion, she's not going to waste time pondering what-ifs.  "I don't really worry about anything in that way. I don't like to think about the future in that way."
As the sun sets and Friday afternoon turns into Friday evening, Blackberrys all over Los Angeles are being furiously tapped to secure tables at clubs, and paparazzo are testing their shutters, preparing and hoping for the big-money crotch shot. None of this, though, is a concern for Bilson, as she finishes the interview and prepares to leave.
She's headed into the Valley to visit her family, with Thurman Murman her only (confirmed) date for the evening.