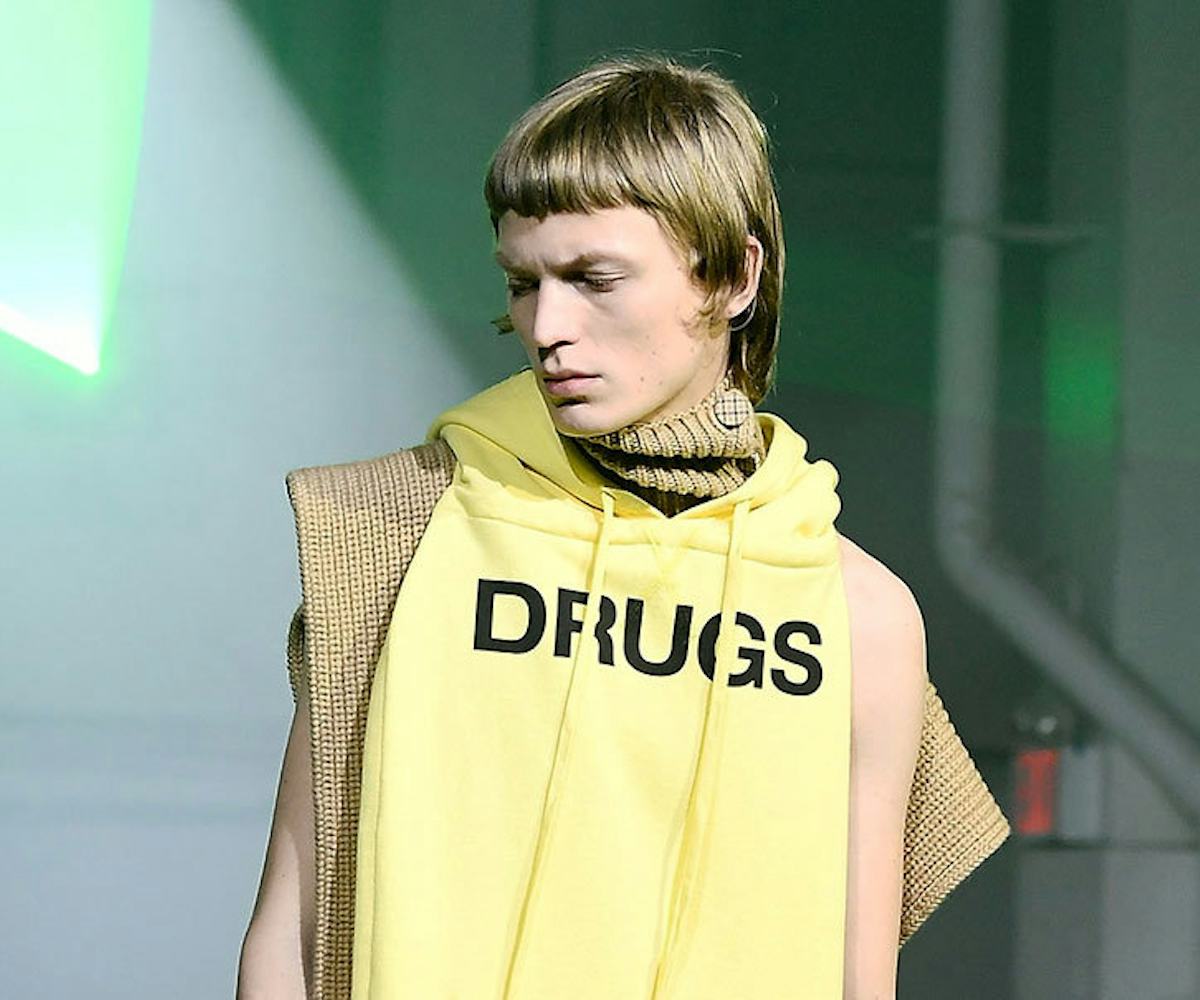 Photo by Frazer Harrison/Getty Images
Addiction And Fashion Collide In Raf Simons' New Collection
Raf Simons staged a Last Supper for his Fall 2018 menswear collection. That is if the Last Supper was drug-fueled and soundtracked with the kind of rave music that keeps Berghain-goers clubbing well into the morning.
Simons called this collection "Youth In Motion." Pops of bright orange, blue, and yellow were emblazoned with phrases like "DRUGS," "LSD," "GHB," and "XTC." As Simons explains, it was his way of commenting on our culture of addiction. He drove that point home by printing images from Uli Edel's 1981 cult classic Christiane F., a noted favorite of the designer. Edel's film chronicles the life of a teenage heroin addict. Christiane's strung-out face gazes outward from various knitwear and shirts Simons created. Elsewhere in the collection, armbands and knee patches touted the molecular structure of the psychodelic drug 2C-B while waxy gloves covered the models' forearms. 
As the show's notes read, "Ultimately, 'Youth In Motion' seeks to neither glorify nor condone the culture(s) of drugs; rather Simons seeks instead to consider the persistent, almost ubiquitous presence of narcotics (prescribed or otherwise) within our society and acknowledge our often conflicted relationships with them; in turn opening up a more nuanced dialog around the implications for a society where addiction and the causes of addiction remain largely taboo subjects, with—as both Christiane F. and the current opioid crisis demonstrate—often untold human consequences." 
It's a startling collection, one that makes you question the intersection in which it lies: consumerism and drug culture. That it neither condones nor glorifies drugs is also interesting. Is it glamorous to wear a shirt with a strung-out teen on it? Does that enable drug use or is it possible to view it as just a piece of clothing that's more vanity than anything? I'm not too sure, but I sure as hell appreciate the dialogue Simons has sparked. That's what fashion should do, after all: hold a mirror to today's culture, asking us to ask these big questions and ponder over answers.